Thule Smartphone Bike Mount review - simple, effective and very secure
Functionality is great, but an out-front option would be appreciated and it is quite chunky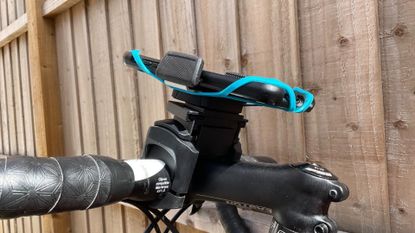 (Image credit: Future)
The Thule Smartphone Bike Mount offers universal fitting for pretty much any smartphone without the need for a proprietary phone case to attach. This also means it undercuts most of the competition while being just as functional. However, some may prefer an out-front mounting option, and the current mount itself is quite a high profile and chunky.
Reasons to buy
+

Holds the phone securely

+

Lightweight

+

Phone can be horizontal or vertical

+

Doesn't require specific phone case

+

Works with pretty much any phone with or without a case
Reasons to avoid
-

No out-front option

-

Not the sleekest
If you've got an iPhone, Samsung or Google Pixel, bike mounts a pretty easy to come by. There are plenty of phone cases designed expressly for these models, and which pair seamlessly with compact handlebar mounts.
But if your phone is from a smaller manufacturer, your options are a lot more limited - and generally comprise of awkward universal solutions. The Thule Smartphone Bike Mount seeks to buck that trend, with the universal phone mount that is simple and easy to use. But just how well does it stack up against the best bike phone mounts on the market? We put it to the test to find out.
Thule Smartphone Bike Mount: construction
The Thule Smartphone Bike Mount consists of two handlebar diameter adaptors, two brackets to fastening to the handlebars, one phone mount, one handlebar mount, two rubberized skeletons, four bolts and washers, and one adaptor fit fitting a large carry bag to the mounting bracket.
All of the main mount elements are made of a tough Nylon plastic while the rest of the components are made of aluminium for the washers and steel for the bolts. Total dimensions are 9 x 5.4 x 12.4 cm.
Fitting together and attaching is easy and once attached the phone can be oriented horizontally or vertically.
Thule Smartphone Bike Mount: the ride
The Thule Smartphone Bike Mount was relatively easy to fit to my bike. However, the screws that secure the bracket in place do feel as if they aren't quite lined up with their respective holes, and you need to force them in a bit - almost as if you are threading the hole yourself. Once on, though, the whole phone attachment bracket can be removed so that you can fit other attachments on the mount.
When it comes to mounting the phone itself, this was super easy as no specific case is required for mounting. Simply open the retractable clamps (which pull inwards together to hold your phone in place), put your phone into the mount and it clamps it securely. The benefit of this system is that pretty much any size phone can be used and it is interchangeable.
There are elastic holders, or a 'rubberized skeleton web' as Thule calls it, for each corner, which helps give an additional secure fit. That said, I found I forgot to use these on several occasions and my phone never seemed at risk of launching out of the mount.
Another nice feature is that you can twist the mount on the fly, so that the phone is vertical or horizontal - useful for a different perspective when using maps for navigation or, for me most often when testing, watching films whilst Zwifting.
One element that I would have preferred is an out-front mount, as this way you're not looking down at your stem Chris Froome style when looking at maps. Instead, you'd look a bit more forwards so that even when looking at directions, you have a clearer vision of what is coming up ahead - but it's not the biggest issue.
There are several different adaptors for fitting to different diameter bars. I tested the mount on regular 31.8mm bars and found they fit very nicely and have been secure ever since being fitted without the need for additional tightening.
It would have been nice if a small Phillips screwdriver was included for attaching, but most people will have one lying about or on a multi-tool.
Thule Smartphone Bike Mount: value and conclusion
There are smartphone bike mount options from companies including Quadlock, Zefal, Fidlock and Mous, however most require a specific case to be used on the phone to be compatible. Some of them undercut the Thule option when just looking at the price of the bracket on its own, but once you factor in the case, they generally come in at $20 / £20 more expensive - and without the ability to use different devices ($69.99 / £52.99 for the Quadlock mount with case). They do, however, potentially look slicker without front mount options and a lower overall profile.
Triban does have an alternative in their Easy Cycling Smartphone mount (£12.99), however there are only side clamps and no additional security to keep the phone in place.
The Thule Smartphone Bike Mount is quite a chunky option for mounting a smartphone to your bike, but a highly functional and secure one. The lack of needing a specific case means you can use whichever one you like or none at all, while the universal fastening system means any phone will sit securely. The lack of proprietary case also means it undercuts much of the competition value wise.
Thank you for reading 10 articles this month* Join now for unlimited access
Enjoy your first month for just £1 / $1 / €1
*Read 5 free articles per month without a subscription
Join now for unlimited access
Try first month for just £1 / $1 / €1
Andy is a Sport & Exercise Scientist, fully qualified and experienced cycling coach, personal trainer and gym instructor. He spent 3 years on the road riding for a UCI cycling team and 7 years as a BC Elite rider.
After graduating in 2020 with first-class honours in his Sport & Exercise Sciences BSc, he continued to pursue his interest in research in the field of sport science alongside setting up his coaching business, ATP Performance, and working for USA-based firm, Wahoo Sports Science. He balanced this with racing at international level, competing in prestigious events such as the Tour of Britain and the Volta a Portugal.