Tifosi Rail Clarion Fototec sunglasses review - a (more) affordable rimless option which rivals premium brands
With a large wraparound lens, Tifosi's Rail sunglasses provide excellent protection from debris - as well as an up-to-date look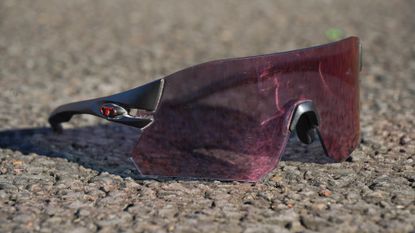 (Image credit: Future)
Ideal for all-day rides thanks to the versatile lens, the Tifosi Rail sunglasses are an excellent all-rounder that are good value. There are cheaper options, but we reckon the spend on these glasses is the best balance which won't leave you with any regrets.
Reasons to buy
+

Excellent lens that adjusts to the light conditions

+

Great value
Reasons to avoid
-

Not as light as some, more expensive, models
Moving with the current trend for oversized lenses and rimless sunnies Tifosi, an American eye-wear brand, has released The Rail - a (more) affordable answer to the three figure price tags of Oakley, 100% and SunGod, to name but a few.
The Clarion Fototec lens specced in this model is photochromic and changes its tint to adapt to varying light conditions. Despite its lower price, the construction feels sturdy, the weight low and the clarity excellent. You don't get the same colour 'pop' as on some of the best cycling sunglasses, but then that's not really a feature you tend to get on photochromic lenses - at any price point. So not much of a loss there.
Tifosi Rail: construction
As mentioned, the Tifosi Rail sunglasses feature a fashionably large lens, offering wraparound protection from the wind, dust and other debris which can be flicked up from the road or dirt tracks. The frameless design results in a near-enough full field of view through the lens.
The Rail model that we had on test benefits from a 'Clarion Fototec' photochromic lens, which naturally adjusts to changing light conditions. Darkening in bright sunlight and lightening in the shade - and on generally overcast days - the light transmission range is pretty broad at 14%-74% (according to Tifosi), which works for a wide range of riding.
On either side are the sunglasses' slender arms which, like the adjustable nose pads, benefit from a hydrophilic coating - so they actually grip more the sweatier you get.
The Rail feels robust yet also manages to be reasonably lightweight, tipping our scales at just 32 grams.
The ride
The Tifosi Rail sunglasses go really pretty clear when out of the sun. Not quite so clear that I'd be happy to ride at night with them - although my personal bar is set pretty high for that - but more than light enough for day riding, no matter how overcast it gets.
In terms of the tint, the lenses go dark pretty quickly - it feels rather faster than the speed at which they go clear, although it's hard to really compare that objectively. Although the lens turns a pretty intense red in the sun, the view through the lens is pretty standard for a photochromic pair of glasses - it's not like any filter is applied, it's just like a standard darker tint.
I found the fit pretty much spot on and never had any 'retention' issues, with the Rails staying solidly in place even over rougher gravel sections. The distance they sat away from my face was a good balance too - not too close so as to be prone to fogging (it was only the very slowest and steepest climbs in winter that proved an issue), and not too far away as to give debris any easy way in towards my eyes.
If you were to spend more, there are areas where you would be able to reap improvements. For instance, it's possible to get glasses with a photochromic lens which goes clearer and is better for night riding. And you can get lenses which are faster to lighten up when you head into shady sections of road or trail.
But all those gains are quite marginal, so unless you know that you are particularly finickity about any of those points, the Tifosi Rail is a great option at a very good price.
Value and conclusion
Coming in at $79.95 / £109.99, the Tifosi Rail sunglasses are very reasonably priced for a model that's so comfortable and versatile - you'll find you'll get a lot of use out of them.
There are photochromic sunglasses out there at a similar price point, such as the dhb Vector Photochromatic Lens sunglasses ($120 / £90) - these are full frame rather than frameless, so bear that in mind and the tint is just a standard grey/black rather than being colourful. The most significant point of difference is the representative prices in the US and the UK - and the same goes for the Endura Dorado II photochromic sunglasses at $139 / £99.
The Rails are significantly cheaper than Oakley's EV Zero Blade photochromatic sunglasses ($224 / £182), yet offer a performance difference that's pretty negligible.
Thank you for reading 10 articles this month* Join now for unlimited access
Enjoy your first month for just £1 / $1 / €1
*Read 5 free articles per month without a subscription
Join now for unlimited access
Try first month for just £1 / $1 / €1