Topeak Babyseat II Child Carrier review
Rear, rack-fitted child seat with side protection, suspension and a handy quick-release which make it stand out from others.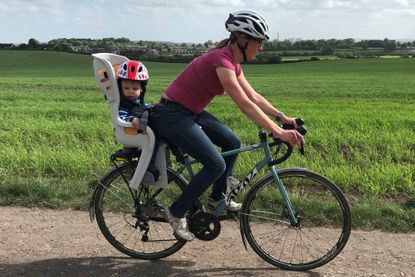 (Image credit: Rachel Sokal)
The Topeak Babyseat II is a simple and robust rear rack-mount child seat. It has a few stand-out features including wrap around sides which protect small heads, hips and elbows from bumps and scrapes; spring suspension to smooth out your child's ride, and a bespoke quick-release mounting system which makes it easy to fit and remove the seat from the rack. The harness buckle and foot straps can be a little difficult to use but have functioned well throughout 2 ½ years of testing.
Reasons to buy
+

Wrap around structure offers side protection

+

Easy tool-free quick release system to remove seat from the rack

+

Duel spring suspension for a smooth ride

+

Availability of spares
Reasons to avoid
-

Straps and clips can be difficult to operate

-

Three-point harness makes it difficult to fit with helmet already on

-

Thin padding and no recline feature
You can trust Cycling Weekly. Our team of experts put in hard miles testing cycling tech and will always share honest, unbiased advice to help you choose. Find out more about how we test.
The Topeak Babyseat II is a rear, rack-fitted child seat, If you want to read about the features, pros and cons of different types of child seats, head to our best child bike seats buying guide. It is designed to be used for babies from around 12 months, and as with all bike seats, your baby needs to be able to sit and have good head control before using, up to a weight of 48.5lb / 22kg (UK and EU) or 40lb / 18kg (USA).
Claimed weight is 3.13kg (6.9lb) for the seat and 668g (1.47lb) for the rack (29" disc version; 630g (1.38lb) for 26"/700cc disc version and 580g (1.27lb) for non-disc version). Ours weighed in a little heavier at 3.48kg (10.8lb) for the seat and 791g (1.74lb) for 29" disc rack.
The rack
There are three different racks depending on your bike's wheel size (29, 27.5, 26" or 700c) and whether you have disc brakes or not. Whilst this means you shouldn't find a problem fitting to your particular bike – as with any rack-mounted seat – you may need to invest in more than one rack if you want to change between bikes. All of the racks and the seat are available as a set or separately which makes future-swaps possible.
Out the box there's very little to do other than use the supplied bolts to attach the rack to the mounts on your bike. It's a straightforward job, all you need is a hex key and a sense-check against the very clear and simple instructions.
The seat itself attaches to the rack using a sturdy plastic 'slide lock' which stores under the seat when not in use. This quick-release system makes it really easy to attach and detach the seat from the rack, a feature that has come in useful for us as we use the bike as often without our child than with. It's particularly handy if you're taking your child part way on your ride. We've done the nursery drop off and quickly detached the seat there so not to carry the extra weight all the way to work. On the downside, the bespoke system does mean that you need Topeak's specific Babyseat II rack. If you've got a rack already this will feel like an unnecessary investment; however, this system makes the seat incredibly easy to mount and unmount so a real bonus if you regularly switch between riding with and without your child.
Image 1 of 3
Installing the slide lock to anchor seat to rack
Off the bike the slide lock is housed securely
The seat
The seat is a moulded wraparound structure which provides some side support protecting hips, elbows and head. This is quite different from most other rear seats which tend to be more flat and leave your child a little more exposed.
There are three different shoulder-height positions for the harness to accommodate your growing child and repositioning from time to time has been an easy task. Similarly the foot rests are easily adjustable across seven positions via a large plastic clip. To date these adjustments have comfortably accommodated our child from being a smaller-than-average 12 month old to a fairly average height 3 ½ year old with some room to go.
Under the seat is dual-spring suspension to cushion some of the lumps and bumps of the road, a feature not often found on rack-mounted seats which don't have the inherent suspension of a cantilever mounted rack.
Otherwise there aren't any other significant comfort features, the seat doesn't recline and there's only thin padding. Finally there are minimal ventilation holes in the plastic structure something that you might want to consider if you live somewhere hot.
The padding and straps are easy to remove and washable. Should you need them Topeak offer all the small and soft parts as spares, an example that many other manufactures would do well to follow.
Finally there's a reflector and mount for a clip-light on the rear. To accommodate our seat-post mounted rear light we've bodged a fitting on the top carry handle rather than using the clip.
Harness and straps
The Babyset II has an adjustable three-point harness, elasticated foot straps and a lap bar to secure your child in the seat. The plastic buckles have made it easy to adjust the straps and we've had no issues with it slipping or slackening.
On the whole the straps are a simple and effective design. However, there are a few areas where things could be easier.
As with any three-point system (two shoulder attachments and one in between the legs), you need to pull the harness over your child's head which isn't really possible when they've got their helmet on. Putting on their helmet after you've got them belted up isn't the end of the world, but it does mean that you're juggling another thing as you're getting them on the bike. The alternative would be to lengthen the straps to get them over your child's head and then shorten them up afterwards which is equally a bit of a faff.
I've found the seat belt clip can be difficult to operate; it needs the use of two hands and strong fingers which I can't always muster in the cold. Of course, one of the reasons these clips are sturdy and difficult to operate is that it prevents young fingers causing unwanted releases so this awkwardness isn't necessarily a bad thing.
We also found that the elastic Velcro foot straps don't have enough adjustment for the smallest feet which makes it possible for little ones to wriggle their feet free. Additionally when they're bigger it's a bit harder to get their feet in and out using the elastic of the strap and, conversely, you might find your child can pull against the elastic to free their feet from time-to-time.

Image 1 of 2
Elastic Velcro foot straps
Bigger feet and welly combination makes for more challenging strapping
There's a solid lap bar which clips across the front of the seat and provides additional security to the fabric straps. In reality the seat belt would have to fail completely for this to come into use but it does provide a good place for your child to hold onto and will help to deter a wiggly child from squirming around. We've added a bell and some other bits to the bar for general entertainment and interaction whilst we're riding along. Similarly to the seat belts the bar's clamp needs a bit of focus to release and can sometimes a bit of a fiddle to fasten. The clamp can also get in the way a bit when you lean your bike up against the wall. This means you need to lean the bike away from the wall as you open it and lift your child out.
The ride
Despite extensive use from 12 months up to his current age of 3 ½, our toddler reviewer has been rather short coming on objective feedback. However, over this period there have been surprisingly few complaints from the rear even when we've been rattling over loose tarmac, bumpy roads and off-road trails. This leads us to assume that the un-damped suspension is doing a good job and the thin padding provides adequate comfort.
We gave the wrap-around protection of the seat a good testing when I toppled the bike over in a moment of traffic light imbalance. My passenger was completely un-phased and unharmed as the side of the seat hit the floor and his helmet knocked against the seat. Whilst this one experience can't verify the Babyseat II will always save bumps and bruises, I came away assured that it had done a better job than if the side protection hadn't been there.
As with all bike seats, as your child gets taller and heavier the higher centre of gravity and the pendulum effect when they move about is quite noticeable. The downside of the wraparound seat structure is that they tend to move their bodies much more to look around than they might in a flat-backed seat which is something to think about if you've got an older and more inquisitive child.
Value
At £169.99 RRP ($209) the Topeak Babyseat II is priced in line with the main brand rear bike seats. Based on our experience and that of other users with more than one child, the seat and rack stand well against the test of time, and the value for money over time is improved by the availability of spares.
In comparison the Thule Yepp Maxi costs £131 ($260) but doesn't have the safety features or suspension of the Topeak. You'll also need to buy a rack separately if you don't already have one.
The Hamax Caress is currently the only other rack-mounted seat that has in-built suspension. RRP here is £145 ($165) but like the Thule, doesn't come with a rack.
Verdict
At first glance the Topeak Babyseat II could easily appear rudimentary compared to similarly priced rear seats as there are no snazzy, plush features such as reclining backrests and thick cushioning. But appearances can be deceptive and what the Babyseat II might lack in form it more than makes up for with its quick release fitting and removal, side protection and suspension function. All in all it's a great choice for those wanting a protective, durable rear seat which functions well without any fuss.
Specification
Seat structure: Moulded engineering grade polymer
Rack structure: 6061 T-6 hollow aluminium
Max weight capacity:

BabySeat - 22 kg / 48.5 lb (Meets EN-14344 Class A22 regulations), 18 kg / 40 lb (Meets ASTM F1625 regulations)
Rack - 27 kg / 60 lb, Meets EN 14872 / ISO 11243

Size

77.4 x 58.5 x 39.5 cm / 23" x 15.5" x 30.5" (Seat)
42.5 x 34 x 23 cm / 16.7" x 13.4" x 9" (Disc Rack)

Weight (claimed for 29" disc rack): 3.13 kg / 6.9 lb (Seat) 668 g / 1.47 lb (Disc Rack)
Get The Leadout Newsletter
The latest race content, interviews, features, reviews and expert buying guides, direct to your inbox!
Rachel has been writing about and reviewing bike tech for the last 10 years. Cynical by nature, Rachel never really trusts the marketing hype and prefers to give products a mighty good testing before deciding whether they're worth buying or not.
Rachel's first riding love is mountain biking where she's been European and UK 24hr Champion on more than one occasion. She's not just confined to the trails though and regularly rides - and occasionally races - on gravel and road too.