Tannus Aither 1.1 25mm solid tyre review
Tannus has recently released an update to its new "airless" solid tyre – how does the technology stack up?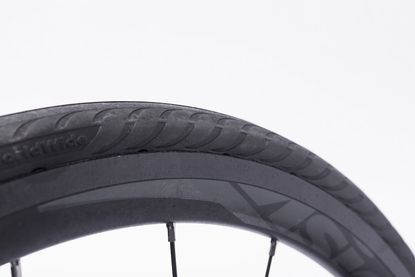 The Tannus Aither 1.1 25mm tyre has impressive grip and obvious maintenance benefits. But it's too hard to be comfortable on UK road surfaces if you're planning to ride any distance.
Reasons to buy
+

No punctures or maintenance

+

Don't need to carry pump, levers or spare tube

+

Good grip wet and dry

+

Range of ten colours

+
Reasons to avoid
-

Too hard to be comfortable on UK roads

-

Difficult to fit

-

Expensive

-
Why you can trust Cycling Weekly Our expert reviewers spend hours testing and comparing products and services so you can choose the best for you. Find out more about how we test.
The Tannus Aither 1.1 25mm tyre is the South Korean brand's latest solid tyre – it prefers to call them "airless" rather than solid tyres.
Before John Dunlop invented the pneumatic tyre in 1887, all bikes came with solid tyres and apart from being shaken to near death, no one ever got a puncture. Ever since, pneumatics have held sway – and cyclists have got used to carrying the necessary bits and bobs with them to repair a flat. Remember the last time you got a flat with all your mates standing at the side of the road getting cold?
So in theory a non-pneumatic tyre could be a godsend: no need to carry a pump, tyre levers and inner tube, or to call out the sag wagon.
Tannus has been developing the Tannus Aither 1.1 25mm airless tyre for over two years. It uses the same system of pegs to hold the tyre in the rim as the company's previous tyres, and is made of a polymer resin similar to that used in running shoes. Check out how to fit them here (video).
>>> Puncture proof: are solid tyres an option for road bikes?
Fitting the Tannus Aither 1.1 25mm tyre is a bit of a faff: you need to select the right length pins for your rim, so that they pop into place reasonably easily but still keep the tyre in place securely. You don't need rim tape, saving a bit of rolling weight, which you'll need!
You also need to make sure that all the pegs are bedded down evenly, so that the tyre is symmetrical on the rim. Fortunately, the Tannus Aither 1.1 25mm is wide enough to fit well onto the wider rims which are becoming prevalent on modern wheels.
But at least you only have to fit the tyre once. It's probably worth asking the shop from which you buy the tyres to fit them for you. Tannus claims that the Tannus Aither 1.1 25mm will last for around 6000 miles of use, so it's a fit-and-forget solution.
>>> Over 160,000 bikes with solid tyres sold by Japanese brand Chacle
I was impressed by the new tyres' grip. You can skid out the back wheel if you brake hard on a wet road, but this is no worse or less controllable than the best pneumatics. Likewise, you can climb with confidence on damp back roads without wheel slip.
Where the tyre doesn't fare so well is its ride quality. Tannus told us that the equivalent pressure for a pneumatic tyre is 115psi (although the website quotes 105psi). That's far higher than we would usually run a 25mm tyre– we'd typically not go above 90psi.
This results in an uncomfortably jittery ride on typical UK road surfaces, which gets tiring after a couple of hours. Any smooth tarmac you do find comes as a relief – but you soon realise that it's in short supply.
Interestingly, I also lost between 1 and 1.5 mph on the Tannus Aither 1.1 25mm relative to the same rides on pneumatics. This is probably due to effort going into moving the bike and rider up and down, whereas a softer tyre will reduce vertical movement.
If you're riding for shorter lengths – say an hour or less – then the Tannus Aither 1.1 25mm could be worth considering. For commuters, its fit-and-forget qualities and the chance to abandon your puncture gear are definitely a boon. But for anyone wanting to ride longer distances, or who values ride comfort, a tubeless-ready solution might be a better bet.
These have come on rapidly in the last few years and many new bikes come tubeless-ready. You'll still want to carry a pump and tube, just in case, but the sealant inside the tyre should deal with many smaller punctures.
Thank you for reading 5 articles this month* Join now for unlimited access
Enjoy your first month for just £1 / $1 / €1
*Read 5 free articles per month without a subscription
Join now for unlimited access
Try first month for just £1 / $1 / €1