Puncture proof: are solid tyres an option for road bikes?
To anyone who's ever spent a cold, wet 15 minutes at the roadside fixing a flat, the benefits of solid tyres are obvious. But how does the technology stack up?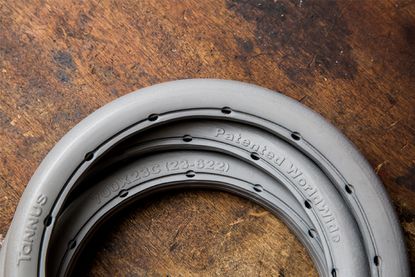 Solid or "airless" tyres sound like an uncomfortable option, but the technology has moved on a lot in recent years. Modern solid tyres are made of a micro closed cell polymer resin (MCP) manipulated to make a solid foam-like material, rather like the sole material in a running shoe.
How do solid tyres compare to pneumatics?
There are a couple of brands of solid tyre out there and Chris Proctor from Coyote Sports, the UK distributor of South Korean Tannus tyres says that its tyres "are lighter than most tyre, tube and rim tape combinations, combined with the material we use having much enhanced elasticity ensuring a better feel while riding, good grip performance and a much lower rolling resistance — approximately 15 per cent less."
Tannus quotes a weight of 380g per tyre for its 700c Aither 1.1 tyres in 23mm width, which is competitive with a conventional tyre-tube combination. You save more weight by not having to carry a spare tube, pump, tyre levers etc. Tannus quotes a service life of at least 6000 miles with a price of £99 for a pair.
For competitor Greentyre, which has been making solid cycle tyres for over 20 years, making its tyres' performance comparable to pneumatic options has been a key aim. Colin Scarsi, MD at Greentyre says: "We embarked 12 months ago on a programme to close the performance gap between solid tyres and pneumatics. It was sufficiently meritorious to be granted a prestigious SMART award."
>>> Are solid tyres worth a try?
Tannus has had its Aither 1.1 tyres independently tested against ISO international standards by the German TUV Rheinland inspection and safety testing company. TUV included tests of braking distance, side slip in wet and greasy conditions and the effects on performance of high and low temperatures. It also ensured that the tyres could cope with the heaviest of riders.
TUV made sure that a wide range of users could correctly install the tyres and that once on the rim they stayed there. At the end of its battery of tests, it concluded that the tyres matched or exceeded the performance of comparable pneumatic tyres.
Are solid tyres easy to fit?
Tannus uses plastic pegs which pass through the tyre and clip it into the beads on the wheel's rim. Fitting the tyres is slow but not particularly difficult. It's a lot easier with two pairs of hands. Once on the rim, a special tool is used to clip the pegs into place in the bead. Getting the correct length peg is the key to setting up the tyres properly.
Greentyre points out that an incorrect fit can cause additional rolling resistance and make a solid tyre feel hard to ride and less responsive than a pneumatic. It says it's important to know both the tyre size and the width of the wheel rim in which its tyre will be fitted.
>>> Will cycling see the return of the solid tyre?
Has Cycling Weekly tested solid tyres?
Cycling Weekly has tested solid tyres several times over the last few years. We tested Tannus's Aither 1.1 700c tyres in May 2015, concluding in our review that although they were slow and heavy at low speed, once rolling on flat roads at a decent pace they livened up.
How hard the solid tyre would be was a concern, but the compound offered decent shock absorption, so even on potholed roads and longer 70-mile rides they gave no real issues. Aither offers enough grip to be safe, but be sure to avoid painted lines when damp.
We've also tested Tannus Nymph tyres, designed for Bromptons, concluding that when it comes to solid tyres, we can't think of a better application than on a city folder. Nobody wants a puncture less than a commuter rushing to a morning meeting, and if the ultimate goal of a city bike is a complete lack of maintenance – and it should be – then Tannus solid tyres take a big step towards that goal. The fact that they ride pretty well too is a big bonus.
Watch: Buyer's guide to road bike tyres
Are solid tyres going mainstream?
Tannus tyres have been distributed in the UK for over two years and the company says it has sold over 25,000 tyre sets. They're also being fitted as OEM on some complete bikes, with Specialized using Tannus tyres to its Alibi commuter bike.
In Japan, commuter/shopper brand Chacle has sold over 160,000 bikes equipped with Tannus's tyres, while South Korea's second largest bike brand, Alton Sports, is fitting Tannus tyres to a number of its models, with around 10,000 bikes with solid tyres expected to sell in 2017. And US kid's brand Ezra Bikes is using the tyres on its machines.
Other users include the entire 12-man Ukrainian national track team, who fitted Tannus's tyres on their outdoor training bikes. According to Alex Lopatyuk, a former member of the Ukraine track team and now Tannus distributor in the country: "A combination of the bad winter weather and the poor road surfaces [sound familiar?] in the Ukraine mean Tannus are ideal."
What about other tyre brands?
The majority of cycle tyre makers remain sceptical, however. Dave Taylor, marketing manager at Schwalbe UK explains: "Solid tyres are not new of course; if we believed that they were worth it then we would be developing them ourselves. The future of road bike technology from our standpoint is tubeless technology."
>>> How much damage can a tubeless tyre take? (video)
Shelley Childs, Continental Tyres brand manager adds: "While in theory a solid set-up could be developed to ensure conformity with rim manufacturers and compounding produced to offer a high level of grip for regular cycling, the performance benefits of a pneumatic tyre system still outweigh the argument for solid tyres.
"A pneumatic system, combined with a premium grade casing and high quality compound is, in our opinion, still a necessity for the cycling enthusiast or racer who demands assured feedback and the maximum safety from his or her tyre system."
>>> Clinchers, tubulars and tubeless - which tyre system is fastest? (video)
Our take
So solid tyres are a viable alternative to pneumatic variants as a training, leisure or commuting tyre. But for serious recreational and competitive cyclists, pneumatic tyres and the fast-developing tubeless road market are likely to continue to be the go-to choice. If you're fed up with repairing flats, they're worth considering, despite the up-front cost.
Thank you for reading 10 articles this month* Join now for unlimited access
Enjoy your first month for just £1 / $1 / €1
*Read 5 free articles per month without a subscription
Join now for unlimited access
Try first month for just £1 / $1 / €1
Paul started writing for Cycling Weekly in 2015, covering cycling tech, new bikes and product testing. Since then, he's reviewed hundreds of bikes and thousands of other pieces of cycling equipment for the magazine and the Cycling Weekly website.
He's been cycling for a lot longer than that though and his travels by bike have taken him all around Europe and to California. He's been riding gravel since before gravel bikes existed too, riding a cyclocross bike through the Chilterns and along the South Downs.