Over 160,000 bikes with airless tyres sold by Japanese brand Chacle
Japanese commuter bike company has sold 160,000 bikes in three years, all equipped with Tannus's "airless" solid tyres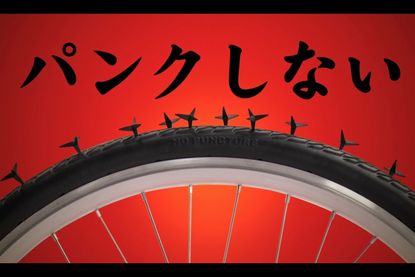 For bikes to be ridden around town, solid tyres make a lot of sense and tyre brand Tannus has been promoting its airless models with a collaboration with Specialized. But it's already been working with Japanese bike brand Chacle for around three years.
Chacle's commuter and shopping models have proved very popular in Japan and are sold through supermarkets as well as traditional bike shops. To celebrate the 160,000 bike milestone, the brand has made this video of a Ninja warrior spreading tacks in front of a commuter riding the Tannus airless tyres.
http://www.youtube.com/watch?v=U7uS9p1_xXs
The 32mm wide 700C or 26x 1 3/8 inch tyres fitted to the Chacle bike weigh 660 grams. "They are incredibly popular in Japan. The feedback is there is no issue over weight – they are as light as pneumatics, they are perfectly comfortable and they are easy to pedal as they have low rolling resistance," says Young Ki Lee, Tannus chief executive.
We've ridden 700c Tannus tyres on winter roads and around town on a Brompton and have liked the benefits of not having to check tyre pressures or carry a pump or spare tube. And Tannus's 23mm tyres have recently been certified for their grip and performance by the German TUV inspection organisation, which has concluded that they match or exceed performance of equivalent pneumatic tyres.
>>> Are solid tyres worth a try?
Tannus quotes a tyre life of at least 6000 miles for its tyres and they come in 12 colour options. It says it's sold over 25,000 sets of tyres in the UK since they first went on sale here two years ago.
Thank you for reading 20 articles this month* Join now for unlimited access
Enjoy your first month for just £1 / $1 / €1
*Read 5 free articles per month without a subscription
Join now for unlimited access
Try first month for just £1 / $1 / €1