Are solid tyres worth a try?
James Bracey weighs up the pros and cons of solid tyres for winter riding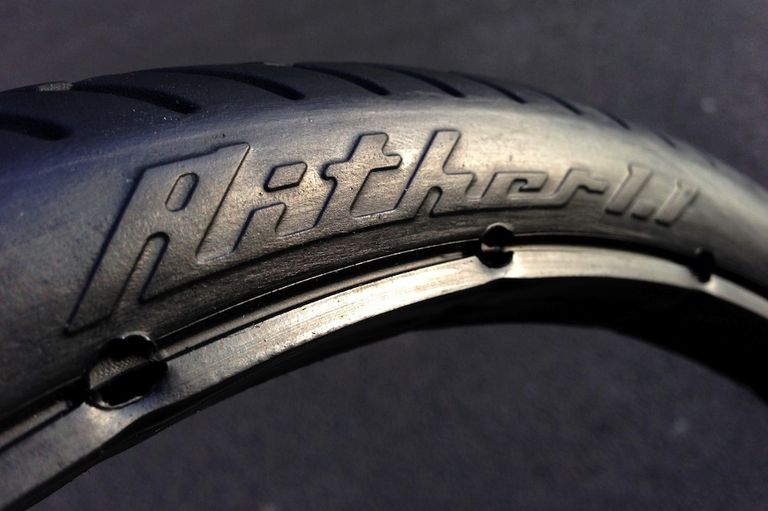 It's getting cold and wet and you have just had to stop for your second puncture in as many miles. Sound familiar? Sadly, punctures are an unavoidable part of cycling life.
You can try to protect yourself by fitting tyres with 'puncture protection' or inner tubes filled with sealant but at some point the inevitable will happen and normally at the least welcome point of your ride.
>>> Buyer's guide to road bike tyres (video)
So could solid tyres and their promise of no more punctures be the answer?
Ask any cyclist to picture solid tyres and most will think of wheelchairs or children's bikes, not viable alternatives to the tyres on your road bike.
>> >Tannus solid tyre given top safety rating by German inspectors
But now thanks to brands such as Tannus Tyres and the UK's own Greentyre pushing the development of solid tyre technology, solid tyres could well be an option for your next tyre purchase.
Modern solid tyres are made of a micro closed cell polymer resin (MCP) manipulated to make a solid foam-like material.
With careful processing MCP can create a durable tyre with most of the performance benefits of a standard pneumatic tyre plus the crucial advantage of never puncturing.
>>> How to fix a puncture
It's this promise of never getting caught out with a puncture and not having to carry spare tubes or tools that Chris Proctor from Coyote Sports, the UK distributor of Tannus Tyres, cites as the reason why so many riders are using their tyres.
Currently popular with commuters, e-bike riders and the like, the zero maintenance aspect of solid tyres is also a big draw.
Why aren't we all using solid tyres?
The crucial hurdle that stands in the way of solid tyres becoming viable for the more serious cyclist is the real and perceived gulf in performance in comparison to a standard tyre and tube set-up.
Solid tyres have a reputation for being slow, heavy, difficult to fit, uncomfortable and lacking in grip — all key factors in choosing tyres, and for most riders these far outweigh having to deal with the occasional puncture.
Colin Scarsi, MD at Greentyre, is quick to recognise this issue: "We embarked 12 months ago on a programme to close the performance gap between solid tyres and pneumatics.
"It was sufficiently meritorious to be granted a prestigious SMART award, with the design team at Greentyre having been working with partners in Germany, France and Finland to produce a new generation of Greentyres for the summer of 2016."
Proctor claims that Tannus tyres "are lighter than most tyre, tube and rim tape combinations, combined with the material we use having much enhanced elasticity ensuring a better feel while riding, good grip performance and a much lower rolling resistance — approximately 15 per cent less."
Currently the majority of the larger bicycle tyre manufacturers have no future plans to develop solid tyres.
Vittoria is currently focused on improving tyre compounds, incorporating materials such as graphene to create tyres with differing characteristics depending on tyre load.
Dave Taylor, marketing manager at Schwalbe UK explains: "Solid tyres are not new of course; if we believed that they were worth it then we would be developing them ourselves. The future of road bike technology from our standpoint is tubeless technology."
So solid tyres are catching up, creating a viable alternative that can appeal to a wider spectrum of riders, but they are not looking to take over from pneumatic tyres.
We found out...
Our take
For a large number of cyclists, solid tyres represent a viable alternative in the war against punctures.
However, they are not without their limitations and until grip levels, road feel and fitting issues are improved they will have limited appeal to more serious riders.
>>> Behind the scenes at Continental's bicycle tyre factory
The leaders in the solid-tyre field are working to improve the image and performance of the tyres but as the larger tyre brands are focusing on other pneumatic tyre technologies such as tubeless and alternative rubber compounds, solid tyres will continue to have limited appeal outside of the commuting and occasional cyclist realms.
Read more
Best road bike tyres: everything you need to know about fair weather rubber

Specialized gets behind solid tyres in collaboration with Tannus

Should you give solid tyres a try this winter?
Yes: Colin Scarsi, MD Greentyre
We have customers who are using their third or fourth sets of Greentyres and won't use a bike without them.
For some cyclists a puncture just comes with the joy of cycling, for others like me they are a pain.
We all know people who go to take their bike out for a spin on a sunny Sunday and find tyres flat or perished and then don't bother and the bike languishes in the shed or garage never to be used again.
No: Shelley Childs, Continental Tyres brand manager
While in theory a solid set-up could be developed to ensure conformity with rim manufacturers and compounding produced to offer a high level of grip for regular cycling, the performance benefits of a pneumatic tyre system still outweigh the argument for solid tyres.
A pneumatic system, combined with a premium grade casing and high quality compound is, in our opinion, still a necessity for the cycling enthusiast or racer who demands assured feedback and the maximum safety from his or her tyre system.
Thank you for reading 5 articles this month* Join now for unlimited access
Enjoy your first month for just £1 / $1 / €1
*Read 5 free articles per month without a subscription
Join now for unlimited access
Try first month for just £1 / $1 / €1
Founded in 1891, Cycling Weekly and its team of expert journalists brings cyclists in-depth reviews, extensive coverage of both professional and domestic racing, as well as fitness advice and 'brew a cuppa and put your feet up' features. Cycling Weekly serves its audience across a range of platforms, from good old-fashioned print to online journalism, and video.