How to fit solid bicycle tyres (video)
There's an art to fitting Tannus solid tyres on your rims. We show you how.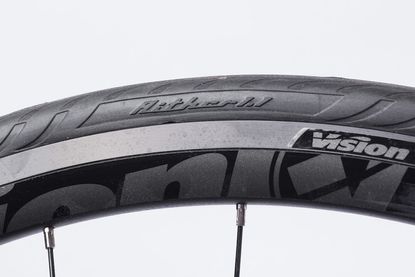 Solid bicycle tyres – Tannus prefers the term "airless" – offer a distinct advantage. Not only is there no chance of a flat, you don't need to carry a spare tube, tyre levers or pump, so you can ride lighter and free up your pockets for more energy bars and gels.
Getting ready for a ride is that much easier too, if you don't need to hunt for so many tools and spares.
Winter riding usually means an increased chance of punctures; more debris washed onto wet roads can result in the dreaded hiss. And it's the worst time of year to get a flat, with lower temperatures and shorter days usually making a stop by the road uncomfortable. So solid bicycle tyres may be a particularly good option for your winter training rides.
Although fitting solid bicycle tyres is a bit more time consuming than a traditional tubed tyre, you're only going to have to do it once and Tannus says that its tyres are good for around 6000 miles of riding.
The 25mm 700c tyre is held in place with 40 plastic pegs which slot through holes in the tyre and click into place on the rim. These pegs need to be the right length to click firmly into the rim beads, to hold the tyre in place and avoid slip and the risk of the tyre dismounting.
Tannus supplies three different lengths of peg to fit different rim widths. We fitted the 25mm tyre to a set of Vision Team 30 Disc wheels. They have a wider 19mm internal rim width and Tannus's longest pegs fitted into the rim.
>>> Puncture proof: are solid tyres an option for road bikes?
Tannus makes solid tyres for hybrid bikes and for Bromptons, as well as road bikes, in a range of diameters and widths. Its tyres are also available in a range of colours: 12 for the 25mm option.
Nip Nip Cycles in London has fitted quite a few solid tyres for commuters and Robert Nemeth has a few hints and tips to help.
Fitting the tyre is something you may want to do yourself, or to ask your bike shop to do for you as part of the sale.
Thank you for reading 20 articles this month* Join now for unlimited access
Enjoy your first month for just £1 / $1 / €1
*Read 5 free articles per month without a subscription
Join now for unlimited access
Try first month for just £1 / $1 / €1