Black Inc Black Thirty wheelset review
A lightweight wheelset that comes with aero claims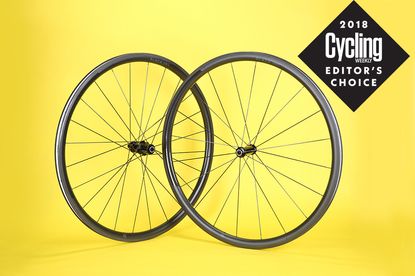 A stunning set of climb hungry wheels that could be a real GC contender for your bike's wardrobe - the Black Thirty is compliant, stiff and never clattery. Aero gains have been considered, but of course 30mm rims are never going to be flat-terrain sprint optimised. However, if you want one wheel to rule them all, or a lightweight set for the mountains, these could tick your boxes.
You can trust Cycling Weekly. Our team of experts put in hard miles testing cycling tech and will always share honest, unbiased advice to help you choose. Find out more about how we test.
Ready for the climbs without lacking stiffness, Black Inc's Black Thirty wheels impressed us no end, carrying our tester to a crit race win and lending a helping hand during hilly road races. The carbon brake surface worked excellently with Black Inc's own pads, offering reliable stopping, even when downpour hit.
We trusted them on race day and during training, and enjoyed them enough to select them for the 2018 Editor's Choice.
There isn't really such thing as an absolute all rounder wheel – you can always fine tune to perfection – but if the concept existed, the Black Inc Black Thirty wheels would come pretty close.
>>> Best rim brake wheelset
I've been racing and training aboard these Black Inc Black Thirty carbon clincher hoops throughout the first half of the season, putting them to the test on hilly road race courses, flat road race courses, as well as technical town centre crits, flat out fast crits, hilly crits and kind-of-in-the-middle crits (three cheers for giving your whole Saturday over to an hour of pain!).
Outside of racing, they've accompanied me through the Kent and Surrey hills on training rides and swooped over the smooth roads of Girona.
Black Inc Black Thirty construction
Black Inc has designed its 'Black Thirty' to be a climbing wheel, and at a claimed weight of 1390g (1230g if you go tubular) it is certainly a lightweight option.
It's undeniable that it's on the climbs where the wheels really shine.
On steep ramps - like the 40 second killer at the end of each lap of the recent Oakley Women's Team Series road race - I certainly felt like I had a tangible advantage (not that all the help in the world would have yielded a result there).
If numerical evidence is needed, I cut my ascent of the 'Hoggenburg' at Redbridge Cycling Centre in London down from a previous PB of 26s, to take the Strava Queen of the Mountain with 19s. To be honest, I'm a bit sceptical of my GPS' accuracy, and there was probably a tail wind, but I did still win.
Black Inc claims that the advantages don't stop with the the lightweight construction, adding stiffness and aero credentials to the mix.
When it comes to stiffness, the brand uses fatter spokes on the drive side and more minimal spokes on the non-drive side. This counters the effect of dishing which accommodates for the gubbins of the cassette et al, creating greater lateral stiffness - apparently 55 per cent - with a weight gain of just 1 per cent.
I wouldn't dispute the stiffness - during town centre crits (Farnham TCR, I'm looking at you) these wheels gave as good as they got, accelerating out of corners as fast as my strength and technique would allow them.
I certainly didn't encounter any flex, but I'll be the first to admit that as a rider whose max power output is below 1000 watts, I can't guarantee a bigger, more powerful individual wouldn't experience this.
The aero credentials are harder to quantify without a wind tunnel or velodrome testing.
However, use of a wide rim - 17mm internal, 26.5mm outer, maxing out at 27mm at the widest part - certainly matches up with current thinking which determines this to be the most wind cheating approach when paired with a compatible tyre.
A wider rim also allows you to run thicker, bump-sucking-up and better handling rubber without an aerodynamic fall out - I teamed these with Pirelli PZero 25mm's.
The spokes (20 on the front, 24 rear) are aero butted Sapim CX Ray and CX Sprint straightpull and the rim profile has been optimised using computational fluid dynamics.
A 30mm option will always be aerodynamically challenged when compared to a deep rim. Though I did use the the Black Thirties for flat races like crits at Goodwood motor circuit (mainly out of cassette changing laziness), they didn't carry the same urgency as a 50mm ring of carbon, but there's no surprises there.
Black Inc has targeted smoothness, comfort and compliance too, weaving the carbon and shaping the rim to offer all day comfort, 'exceptional handling' and stability.
Putting the wheels to the test on the notoriously technical Rocacorba descent in Girona, the handling really shone through, again the only thing letting the performance down was my own skill and nerve - if I'd have pushed them harder I don't doubt they'd have gone.
Comfort wasn't an issue over 100 mile days or clattery UK roads.
One potential stumbling block for a carbon rim is the braking surface. Black Inc designs its own brake pad with a compound that is designed to work with the hardness of the clear coat on its brake track.
My first experience of using the Black Inc Black Thirty wheels was in the wet was during a race, which started dry and ended very damply.
It was with some trepidation that I lined up under darkening skies - but once the droplets began to fall I was reassured to find that braking remained as consistent as can be expected. I needed to brake earlier for the same effect but could always stop.
On a later training ride, in true downpour, I found braking become pretty inefficient - however at this point the weather had reached the stage where even alloy rims would begin to fail - hence the road cycling world's acceptance of discs.
As per all Black Inc wheels, the hubs use custom CeramicSpeed bearings, assembled by hand in Denmark. The brand designs its hub shells and axle tolerances around Ceramic Speed's offerings, in a bid to provide maintenance free riding year after year.
The bearing tensions are matched to the spoke tensions too - Black Inc doesn't sell rims on their own, everything is designed to work together.
The wheels are available as clinchers or tubulars, are tubeless ready compatible and available for Shimano, SRAM and Campagnolo users.
Value
At £1,850, the Black Inc Thirty wheels are not cheap.
However, the Black Inc Black Thirty are comparably lighter than the 1477g of a pair of Enve SES 3.4 wheels, which come in at £3,250. The claimed weight exactly matches the 1390g of the 30mm Fast Forward Carbon F3R clinchers, which come in at £1,799.
Having tested both the Fast Forward's and Black Inc's version, I'd say that the latter can offer a superior braking surface and greater comfort.
Thank you for reading 20 articles this month* Join now for unlimited access
Enjoy your first month for just £1 / $1 / €1
*Read 5 free articles per month without a subscription
Join now for unlimited access
Try first month for just £1 / $1 / €1