Woom Now Kids' Urban Bike
An urban specific cycling option that stands alone in the kids' bike market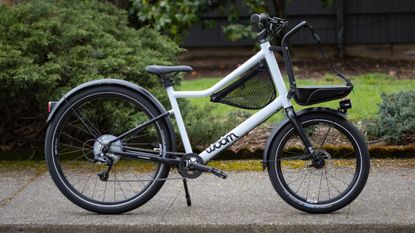 (Image credit: Josh Ross)
Woom has created a new category with the Now but despite having no competition, it's also a great bike. What Woom has nailed with this design is an understanding of the age ranges it's made for. There's just enough weight capacity on the front rack and an easy-to-use integrated frame bag. It's easy to carry a backpack and a few items without piling the weight on small bodies. Then beyond that, it's the safety features, and geometry that sing. Disc brakes, integrated lights, fenders, and an upright seating position make the bike comfortable and controllable.
Reasons to buy
+

Disc brakes

+

Generator hub and integrated lights

+

Fenders

+

Upright seating position

+

integrated bell
Reasons to avoid
-

Quick release skewers

-

Single sided kickstand

-

Front rack requires tools
You can trust Cycling Weekly. Our team of experts put in hard miles testing cycling tech and will always share honest, unbiased advice to help you choose. Find out more about how we test.
The vast majority of kids bikes on the market use a style patterned after what you'd call a hybrid bike. The bars are flat and the seating position is upright but with enough forward lean to feel sporty. It's a popular style because it reflects a wide range of use situations and if you check out what we've included in our list of the best kids' bikes you'll see that style well represented. Among those options is the Woom 6 and while that bike is excellent, it's just one small piece of what Woom offers.
In fact, one of the more interesting things about the Woom brand is that while they do offer hybrid style bikes like the Woom 6, they also offer bikes with a more specific focus. Woom makes bikes for passionate young riders who want to own something specifically designed for their riding style. That means there's hardtail mountain bikes like the Woom Off Air and there's even a kids electric bike called the Woom UP. Those are unique options but they aren't entirely alone in the marketplace. Woom is now offering a brand-new option that's both completely unique and widely needed. The Woom Now is a dedicated kids commuter bike.
We would question how many kids want a bike purely for the purpose of getting from A, to B - it seems most are going to prioritise fun after school. However, for a studious child who wants to carry extra books to the gates - or a dedicated paper round employee - this could be just the ticket.
The construction: Woom Now
Under the Woom Now model range there are options for kids ranging from age 6 all the way up to age 14. The smallest bike available is the Woom Now 4 with a 16-inch front wheel paired with a 20-inch rear wheel. Move up a size and the wheels grow to 20/24 with the final Woom Now 6 bringing with it wheels sized at 24/26.
You'll notice all of the options have one highly distinct design feature, staggered wheel sizes. It's this concept that the whole design hinges around. The idea is to bring the wheel close to the vertical plane of the handlebars. That makes for a quick turning bike which then pairs with the upright seating position to give kids a stable, empowered, ride.
Sitting right above the front wheel is where the mounting points for the included rack sit. This, again, ties in with that smaller front wheel. Putting weight up high on a bike and attaching it to the bars, as a handlebar bag does, makes a bike feel unstable and difficult to control. In this case, the max 22lbs of load weight on the rack sits as low to the ground as possible and it's also attached to the headtube instead of bars. Since the bars move separately, Woom then curves the aluminum bars of the rack into a slight overhang to keep a tall load from interfering with movement.
Image 1 of 2
Sticking with the front wheel, the features continue with the hub. Although we have an extensive list of the best bike lights with a wide range of excellent rechargeable options, Woom gets that kids aren't always going to remember to keep a light charged. With that in mind, the front hub includes a Shutter Precision SD-8 dynamo generator. There's no accessory charging port in Woom's design but there's enough power to handle powering the front and rear integrated LED lights.
As you move back a bit, that's where you'll find a mesh, partial frame, bag. It mounts using four frame mounting points and for closure you'll find a pair of curved metal strips at the top. Picture a snap bracelet from when you were a kid and you'll understand. Whatever you store in there is open to the elements but it's a convenient place to stash anything a kid wants to have close by. There's an additional pair of mounting points lower in the frame perfect for a water bottle or lock. Then, in the very back, there's the option of mounting panniers, or a rack, but as it comes from Woom you'll just see a full fender and a rear light.
Image 1 of 3
The ride
There's a hint of this being a serious cargo bike. The design certainly supports that but I wouldn't expect small children to put that feature to the test much. The more interesting, and likely more realistic, use case is for the Woom Now to remain a mostly unloaded bike for heading to school and back.
For that use the front rack does a great job holding a backpack. Anything a kiddo could manage to carry on their body now has a place on the bike. My child even uses it often to just carry a jacket without any real weight.
That said, when I actually put my kid on the Woom Now none of the cargo features were what I wanted to tell people about. Instead, it was all about his comfort level. He tested the Woom Now 6 which weighs 28.3lbs and has a wheelbase of 42.3 inches. Those are the numbers of a big bike and right now he's right at the bottom of the size range for it. In comparison, the Woom 6 is over an inch shorter and 6lbs lighter. However, despite it being a much bigger bike, my boy looked far more at home on it than he ever has on some of the smaller bikes we've tested before.
Image 1 of 3
The main thing that seems to contribute to his comfort is the seating position. He's very upright with an easy reach to the bars. The small wheel up front means it's a breeze to turn and he's more confident as a result. That goes together with a long wheelbase that always makes for a more stable feeling bike.
He's even more comfortable with the controls. Although there's debate about whether trigger shifters or grip shifters are a better choice for kids, my kid does better with the grip shifter. He's always had a hard time mustering enough finger strength to change gears on a trigger shifter. In contrast, he's been very happy with the choice of grip on the Woom Now.
From my perspective as a parent, I love his confidence but I also really love the integrated lights. When he rides it's usually my job to turn on the lights and to make sure they are ready for him. In this case they just work. I'm also a big fan of the fenders, although we haven't had a chance to ride it in the rain yet.
In terms of things I'm less happy about, it's the kickstand that bugs me the most. As mentioned, it's a heavier bike and it's long. Many adult cargo bikes use a double-sided central kickstand for added stability and I'd love to see that here as well. Although over time my boy will become more comfortable with the lower stability of the single sided kickstand, it's been a bit of a learning curve.
Image 1 of 4
Value
Pricing for Woom products is premium. The Woom Now 6 carries with it a tag of €899.00 / $849 so nothing has changed in that regard. Keep in mind though that as kids grow, everything they need costs more. A 26-inch kids' bike is going to cost more than a small kids' bike. Even taking both the premium nature of the brand and the larger sizing into account, the Woom Now 6 is an expensive bike. If you are looking for a less expensive option from Woom, the standard Woom 6 sits right in line with other premium manufacturers of kids' bikes.
There's nothing on the market that's similar to what the Woom Now offers and you can see the price reflects that. Things like generator hubs and unique frame pieces are going to cost more so although the price is higher, it's not unexpected. One other thing to keep in mind is that once your little one grows out of a Woom product, there's a robust secondary market. Dedicated groups exist solely as a marketplace for used Woom bikes and the demand is high. You can expect to get a large portion of your initial buy in back when you are ready to sell.
Woom Now 6 Specs
Price: €899.00 / $849
Weight: 12.6 kg (27.8 lbs)
Age: 10 - 14 Years
Height: 142 - 167 cm (4.7 - 5.5')
Frame material: 6061 aluminum
Wheel size: 20" front, 26" rear
Gearing: 8 speed grip shift, 28-tooth chainring, 11-34 rear cassette
Brakes: Flat mount hydraulic with 140mm rotor both front and rear
Weight limit: 100 kg / 220.5 lbs (maximum combined weight of bicycle, rider and cargo)
Colors: moss green & formula red, ice blue & carbon black
Contact: woom.com
Thank you for reading 20 articles this month* Join now for unlimited access
Enjoy your first month for just £1 / $1 / €1
*Read 5 free articles per month without a subscription
Join now for unlimited access
Try first month for just £1 / $1 / €1