Watch: How to make Christmas dinner healthier AND tastier (video)
We show you how to take some damage limitation on one of the most calorific times of the year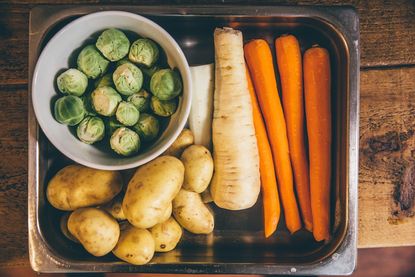 (Image credit: daniel gould)
During the festive season, we're surrounded by naughty foods that contain heaps of hidden calories. Christmas Day itself is particularly hazardous: you can easily go loading up your plate with far more calories than you ever would while fully sober.
>>> Christmas alcohol swaps: cut the calories, not the fun (video)
According to research, each of us chomps through an average 7,000kcal by bedtime — enough to fuel a Tour de France stage. There's nothing wrong with enjoying the festivities, but why gorge on low-nutrient calories and jeopardise your power-to-weight ratio just because a baby was born in improbable circumstances in Bethlehem?
Let's ignore the turkey, the Christmas dinner centrepiece, as it simply needs to be roasted, and the resultant meat is lean and relatively healthy. Let's instead focus on — and revamp — the traditional vegetable accompaniments, which are usually boiled and often badly overcooked.
This is how I encourage athletes to eat more vegetables — simply by making them taste better.
Here, I show you how to cook four common Christmas dinner vegetables really beautifully while retaining the optimum nutrient value.
About the chef
Alan Murchison (performancechef.com) held a Michelin star for a decade and worked in high-end restaurants for 25 years. He is an ex-international endurance runner and an accomplished cyclist — one of a select few athletes who've achieved a sub-30min 10k run as well as a sub-20min 10-mile TT. Murchison now provides nutritional advice to elite athletes.
Brussels sprouts
Serves 4
Brussels sprouts are really good for you, healthy and inexpensive, but we've all had horrific experiences eating sprouts that are overcooked — people put them on at the same time as the turkey and end up with a brown/grey, sludgy mush!
Ingredients
500g Brussels sprouts
1 tablespoon coconut oil
1 teaspoon salt
Method
- Preheat oven to 190ºC.
- Trim off the excess leaves.
- Blanche in boiling salted water for 4min.
- Refresh them by straining and placing into ice-cold water to stop the cooking process. This can be done a day in advance — at this point, the sprouts are three-quarters cooked.
- Cut each sprout in half.
- Pour coconut oil into griddle pan and pre-heat to moderate temperature (either under the grill or on the hob).
- Place halved sprouts into pan and grill for 2-3min on each side.
- Finally, place in oven for 2-3min to complete cooking.
This method gives a beautiful caramelised flavour, and the sprouts retain their flavour, freshness and nutrients. You end up with a lovely texture to the sprouts, which is really easy to control during cooking. Even better, half the cooking can be done in advance.
Even people who thought they hated sprouts will enjoy these! Gone is the bitterness and mushy texture, and instead you have a lovely sweet flavour and firm texture.
>>> Don't let the Christmas party season slow you down
Potatoes
All too often Christmas Day potatoes are cooked in loads of saturated fat. Admittedly, there is something lovely about a crispy, fat-soaked potato — but it doesn't need to be like that to taste good. Here's a great alternative.
Serves 4
Ingredients
1kg potatoes
3 tablespoons coconut oil
1 teaspoon salt
Method
- Cut potatoes in half.
- Boil for 8-10min in salted water.
- Strain and allow to cool.
- Add coconut oil to griddle pan and preheat to moderate temperature (on hob or under grill).
- Place potatoes in pan and cook for 3-5min until golden and crisp on the outside.
- Finally, place in pre-heated over for 3-5min to complete cooking.
For this recipe, choose any waxy variety of new potato. You can experiment in advance — a kilo of potatoes costs only about £1. The great thing about using a griddle pan is that the potatoes don't actually sit in the fat, and by using coconut oil, you're adding a good form of fat to your diet — far better than eating potatoes dripping with animal fat.
This recipe proves that roast potatoes need not be a massive faff. Most people do not have an oven to cook for 10 to 12 people. This method is quick and easy. Cooking your potatoes on the hob in this way frees up space in the oven for your turkey and everything else that needs to be roasted. Grilling the potatoes means they don't soak up loads of fat.
These potatoes provide a pure, natural form of carbohydrate, letting you sidestep processed carbs such as pasta or bread — roast potatoes, like puppy dogs, are not just for Christmas! What's more, they're dead cheap.
>>> Christmas gifts for cyclists: festive treats from £8 to £500+
Carrots
Boiled supermarket carrots can be severely lacking in flavour and nutrients. There is an alternative, far tastier way…
Serves 4
Ingredients
1kg carrots
2-3tbsp honey
1tbsp ground cumin
Method
- Preheat oven to 190ºC.
- Peel the carrots and slice into chunks as required.
- Place in large roasting tin, and add honey and cumin.
- Stir well, making sure carrots are evenly coated.
- Put in oven and roast for 10-15min.
With these carrots, we are thinking about flavour profiles. Turkey is a quite bland meat, but adding the honey and cumin to these carrots adds a delicious combination of sweetness, bitterness and spice that can really lift the entire meal. This method provides an awful lot more flavour than simply boiling vegetables. The carrot might be a staple vegetable but this cooking technique really elevates the flavour.
Parsnips
Parsnips are quite a tricky vegetable to cook because of the fibrous root that runs through the middle of them. Here's how to despatch the toughness and unleash the optimum amount of flavour.
Serves 4
Ingredients
500g large parsnips
1 tablespoon coconut oil
1 tablespoon honey
Handful fresh thyme
Method
- Pre-heat oven to 190ºC.
- Slice each parsnip in half and remove the root.
- Cut into quarters.
- Put coconut oil and honey into griddle pan and preheat to moderate temperature on hob or under grill.
- Add parsnips and grill for 10-15min.
- Place in oven for 5-10min to complete cooking.
The woody flavour of the parsnips works really well with thyme, and the coconut oil allows cooking at a fairly high temperature. Again, by doing half the cooking on the hob (or grill), you're freeing up space in the oven and making the Christmas meal quicker and easier. Making the humble vegetables more than just boiled mush really makes all the difference. Healthy food doesn't need to be dull.
Thank you for reading 10 articles this month* Join now for unlimited access
Enjoy your first month for just £1 / $1 / €1
*Read 5 free articles per month without a subscription
Join now for unlimited access
Try first month for just £1 / $1 / €1