Watch: Peter Sagan reveals the new Specialized Diverge in mysterious muscle car video
Can we expect to see Future Shock front suspension and a dropper post incorporated in the new Diverge?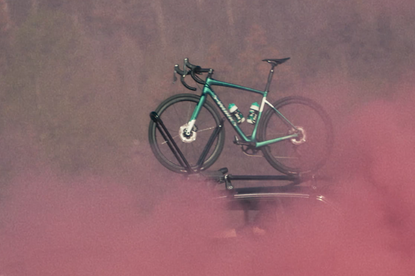 Specialized tasked Peter Sagan with creating the trailer for its updated Specialized Diverge bike, and this is what he came up with: a muscle car pulling donuts while emitting pink smoke.
While the video itself is a tad elusive and more than a little mysterious, it does give us some great shots of the bike, a model Specialized has clearly redeveloped to embrace the ever-expanding adventure bike market. So, what can we expect from the next model?
>>> Pro bike: Peter Sagan's custom S-Works Roubaix with suspension (video)
Well, for starters it looks like Specialized has incorporated its Future Shock technology from its Roubaix model into the Diverge, a move that's not wholly surprising consider the bike's off-road purpose.
The Future Shock technology, a 20mm spring in the head tube of the bike, works well to iron out the worst of the cobbled secteurs of the Spring Classics and rough roads.
Clearly visible in the video is some sort of suspension seatpost, or, more likely from its shape a small dropper post.
Dropper posts are nothing new in the mountain biking world, allowing you to drop your saddle for tackling more difficult terrain. Of course, its inclusion on the Diverge would surely depend on the terrain you're tackling, but even the smallest of drops in saddle height will help you when heading downhill.
From the look of the photo above, possible 1x drivetrains could be expected – again, a move that's been embraced by off-road cycling and a system currently only offered by SRAM.
The frame also looks to be altered compared to previous models: Specialized has dropped the seatstays, much like it has on what is possibly the new Specialized Tarmac, spotted recently. The frame looks to retain that tapering top tube, though.
As you would expect, the Diverge is still disc equipped, and there's a thru-axle at each dropout. Clearly visible are Shimano's Ice Tech rotors as well as the Di2 junction box visible underneath the stem. The tyres look to be around the same 35mm size as on previous models.
It's a bizarre video, but then with Sagan conducting it, that was always likely. If you're wondering why the muscle car and donuts, just ask the Slovakian: "Yeah.. F***k it, I wanted to do donuts."
Thank you for reading 10 articles this month* Join now for unlimited access
Enjoy your first month for just £1 / $1 / €1
*Read 5 free articles per month without a subscription
Join now for unlimited access
Try first month for just £1 / $1 / €1