Watch: which road helmet is fastest? We put six models to the test
We test six top end road helmets in the velodrome to find out which is the fastest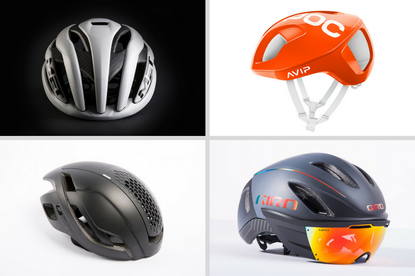 In our constant pursuit for the fastest kit, we've returned to the velodrome to put six of the latest and the greatest road cycling helmets to the test.
On test:
Giro Vanquish
Met Trenta
Limar 535 Superlight (baseline helmet)
The testing process
To help with the testing process we enlisted the help of Watt Shop as well as GB Pursuit rider and World Champion Charlie Tanfield. He rode in a road position on the track at 45 kmh, constant velocity and constant position.
The results
So the moment of truth, which road racing helmet is the fastest?
Well, in seventh place for the Kask Infinity, in sixth place was the POC Ventral, fifth went to Giro Synthe which was narrowly beaten by the Lazer Bullet. Interestingly, then we had the Limar rental helmet from Derby Velodrome. It was beaten by the Giro Vanquish MIPs, but the grand title goes to the Met Trenta.
Of course, this leaves a lot to talk about. Like how the Limar 535 Superlight has absolutely stormed to 3rd place. Asking Dan at Watt shop, he explained that lots of cheap helmets have really good aerodynamic shapes because the designers try and make them look professional. They also have fewer vents, and fewer vents have less drag.
Meanwhile, the Kask Infinity was a surprise in last place, but it is a slightly older design. The POC Ventral is one of the newest on test, so it's a surprise it didn't rank higher.
The Met Trenta has performed exceptionally well, especially considering it has far more vents than the second place Giro Vanquish. Perhaps this is down to the the width of the helmet, with the Trenta being a lot less wide than the Vanquish.
Thank you for reading 10 articles this month* Join now for unlimited access
Enjoy your first month for just £1 / $1 / €1
*Read 5 free articles per month without a subscription
Join now for unlimited access
Try first month for just £1 / $1 / €1