Lazer Bullet helmet review
Looking to give the best of both worlds, the Lazer Bullet offers do-it-yourself ventilation as well as aerodynamics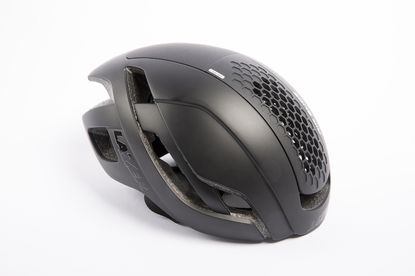 The Lazer Bullet is a good looking aero helmet with good ventilation on tap, plus it fits well and is comfortable, although it might be a tad bulky for riding abroad.
Reasons to buy
+

Comfortable

+

Looks good

+

Good retention system

+
Reasons to avoid
-

Sticky vent system

-

Still too warm for height of summer riding
First debuted at Eurobike last year, the Lazer Bullet is Lazer's premiere aero road helmet, replacing the Lazer Z1, and worn by the Lotto-Soudal team as well as Andre Greipel.
In design it looks quite a lot like the Met Manta and a bit of Specialized S-Works Evade, save for a do-it-yourself vent that sits front and centre. The idea being that if you want to be fully aero you can keep the vent shut, but if things get a little warm you can slide it open.
So, is it a helmet that can give the best of both worlds? Well, I was surprised by how much opening and closing the vent alters air flow, but then it is a sizeable hole with a series of smaller vents running above it so there's plenty of space for the air to get in.
There are also two larger vents on the side of the helmet that run from top to bottom and I certainly never felt like I was in danger of overheating when riding in normal UK conditions.
Elsewhere, it's a polished piece of kit. The fit is good, and it sits secure and snug around the head rather than feeling perched on top of it. The retention dial is large but accurate, and can click in a comfortable fit with no hot spotting or pressure points.
Watch: Helmet buyer's guide
The venting action could be smoother, and I sometimes found it to be sticky when trying to open or close it.
As with most modern helmets, you can get MIPs included for an additional £30, although the model tested here didn't have it.
On the whole it vents well enough for the UK, but if I was riding in true, oven like conditions, i'd still opt for a lighter, more vented helmet. However, if you're a true aero aficionado then you'd do fine in the UK with the Lazer Bullet and its adjustable venting.
Thank you for reading 10 articles this month* Join now for unlimited access
Enjoy your first month for just £1 / $1 / €1
*Read 5 free articles per month without a subscription
Join now for unlimited access
Try first month for just £1 / $1 / €1