Why steel time trial bikes are making a comeback (video)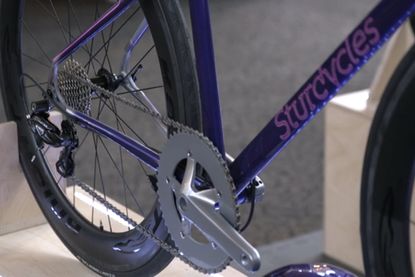 Before Chris Boardman's Lotus kicked off a revolution in super slippery monocoque carbon fibre frames, steel time trial bikes were the norm in both professional cycling and domestic time trialling.
Perhaps one of the most famous time trials of all time, the final stage of the 1989 Tour de France that saw Greg Lemond (and his aero-bars) overturn a 50 second deficit on the yellow jersey Laurent Fignon and win in Paris by eight seconds, was contested on steel TT bikes.
>>> Greg LeMond's five greatest wins
These days, carbon fibre frames are very much the norm – just look at Sir Bradley Wiggins's Pinarello Bolide, Tony Martin's Specialized Shiv or Alex Dowsett's Canyon Speedmax. But is there still a place for the steel time trial bike?
"There is no reason why you couldn't have a hi-tech modern race bike made out of what are perceived as old materials; I reckon it would still be pretty quick," says Tom Sturdy, who designs and builds his bikes under the name Sturdy Cycles.
"Steel is still a fantastic material to work with, if it was discovered a few years ago it would still be thought of as a wonder material, it's just because it's been around for a while that people think it's old technology."
Sturdy's own time trial bike has been custom made for his measurements, featuring a long drop to the bars (he has long limbs), flattened tubing and built-in front and rear lights.
>>> The top 10 game-changing road bikes
"In certain situations, specifically time trial or any steady state power output, having a certain amount of flex can actually help you produce power over a decent amount of time," he says. "Although flexing side to side is perceived as a loss of energy, there is a mechanism that allows that energy to return to useful energy in the bike.
"That really starts contributing to he ride feel, the 'steel is real' phenomenon."
Sturdy's bike might not be taking on the manufacturing giants when it comes to out and out aerodynamics, but he argues that the improved handling and ride than can come from a handbuilt bike still has a place in the race against the clock. Plus, his bike looks great.
>>> Carbon beware: are aluminium frames making a comeback?
"In the modern world we're so far removed from the manufacture of products there's an assumption that all manufacture has to be hi-tec, digital, using machines," he says.
"You can achieve a very high degree of accuracy by hand - with hands - with no real machines. It just takes care, attention, and skill."
"It's fantastic to ride a bike that has been made bespoke for you, it's a really nice feeling," he adds. "Especially if it's done well, whoever built that bike for you will have put a lot of care and attention into it and it's amazing how all those little things combine to make something which you don't realise you want until you've had it."
Thank you for reading 10 articles this month* Join now for unlimited access
Enjoy your first month for just £1 / $1 / €1
*Read 5 free articles per month without a subscription
Join now for unlimited access
Try first month for just £1 / $1 / €1
Richard Abraham is an award-winning writer, based in New Zealand. He has reported from major sporting events including the Tour de France and Olympic Games, and is also a part-time travel guide who has delivered luxury cycle tours and events across Europe. In 2019 he was awarded Writer of the Year at the PPA Awards.