Greg LeMond's five greatest wins
America's most successful cyclist, Greg LeMond, talks through five of his favourite career victories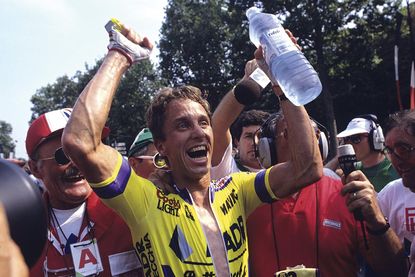 (Image credit: Graham Watson)
Junior World Championships 1979
Greg LeMond's favourite career moment is probably one that few people actually witnessed. Aged 18, LeMond stormed onto the world scene at the Junior World Championships in Argentina, medalling in three disciplines on both road and track.
"I got three medals in Argentina," said LeMond. "I got a bronze medal in the team time trial and a silver on the track, despite having not ridden a pursuit for years! Then I won the road race."
The win marked the American's readiness to enter the professional ranks and, courted by Bernard Hinault and coach Cyrille Guimard, he joined the Renault team in 1981.
Before the move to the professional scene, LeMond won Circuit de la Sarthe and was in contention to win at the Ruban Granitier de Breton when he punctured. The American was reportedly angry that his team car was nowhere to be seen and vented this when it finally arrived with a spare wheel. The incident made Guimard want to sign him even more, according to Richard Moore's Slaying the Badger biography.
But LeMond insists his final years as an amateur were some of his best years of racing, despite his early success in Europe with Renault. "I think in 1979 and 1980 I was riding better than I did in my first two years as a professional, because I was just flying."
>>> The top 10 most impressive pro debut seasons
World Championships 1983
LeMond didn't hang around when he reached the professional stage. He won three stages on his way to the overall Tour de l'Avenir in 1982 and finished second in the World Championships the same year. Italian Giuseppe Saronni outsprinted the American in front of the thronging crowds at Goodwood — the last time the Worlds came to Britain.
"In my first five years as a racer I won everything I wanted to win," he said. "I went to Europe and raced in Switzerland, France, Belgium and won all those races. The rise was so fast and so exciting."
LeMond's wait for a rainbow jersey was not to be a long one, however, coming back the following year to triumph in Altenrhein, Switzerland. The win saw LeMond become the first American to win a World Championships road race, with Lance Armstrong joining him on the list 10 years later.
Wearing the rainbow jersey for the first time, LeMond stormed his way to third place in his first Tour de France in 1984, picking up the young rider classification too.
The American's form in the 1985 season was equally remarkable, with podium finishes in both the Tour and Giro d'Italia, and another second place at the World Championships, this time losing out to Joop Zoetemelk.
Tour de France 1986
It was in LeMond's sixth year as a professional that he stood on the top step of the Tour de France podium, having beaten team-mate Hinault for the yellow jersey.
LeMond was officially a co-leader of the La Vie Claire team, along with the 'Badger', but Hinault looked certain to claim his sixth Tour title halfway through the race.
However, not even a five-minute time deficit could dissuade LeMond from chasing the title, and the American clawed back four and a half minutes the following day. The yellow jersey was on LeMond's shoulders after stage 17, setting up a famous tussle on Alpe d'Huez where the duo finished side by side. Wave after wave of Hinault attacks failed to break the American, who rolled home in Paris to take the overall win.
"Athletically it's the one I'm most proud of. It's the one when I beat one of the best riders of all time, and I beat him fair and square," said LeMond.
"Riding in the same team as Hinault was the most stressful thing, and looking back it was even more dark than I first thought. It wasn't really Hinault himself; it was all the other people who wanted Hinault to win."
He added: "I came into cycling with [Cyrille] Guimard, who was really changing the way races were ridden. We never had one leader; leadership was given in the moment. If you were riding the best, you raced. Even if I could win but Hinault was riding a little better, I raced for him, and he would do the same for me."
>>> Greg LeMond interview: Tour de France 1990
Tour de France 1989
LeMond's 1986 Tour win was followed by a two-year absence from the race. A hunting accident, which left him with 35 shotgun pellets in his body, ruled him out of action in 1987 before tendonitis scuppered his return in 1988.
But even pellets in his liver and heart would not stop LeMond from returning to the Tour, and he did so with a bang in 1989.
A rare final stage time trial from Versailles to the Champs-Elysées would see LeMond and the 1984 champion, Laurent Fignon, go head-to-head in the closest finish in Tour history.
Setting off 50 seconds back on Fignon, LeMond rode the time trial of his life to win the Tour by eight seconds.
"I get so nervous when I know I can do well," he said. "I warmed up in the morning and did some calculations in my mind based on our times from the Giro. I knew that I could probably win without the aero bars, but it would be incredibly close.
"I actually thought I would take more time out of him than I did, but I felt so good in the morning and told everyone I was going to win it. I never did that because it was like a jinx. I was super-nervous, but it was a really fun ride.
"I flew through that time trial — I could have done another 25km like that!"
Even after that finale, LeMond still wasn't through with the French race, and returned the following year to claim his third overall victory while riding for Z-Tomasso.
>>> Tour de France 1989 - the greatest Tour ever
World Championships 1989
"I wish this one was one of the Classics, but I never had a really good one!" LeMond joked.
Instead, a second World Championship would have to suffice for the American's fifth favourite career highlight.
By winning the rainbow jersey in Chambery, France, in August 1989, LeMond became only the fourth cyclist in history to win both the Tour and the Worlds in the same season.
LeMond edged out Dimitri Konyshev and Sean Kelly for the gold medal, ensuring he would ride the 1990 season in the multicoloured stripes.
"Working with Guimard and knowing how to train in cycles was important," he said. "Knowing about recovery and then when to overload and taper meant that I always did really well at the Worlds.
"Of course, I kept my fitness from the Tour, but there was a very specific way that I trained for the World Championships."
While two rainbow jerseys would likely count as a successful career for most cyclists, LeMond remains disappointed that his Classics trophy cabinet remained bare.
"For the Classics we followed too much of an old way of doing things. If I had trained for them like the Worlds then I'd have backed it up more. I would come into the Classics season slightly overtrained, but I loved training for them.
"It's the one thing I regretted, not winning a Classic. I got just as excited for the Tour of Flanders or Paris-Roubaix as I did for the Tour de France."
this article originally appeared in the May 2015 issue of Cycle Sport magazine.
Thank you for reading 20 articles this month* Join now for unlimited access
Enjoy your first month for just £1 / $1 / €1
*Read 5 free articles per month without a subscription
Join now for unlimited access
Try first month for just £1 / $1 / €1