How to ride on cobbles (video)
Cobbles bring out the supreme bike handlers of the pro peloton, here are a few useful hints to help you join them.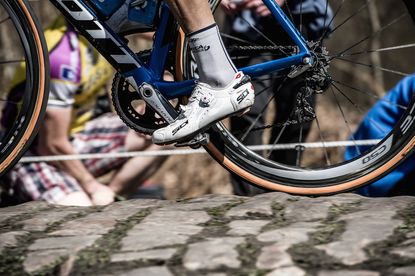 (Image credit: Russ Ellis)
Riding on cobbled roads can be somewhat intimidating to riders facing the pavé for the first time. But applying a little bit of tactical nous will slowly increase your confidence and see you floating over the cobblestones in no time at all.
More power and more speed
It may seem daunting, but increasing the power you put through each pedal stroke, which will in turn increase your speed will make riding on cobbles much easier. A steady increase in effort will help your wheels skip over the cobbles. Instead of getting bogged down and caught in the groves and bumps in the road.
It's not a case of hitting the cobbles full throttle however spinning a gear that is too low can make bike handling far trickier and even lead you to losing traction if you are riding in wet conditions.
As most cobbled sections of road shouldn't last much longer than five minutes, increasing your speed and effort levels for a short period of time shouldn't be too much of a challenge.
Weight distribution
For some cyclists it may be second nature to stand up when trying to put more force through the pedals, however shifting your weight forward isn't always a shrewd move when riding on cobbles.
Ensuring you distribute your weight to go through the back wheel when possible is important to maintaining traction, which will in turn improve your bike handling ability. Pedalling standing up can also lead to greater front wheel movement, which makes it harder to pick the best line in the road on bumpy surfaces.
>>> How to lose weight cycling
Avoid the hoods
Due to the forces that shoot through your body when riding over the cobbles, it's important to have a strong but not overly tight grip on the handlebars.
Positioning your hands on the tops or drops when you can ensures the safest and most secure grip. Despite the comfort that placing your hands on the hoods can bring, it isn't as safe and could see you losing your grip and control of the bike.
Road positioning
Due to cobbled roads being old farm tracks, many will have a very noticeable camber. If possible, try to ride on the crown of the road, which is the smoothest part of the pave.
Failing that, riding in the gutter is the next best place for maintaining control of your bike. A word of warning though as this can leave you susceptible to punctures from debris and broken cobbles.
It is also best to avoid suddenly changing your riding line as this can lead to your wheels sliding down the camber and potentially crashing into other riders.
Cornering
Cornering can be tricky to master at the best of times, and on cobbles it is common to come across tight and tricky 90-degree bends, which can often trip you up if you don't anticipate them coming.
Using the camber in the road – the same way as you would when riding on a track - will help slingshot you round a corner. This is also far safer than riding the on the crown of the road – especially if the cobbles are wet and muddy.
>>> How to improve your bike handling
Relax
It may seem like a white knuckle ride at times but riding with locked arms and gripping the handlebars tightly wont allow the bike to move freely across the road.
Use your arms as shock absorbers to help relieve the strain from your shoulders and the rest of your body, which can be prone to tensing up over a long ride.
Thank you for reading 20 articles this month* Join now for unlimited access
Enjoy your first month for just £1 / $1 / €1
*Read 5 free articles per month without a subscription
Join now for unlimited access
Try first month for just £1 / $1 / €1