Watch: Cyclist hit by car, lands on roof, then sits there patiently as driver parks up
Couldn't do that again if he tried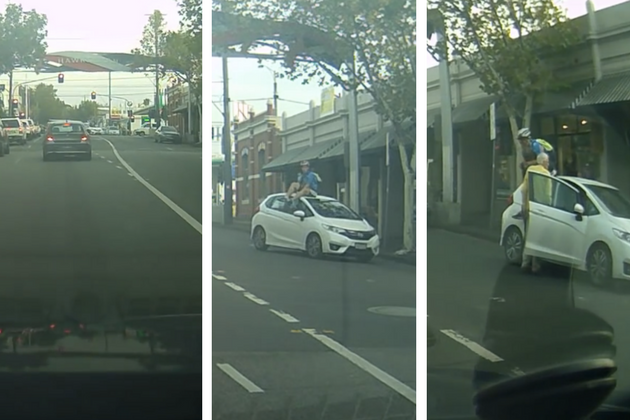 A cyclist in Australia has had a lucky escape after being hit by a car at a junction, landing on the roof where he sat patiently until the driver pulled over at the side of the road.
The incident, which took place in the neighbourhood of South Yarra in the suburbs of Melbourne, shows a cyclist travelling eastwards along Malvern Road being hit by a car that is driven across the cyclist's path while turning right into Williams Road.
>>> Watch: Australian cyclist has lucky escape after kangaroo nearly takes him out (video)
In most incidents like this the cyclist would find himself thrown to the ground, but in this case he managed to roll up the bonnet and windscreen, coming to a stop on top of the car, where he sat patiently as the driver pulled over at the side of the road.
Clearly in a bit of pain, the cyclist is helped down from the roof of the car by a passer-by, before being sat down at the side of the road where he is tended to by others. The driver, meanwhile, looks on seemingly slightly bemused, getting back into the car after a brief conversation.