The best aftermarket aero bars for triathlons and time trialling
Aero bars can optimize your TT position and help you save watts.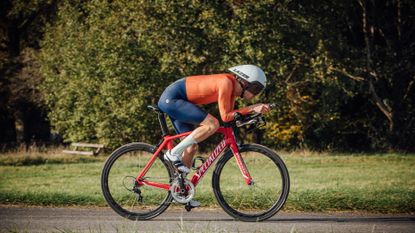 (Image credit: Future)
For triathletes and time trialists in particular, achieving an aerodynamic position is extremely important. Each athlete's bike fit is unique to them, with the goal being in an optimized position that is comfortable and efficient while also being comfortable enough to hold for long periods of time.
One of the staples behind all triathlon and time trial positions is the aero extensions, which allow a rider to bend at the waist, rest their elbows on the arm cups, and extend their hands forward to create the classic tuck position we've come to associate with triathlon and TTs.
Aerobars, whether those with a base bar and designed for internal cable routing or simply clip-ons, can improve your speed by 5-10% without you needing to get any fitter. While again, a good fit is the basis for maximizing the speed gains of leveraging aero extensions, they're a great tool to add to your arsenal especially when in the saddle for long periods of time — be it on road or on gravel.
Best aero bar clip-ons for triathlons, time trialing and endurance riding
Adding aftermarket clip-on aero bars, or a base bar and extensions, to a road bike is a relatively inexpensive route to achieving the same position you might adopt on one of the best time trial or triathlon bikes.
Redshift S-Shape Quick-Release Aero Bars
For the roadie who dabbles in the aero position.
Specifications
Material: Aluminum (but they also come in carbon)
Weight: 180g for the aluminum S-shape
Internal Cable Routing?: No
MSRP: $199.99 USD
Reasons to buy
+
Very easy to take on and off
+
No tools required after initial installation
+
Plush arm pads
Reasons to avoid
-
No internal cable routing option
-
No measurements printed on the bars
-
Not easily compatible with flat or oval-shaped handlebars
The Red Shift Quick-Release Aero Bars are the ideal extensions for the athlete who sometimes needs to attain an aero position, but not on every ride. For example, a seasonal triathlete who doesn't need a full-on TT bike and can make do on their roadie.
After the initial clamp installation on the handlebars, which will require a single 5mm hex key, no more tools are necessary for removing the extensions or cups thanks to the adoption of the quick-release mechanism. Simply slide in the skewer, tighten as you would any quick-release thread, and tighten when the pads and extensions are as you'd like.
The bars come in a variety of options, from aluminum S-shape or L-bend to a carbon version of both. You can also order a shim and risers with the bars, if needed, too.
51 Speedshop Ski Bend Extensions
Best aftermarket aero extensions for who own a triathlon or TT bike
Specifications
Material: carbon
Weight: 134g
Grip angle: 51 degrees
Internal cable routing?: Yes
MSRP: $179 USD
Reasons to buy
+
Trimmable top end for max customization
+
Internal cabling-friendly
+
Measurements marked on bar
+
Compatible with most arm cups
Reasons to avoid
-
Not optimal for road bikes or solely as clip-ons
The 51 Speedshop Ski Bend extensions are my bike for best internal cabling-friendly triathlon or TT bike extensions. The price is right for a set of carbon bars, the bars give plenty of options for trimming and customizing, and the ski bend makes for a comfortable grip when deep in an aero fold.
Plus, the Ski Bend extensions are compatible with most existing arm cups thanks to their round shape. 51 Speedshop also sells their Universal Arm Cup and Pad set ($80) in case, for some reason, their bars aren't working with your current setup.
The only downside to this set of bars is that they definitely aren't suitable as solely clip-ons. The bars don't come with their own end plugs or clamps and none are available from 51 Speedshop for purchase.
Pro Missile Evo Ski Bend
For those looking to spare no expense in their front end setup
Specifications
Material: Carbon
Weight: 124g
Grip angle: 45 degrees
Internal cable routing?: Yes
MSRP: $299.99 USD
Reasons to buy
+
Internal cabling-friendly
+
Highly configurable
+
Slim profile
Reasons to avoid
-
Small area to grip at the top end
-
Must be used with oval-compatible arm pad
-
Expensive and must purchase add-ons
The Pro Missile Evo Ski Bend looks and feels sleek. The first thing a consumer will notice is that the long part of the extension is oval-shaped. Many arm cup attachments are round. If you aren't also purchasing Pro arm cups, ensure that the ones you already have are compatible with an oval bar.
These bars are ideal for a triathlon or time trial bike as they encourage the rider to adopt a very low, tucked position in order to maintain flat, parallel forearms to the ground while gripping the curved part of the bar.
The Pro Missile Evo Ski Bend set is very expensive when you factor in that you'll likely need to purchase clamps and arm cups to accommodate the oval-shaped bar. For those looking to spare no expense on their setup this is a great option, but definitely one to pass over if your wallet is feeling a bit light.
Zipp Vuka Alumina Evo
For the budget triathlete
Specifications
Material: Alumnium
Weight: 180g
Rise: 70mm or 110mm
Internal cable routing?: Yes
MSRP: $64 USD
Reasons to buy
+
Come in either 70mm rise or 110mm rise
+
Comfortable on the wrists and hands for many hours
+
Easy to configure lengthwise and rolling inward/outward
The Zipp Vuka Alumina Evo is a great budget option for internal cable-supported extensions and works best on a tri bike as they are designed to be long and tuck an athlete into a deep aero position.
The length of the aerobar extending after the bend does help to relax the wrists and hands, though, and does not risk the rider scrunching their elbows or shoulders to try to achieve a comfortable grip.
Because these bars are almost a hybrid between J-shaped and S-shaped, if you'd like to use them for a true aero tuck, you may need to invest in a tilt kit (which can be purchased from your bike's manufacturer) for your arm pads to achieve a close-to-the-face tuck and grip on the bars.
Deda Elementi Parabolica 2 clip-on aero bars
Well designed, simple to set up and won't break the bank
Specifications
Material: Aluminium
Weight: 600 grams
Clamp diameter: 31.8mm
Internal cable routing possible?: No
Reasons to buy
+
Affordable
+
Plenty of adjustability
+
Easy to set up
The Deda Parabolica 2 clip-on bars are a straightforward option that's well-suited to those looking for a reasonably lightweight yet affordable aero bar.
The UCI-approved Parabolica 2 bars are made of 6061 aluminium with 285mm s-bend extensions that can be adjusted by length. This shape allows riders to adopt a variety of wrist and hand positions thanks to the shape that gently rises from the armrest. Regarding the armrest, they're also fully adjustable and come complete with pads.
The Parabolica 2 clip-on aero bars have a rise of 42mm but come with a riser kit that allow you to increase this to 55mm. This level of adjustment makes the Deda bars a good choice for those looking to get in a low position as well as those wishing to adopt a somewhat higher and potentially more comfortable position.
Like all the best clip-on aero bars the Parabolica 2 model is pretty simple to set up with an alloy clamp that fits directly on your handlebars.
Profile Design Sonic Ergo 35 clip-on aero bars
Highly adjustable and suited to multi-disciplines
Specifications
Material: 6061 Aluminium
Weight: 559 grams
Clamp diameter: 31.8mm
Internal cable routing possible?: Yes
Reasons to buy
+
High level of adjustability
+
Lightweight for alloy
+
Simple to set up
The Profile Design Sonic Ergo are billed as one of the more adjustable clip-on aero bars out there. Despite its pretty traditional look, Profile Design state that there are some 1500 possible configurations when you take into account the adjustability of both the pads and the extensions when coupled with the after-market riser kit.
In terms of numbers this level of adjustability allows the armrest offset to shift from -70mm to -2.5mm while the armrest width can move between 124mm to 290mm. Finally the stack can be adjusted from 60mm to 130mm, with the help of the aforementioned riser kit. The ability to set the Profile Design clip-on bars in a high position should offer plenty of appeal for ultra-distance and audax events.
The clip-on bars gets its name from the 35 degree bend of the extensions, which Profile Design says allows riders to adopt a fairly neutral wrist position.
The Sonic bracket is a redesign of the brand's existing J2 model and sees a reduction in weight. In fact the Sonic Ergo clip-ons only weigh 559 grams all in, making them just a tad heavier than some carbon models on the market.
Zipp Vuka carbon evo clip on bars
Elegant, ergo and pricey
Specifications
Material: Unidirectional carbon
Weight: 420 grams
Clamp diameter: 31.8mm
Internal cable routing possible?: Yes
Reasons to buy
+
Very light
+
Fit above or below the bars
+
Ergo extensions promote comfort
If comfort through ergonomics are your thing then Zipp's Vuka carbon evo clip on aero bars could be for you. The carbon extensions are suitably lightweight and Zipp says they are contoured to better fit the hand; they feature a 20mm inward roll and a multi-radius bend.
The Vuka clip on bars offer plenty of adjustability. There's increased pad width adjustment that allows for additional inboard pad positions for those who like to adopt a narrow arm position. Pad-angle wedge inserts allow you to adjust the arm pads by 5 degree increments between 5 and 15 degrees. Finally the Vuka can be mounted above or below the bars, enabling you to dial in the stack height.
Zipp has designed the Vuka clip ons to work alongside its base bar of the same name. However it's also compatible with any road bar that accepts clip-on aero extensions. It is available in 70mm and 110mm rise options, with these weighing 140 and 142 grams respectively. That means including the clamps you've got a set of clip-on aero bars that weighs under 450 grams
If the carbon versions are a little too expensive for your liking, the Zipp Vuka clip-on aero bars are also available in a cheaper aluminium model.
Best aero bars inc. base bar for triathlons and timetrialling
If you've been competing in either triathlons or time trials events for a while it's likely that you may have already made the step-up to a dedicated bike for your chosen discipline. Full aero bars that feature a base bar are ideally suited to such a machine, providing improved aerodynamics.
While there's a good chance that you'll save a few watts with the full aero bar upgrade you won't be saving money: the best aero bars with an integrated stem and base bar require a complete overhaul of your brake and gear system. However, if you're committed to shaving a few seconds off your time then here are a few of the best aero bars on the market…
Profile Design Aeria Evo bars
Highly adjustable with aero carbon base bar and alloy extensions
Specifications
Material: carbon and 6061 aluminium
Weight: 809 grams
Reasons to buy
+
Tilting bracket aids position set-up
+
Wide range of adjustment
Profile Design has upgraded its popular Aeria bars by adding some additional adjustability in the pursuit of better position optimisation. What this means in real terms is redesigned brackets, armrest and extensions.
The brackets now offer the option of tilting the entire assembly from 0 degrees to 10 degrees, while also allowing you to further narrow the position of the armrests compared to the previous model. The armrest now allows for even more positions than the original - in fact Profile Design says that when combined with the risers the Aeria Evo offers 1700 variations of reach, stack and pad width.
It comes with a full carbon base bar while the extensions are the brand's 35a model; these are made from lightweight aluminium, come pre-drilled for bar-end shifters and as the name suggests provide a 35 degree bend that should suit those that like to adopt a pretty neutral wrist position.
The Aeria Evo weighs in at just over 800 grams. This is pretty competitive for a carbon and aluminium combination but opting for a full carbon aero bar should bring this number comfortably under 700 grams.
PRO Missile Evo Carbon aero bar
Super stiff with lots of adjustment
Specifications
Material: Carbon
Weight: 570 grams
Reasons to buy
+
Very lightweight
+
Stiff
+
Wide range of adjustment
PRO's Missile Evo aero bar is certainly top of the line - with a price tag to match. So what do you get for £800?
The entire handlebar, that's base bar, extensions and clamp, is a one-piece UD carbon fibre monocoque construction. This means they are aero, stiff and lightweight. In fact the bars weigh under 600 grams, making them of obvious appeal to the weight-obsessed.
UCI-approved, the Missile Evo aero bars measure 40cm in width and feature 12 degree j-bend adjustable extensions. The armrests allow for ample adjustment too and include gel pads for increased comfort.
Allowing for fully integrated brake and shifter cable routing as well as full Di2 compatibility, the bars are designed to work with PRO's Missile Evo stem. However, with the cable integration system they should be fairly easy to configure with your current TT or triathlon set-up.
Vision Metron TFA aero bars
Fully integrated and Di2 compatible
Specifications
Material: carbon
Weight: 1115 grams (inc. stem)
Reasons to buy
+
Fully integrated system
+
Internal cable routing inc. Di2 box
+
Flip-able base bar
The Vision Metron TFA bars look suitably space age. They are the choice of, among others, the EF Education World Tour team. Which means you can enjoy the same aero benefits as the likes of Rigoberto Uran and Neilson Powless.
As you'd expect at this price point, the carbon Metron bars are stiff and lightweight. They feature an integrated patented 'snakebite' stem that enables fully integrated cable routing as well the option of flipping the base base to create two different positions.
The adjustability doesn't stop there. The entire bar can be tilted from 0 to 16 degrees, while the JS bend extensions can move in length from 245mm to 385mm. Likewise, the arm rests offer a wide range of fit options while the stack height can be raised from 70mm to 145mm. All-in-all, the Metron TFA bars should allow you to dial in your position with great accuracy.
The bars weigh in at 1115 grams but this includes the integrated stem, making them competitive with other carbon aero bars at this price point.
Correctly Setting up your Aero Bars
The ultimate way to find the right aero position for you is to visit a vetted bike fitter. This may not be immediately possible for all athletes, but there are still some basic guidelines to follow when setting up your aero extensions.
When tilted forward in the classic aero position, you'll want your elbows comfortably resting just at the rear of the arm pads with the back third of your forearms comfortably leaning on the bulk of the arm cup.
With your elbows at the rear of the arm pads, position the extension in such a way that your hands can firmly grasp the top ends of the aero bars with your thumbs able to easily use the shifters if the bars allow for internal cabling. Regardless of whether the bars allow for cabling, your hands and arms should be relaxed yet capable of maintaining a secure grip at the top end of the bars.
The aero position can feel a bit awkward at first, and that's OK. It is an unnatural position. Testing out your fit on the turbo is a good way to get a sense for what feels right and wrong over a variety of rides. You may also want to mix in some regular core work to help keep your back and hips stable in the tucked position.
The goal of the aero position is to optimize the wind's ability to flow over you and reduce drag. It is important to remember that the most aero position is the one that you can hold for many hours. If you're so tucked that you're coming up onto the base bar every few minutes, you may as well not have aero bars at all.
Lastly, you'll want to consider both the shape and material of your bars. S-shaped bars, like the Red Shift Quick-Release, tend to reduce drag better but may not be as comfortable as J-shaped bars across the miles, like the 51 Speedshop Ski Carbon Extension, which relaxes the wrists and hands more. Carbon is obviously lighter and the material of high performance, but is much more expensive than an aluminum alloy.
There's a lot to consider when choosing aero extensions and then when fitting them to your individual athletic needs. Take it step by step and recognize that optimizing the aero position is a process and will evolve throughout your cycling career.
Thank you for reading 10 articles this month* Join now for unlimited access
Enjoy your first month for just £1 / $1 / €1
*Read 5 free articles per month without a subscription
Join now for unlimited access
Try first month for just £1 / $1 / €1
Kristin Jenny is an elite triathlete based near Boulder, Colorado. Although most of her time is spent in aerobars somewhere in the mountains, she finds time to enjoy eating decadent desserts, hiking with her husband and dog, and a good true crime podcast.