The best aftermarket aero bars for triathlons and time trialling
Aero bars can optimize your TT position and help you save watts.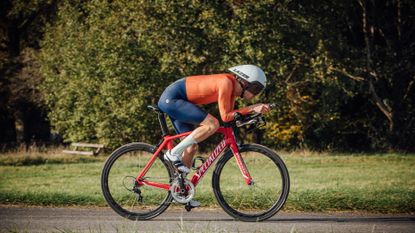 (Image credit: Future)
For triathletes and time trialists in particular, achieving an aerodynamic position is extremely important. Each athlete's bike fit is unique to them, with the goal being in an optimized position that is comfortable and efficient while also being comfortable enough to hold for long periods of time.
One of the staples behind all triathlon and time trial positions is the aero extensions, which allow a rider to bend at the waist, rest their elbows on the arm cups, and extend their hands forward to create the classic tuck position we've come to associate with triathlon and TTs.
Aerobars, whether those with a base bar and designed for internal cable routing or simply clip-ons, can improve your speed by 5-10% without you needing to get any fitter. While again, a good fit is the basis for maximizing the speed gains of leveraging aero extensions, they're a great tool to add to your arsenal especially when in the saddle for long periods of time — be it on road or on gravel.
Best aero bar clip-ons for triathlons, time trialing and endurance riding
Adding aftermarket clip-on aero bars, or a base bar and extensions, to a road bike is a relatively inexpensive route to achieving the same position you might adopt on one of the best time trial or triathlon bikes.
Redshift S-Shape Quick-Release Aero Bars
For the roadie who dabbles in the aero position.
Specifications
Material: Aluminum (but they also come in carbon)
Weight: 180g for the aluminum S-shape
Internal Cable Routing?: No
MSRP: $199.99 USD
Reasons to buy
+
Very easy to take on and off
+
No tools required after initial installation
+
Plush arm pads
Reasons to avoid
-
No internal cable routing option
-
No measurements printed on the bars
-
Not easily compatible with flat or oval-shaped handlebars
The Red Shift Quick-Release Aero Bars are the ideal extensions for the athlete who sometimes needs to attain an aero position, but not on every ride. For example, a seasonal triathlete who doesn't need a full-on TT bike and can make do on their roadie.
After the initial clamp installation on the handlebars, which will require a single 5mm hex key, no more tools are necessary for removing the extensions or cups thanks to the adoption of the quick-release mechanism. Simply slide in the skewer, tighten as you would any quick-release thread, and tighten when the pads and extensions are as you'd like.
The bars come in a variety of options, from aluminum S-shape or L-bend to a carbon version of both. You can also order a shim and risers with the bars, if needed, too.
51 Speedshop Ski Bend Extensions
Best aftermarket aero extensions for who own a triathlon or TT bike
Specifications
Material: carbon
Weight: 134g
Grip angle: 51 degrees
Internal cable routing?: Yes
MSRP: $179 USD
Reasons to buy
+
Trimmable top end for max customization
+
Internal cabling-friendly
+
Measurements marked on bar
+
Compatible with most arm cups
Reasons to avoid
-
Not optimal for road bikes or solely as clip-ons
The 51 Speedshop Ski Bend extensions are my bike for best internal cabling-friendly triathlon or TT bike extensions. The price is right for a set of carbon bars, the bars give plenty of options for trimming and customizing, and the ski bend makes for a comfortable grip when deep in an aero fold.
Plus, the Ski Bend extensions are compatible with most existing arm cups thanks to their round shape. 51 Speedshop also sells their Universal Arm Cup and Pad set ($80) in case, for some reason, their bars aren't working with your current setup.
The only downside to this set of bars is that they definitely aren't suitable as solely clip-ons. The bars don't come with their own end plugs or clamps and none are available from 51 Speedshop for purchase.
Pro Missile Evo Ski Bend
For those looking to spare no expense in their front end setup
Specifications
Material: Carbon
Weight: 124g
Grip angle: 45 degrees
Internal cable routing?: Yes
MSRP: $299.99 USD
Reasons to buy
+
Internal cabling-friendly
+
Highly configurable
+
Slim profile
Reasons to avoid
-
Small area to grip at the top end
-
Must be used with oval-compatible arm pad
-
Expensive and must purchase add-ons
The Pro Missile Evo Ski Bend looks and feels sleek. The first thing a consumer will notice is that the long part of the extension is oval-shaped. Many arm cup attachments are round. If you aren't also purchasing Pro arm cups, ensure that the ones you already have are compatible with an oval bar.
These bars are ideal for a triathlon or time trial bike as they encourage the rider to adopt a very low, tucked position in order to maintain flat, parallel forearms to the ground while gripping the curved part of the bar.
The Pro Missile Evo Ski Bend set is very expensive when you factor in that you'll likely need to purchase clamps and arm cups to accommodate the oval-shaped bar. For those looking to spare no expense on their setup this is a great option, but definitely one to pass over if your wallet is feeling a bit light.
Zipp Vuka Alumina Evo
For the budget triathlete
Specifications
Material: Alumnium
Weight: 180g
Rise: 70mm or 110mm
Internal cable routing?: Yes
MSRP: $64 USD