Get a free £10 Wiggle voucher when you book a Wiggle Super Series event this Bank Holiday Weekend
Offer ends Bank Holiday Monday - so act fast!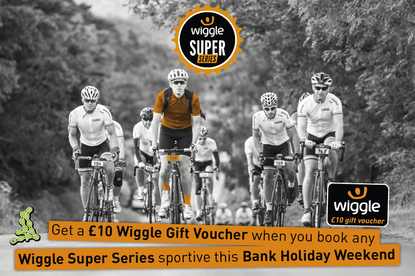 Between now and midnight on Bank Holiday Monday, book a Wiggle Super Series event and receive a £10 voucher to spend online at Wiggle.
We have picked out a selection of our favourite Wiggle Super Series events but head to the UK Cycling Events website because there are plenty more to chose from.
Wiggle Mega Meon Sportive
When: 23rd July 2017
Where: Hampshire, Waterlooville
More information: https://www.ukcyclingevents.co.uk/events/wiggle-mega-meon-sportive/
This summer corker is another must-do sportive; the Mega Meon will not leave you disappointed in terms of spectacular scenery. Starting in Waterlooville, Hampshire you will take in gorgeous country roads as well stunning views across the Solent, Spinnaker Tower, and the Isle of Wight. After taking in some of the area's challenging climbs pass through Northington, Tichborne, and Cherlton to complete what should be a hard yet rewarding sportive.
Wiggle Steeple Chase
When: Saturday August 12
Where: Huntingdon Racecourse, Brampton, Cambridgeshire
More information: www.ukcyclingevents.co.uk
Though the name evokes horse racing and the event begins at a racecourse, the three routes of this sportive are about church spires. Heading towards the Midlands this is not the normal flat East Anglian fare, with a fair bit of climbing as you pass the eponymous church steeples heading through Cambridgeshire, Leicestershire and Bedfordshire.
Wiggle Yorkshire Tour
When: Saturday, August 19
Where: Thirsk Racecourse, Thirsk
More information: www.ukcyclingevents.co.uk/events/wiggle-the-yorkshire-tour-sportive
While the shortest of the three routes on offer sticks largely to the flat roads of the Vale of York, the other two options head for the hills of Nidderdale and the Yorkshire Dales, taking in many of the same roads ridden by the pros in the 2014 Tour de France Grand Départ. The good news for those with tired legs is that the run to the finish is generally flat, and hopefully with a tailwind to help out too.
Wiggle Forest Ranger Sportive
When: 22nd October 2017
Where: Uttoxeter, Staffordshire
More Information: https://www.ukcyclingevents.co.uk/events/wiggle-forest-ranger-sportive/
The Wiggle Forest Ranger Sportive will give riders a lovely flavour of the undulating East Staffordshire and Leicestershire countryside. Starting at Uttoxeter racecourse you will head south towards Blithfield Reservoir, after that you will head through the pretty National Forest at Newborough. Along the way back you will pass through yet more beautiful forest areas such as Needwood and Marchington before you finish back at Uttoxeter.
Wiggle South Downs 100 Sportive
When: 22nd October 2017
Where: West Sussex, Chichester
More information: http://www.wiggle.co.uk/wiggle-super-series-south-downs-100-sportive-2017/ (opens in new tab)
This October time sportive is another one that takes in the beautiful Sussex area; it might not be in the heat of the summer time but it should still promise some spectacular riding as you will take in parts of the South Down National Park. Starting in Chichester, the South Downs Sportive will tae in surrounding areas of Petersfield and Billinghurst. And with three different courses on offer which will suit riders of all abilities it's a sportive that's not to be missed.
Thank you for reading 10 articles this month* Join now for unlimited access
Enjoy your first month for just £1 / $1 / €1
*Read 5 free articles per month without a subscription
Join now for unlimited access
Try first month for just £1 / $1 / €1