Irish champion Conor Dunne signs with Israel Cycling Academy after collapse of Aqua Blue Sport
The towering national champion has a new ride after suddenly finding himself out of contract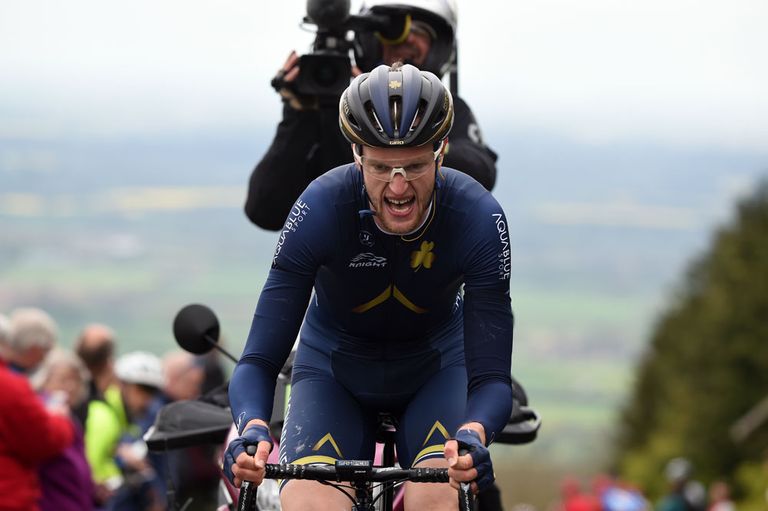 (Image credit: Andy Jones)
Irish national champion and Conor Dunne has been signed by the Israel Cycling Academy after the collapse of the Aqua Blue Sport team.
Dunne was left without a contract when Irish professional continental squad Aqua Blue folded suddenly in summer.
The 26-year-old was one of 16 riders left without a contract, alongside American Larry Warbasse and Brit Adam Blythe.
But Dunne, who stands at a six-foot eight inches tall, has found a team in the pro continental ranks for 2019.
He said: "I suppose I have gained a bit of a reputation for riding in the early breakaways in many of the races I've participated in and this is something I have really enjoyed.
"I love being out front and racing aggressively, it is a way of expressing myself.
"However, at the same time, I feel I am a reliable team player and love participating in a victory in any small way and sharing that feeling with my teammates.
"At ICA, this is something I really want to continue doing and prove to be a reliable, strong and versatile member of ICA at any race we line up in.
"I also really believe in myself and have huge motivation going into next year to improve further and push myself more than ever.
"My own personal goal is to win a race in the national champion's colours next year and really put some pressure on myself to achieve this.
"I have admired the way ICA work from a far, they have been super strong and ridden well as a team at any race I have competed against them in.
"So I am really looking forward to working with them next year and make some ambitious goals together; it's a great opportunity to be part of a winning team that I'm grateful for the opportunity".
After just two years racing, Aqua Blue Sport announced they would be closing this summer, with owner Rick Delaney blaming a failed merger, equipment sponsors and race organisers.
Rather than finish the season, which would give riders a chance to perform for other potential teams, the outfit ceased racing immediately and pulled out of the Tour of Britain.
Dunne will be joining the pro continental Israel Cycling Academy for 2019 – the nation's first professional cycling outfit.
The team took part in the 2018 Giro d'Italia, which set off from Israel, and Il Lombardia as well as stage races like Volta a Catalunya.
Academy team manager Kjell Carlstrom said: "We are lining up what we believe will be a much stronger team, specially in the sprints.
"But with this huge transformation and the clear goal to be up there in the hunt in every single race we need intelligent, smart and capable riders to support our sprinters and climbers.
"That is exactly why we could not miss Conor.
"He has race smarts, he knows when and how to move in the peloton as you can see from his quite successful breakaway attempts.
"Of course every body wants to get to a breakaway but few make it.
"We will need him in breakaways, we will need him to close a breakaway, we will need him to support his teammates in crucial moments.
"Bottom line: he will be very valuable to us all season long."
>>> Aqua Blue Sport bosses respond after riders claim pay has been delayed
Dunne, the self-proclaimed 'tallest cyclist in the world', had a breakthrough year in 2018, winning the Irish national championship road race in July.
He also featured heavily in the World Championship Road Race in September, making it into the breakaway on the brutally hilly course.
But Dunne's most visible achievement this year was away from the peloton, in the form of the 'No Go Tour'.
Dunne and former team-mate Larry Warbasse set off on a 1140km (700-mile), eight-day adventure through the European mountains.
Recording their trip through social media, Warbasse and Dunne generated a lot of attention after the collapse of their team.
Warbasse has signed for French WorldTour team AG2R La Mondiale for 2019.