Updated: Sniper Cycling denies Aqua Blue Sport takeover after Irish team announces deal
The Irish team deleted their tweet and press release announcing Wout van Aert would ride for the team in 2019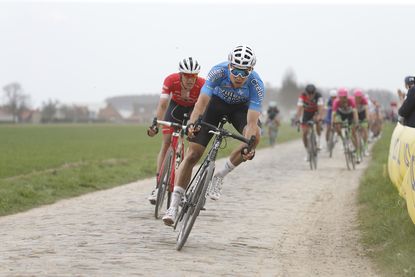 (Image credit: Yuzuru Sunada)
Belgian team Vérandas Willems–Crelan's parent company, Sniper Cycling, has denied that it has agreed a deal to be acquired by Irish team and online retailer, Aqua Blue Sport.
Aqua Blue announced on Wednesday afternoon that the team would merge with Vérandas Willems–Crelan for 2019 and would even have Wout van Aert riding for them through the 2019 season, before he reportedly joins WorldTour squad LottoNL-Jumbo. The announcement was later taken down from the Aqua Blue Sport website and social media pages.
Sniper Cycling's team co-owner and general manager Nick Nuyens was also announced as joining the team management.
On Tuesday evening however, Sniper Cycling posted a statement on Twitter that there had been no agreement reached, however the two teams were discussing a "possible collaboration."
"We dissociate ourselves expressly from all communication that has been published today regarding the supposed acquisition of our team by Aqua Blue Sport," the statement read.
"We can confirm that Sniper Cycling and Aqua Blue Sport are currently holding talks to look into possible collaboration from 2019 onwards. Out of respect to all parties involved, we will currently refrain from further comments."
In the original press release, which quoted Nuyens, Aqua Blue Sport also said they were hoping to announce a number of other high-profile signings along with van Aert, who would compete in both cyclocross and on the road for the team.
"Aqua Blue Sport is going from strength to strength, on the road and also off it. I am very excited to be able to be involved in the team going forward," Nuyens said in the original press release.
"There is a lot of potential, and it is a dream for me to be working with the riders that are already there, and will be joining soon. It's a good day for Sniper Cycling and Aqua Blue Sport."
Founder of the team, Rick Delaney was also quoted as saying: "Wout will be a huge addition to the Aqua Blue Sport squad and we are currently in negotiations with a number of other high-profile riders for the 2019 season. We will hopefully announce these signings shortly.
"I am delighted with this project's success to date, on and off the road, and the opportunity to acquire Sniper Cycling was a no-brainer for us. Having Sniper Cycling personnel involved with us is a huge bonus as it brings years of experience and expertise to Aqua Blue Sport."
The Irish team started the season on 3T's single ring Strada aero bike - but the brand released a dual ring option following concerns about the effectiveness of the 1x design which saw Delaney proclaim "this lab rat thing is costing results."
Vérandas Willems–Crelan has been a fixture of a number of Classics in 2018, mainly due to the presence of van Aert who has excelled in his first major road campaign, taking third in Strade Bianche in March. The team suffered a tragic loss however after the death of 23-year-old Michael Goolaerts during Paris-Roubaix in April.
Both Aqua Blue Sport and Vérandas Willems–Crelan been competing against each other this week in the Tour de Wallonie, which finished today, and the Tour of Denmark, which started today with an Aqua Blue victory.
Thank you for reading 20 articles this month* Join now for unlimited access
Enjoy your first month for just £1 / $1 / €1
*Read 5 free articles per month without a subscription
Join now for unlimited access
Try first month for just £1 / $1 / €1