Michael Goolaerts, 1994-2018
Obituary: 'The boy with the eternal smile' passed away after crashing in Paris-Roubaix, his 'dream race'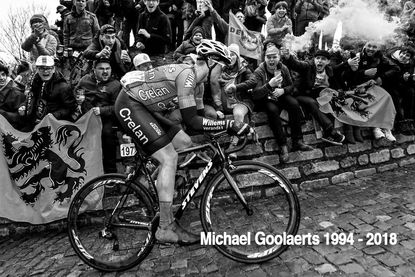 (Image credit: Dirk Waem/AFP/Getty Images)
Michael Goolaerts realised his dream by racing Paris-Roubaix for the first time Sunday, a day that ended worst possible way. The 23-year-old Belgian crashed midway through the French Monument and died later that evening, April 8, in Lille.
Goolaerts, from Heist-op-den-Berg near Antwerp, fell on the second cobbled sector of Paris-Roubaix, called Briastre after the nearby town. Medics performed CPR and airlifted him to the hospital, but he died at 22:40 local time
Wout van Aert, Team Veranda's Willems-Crelan's star from cyclocross, spoke with his friend and team-mate for the last time before peloton reached the first of 29 cobbled sectors. The two, both born in 1994 and from the same area in northern Belgium, were living a dream.
"His dream was to ride Paris-Roubaix," his agent and family friend Jef Van den Bosch told Cycling Weekly. "That was his dream, and it ended there."
Born on July 24, 1994, Goolaerts discovered cycling through television watching the Tour of Flanders and through his bother Kristof who raced through the amateur ranks. Before, he played football and as a promising 14-year-old goalkeeper had feeder teams interested in signing him.
But cycling and the dream of racing the cobbled Classics drew him away from football. Van den Bosch trained with Kristof and began to take note of his younger brother.
"What stuck out was his smile. I saw that he had talent. He was from the same group as Van Aert, but didn't succeed as quickly, but he showed much potential," Van den Bosch explained.
"He's very well liked. He was always happy, the guy with a big smile. The day before Paris-Roubaix, we had a photograph for a newspaper, together with Wout van Aert. He couldn't stop smiling, it was natural for him and of course, Paris-Roubaix was to come."
The big 6'1" Belgian made waves early on, years before he lined up in Compiègne on a bright and sunny Sunday morning. His strength in the junior level championships, on the track in the team pursuit and an eighth in the junior Tour of Flanders, earned him a contract with the feeder team of Lotto-Soudal, one of Belgium's top WorldTour teams.
Nick Nuyens, also from the Antwerp area and a former Tour of Flanders winner, took interest. When he became general manager of the Veranda's Willems-Crelan team for 2017, helping it go to the Professional Continental level, there was a spot for Goolaerts.
Goolaerts repaid Nuyens at the 2017 Tour of Flanders with a nigh-on 200km ride in the breakaway. For 2018, thanks to Van Aert's cyclocross star status and Nuyens, the team secured more invitations to the major Classics. On that list was Paris-Roubaix, Goolaerts's dream race.
"We know that cycling is a risky business, in every race there are crashes," Van den Bosch said, "but most the time it doesn't end this way."
Sunday saw the end of the life of promising cyclist whose smile made an impression on those near to him. "The boy with the eternal smile" leaves behind his brother Kristof and parents Marianne and Staf.
Thank you for reading 20 articles this month* Join now for unlimited access
Enjoy your first month for just £1 / $1 / €1
*Read 5 free articles per month without a subscription
Join now for unlimited access
Try first month for just £1 / $1 / €1