Superman cyclist riding around the world fixes broken forks with chopsticks and tent pegs
Will Hodson is cycling 100,000km around the world dressed in a Superman costume.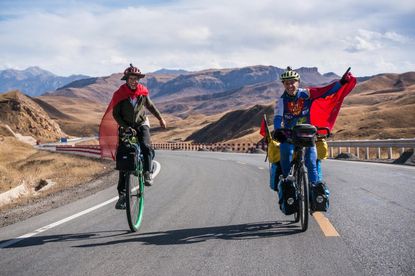 A British man who is a quarter of the way into his journey cycling around the world dressed in a Superman outfit has found an almost foolproof way to mend a broken fork.
Will Hodson set off from London in May 2015 on his voyage around the globe and is currently in south-west China.
However, a few months ago, he was close to being kept off his bike for a lengthy period of time, when his front forks broke. Stuck in a Chinese village with no city in close proximity, and unable to get a new set of forks delivered to him relatively quickly, he posed a question on Facebook asking how he could fix his forks.
And the answer is quite remarkable (although don't try this yourself!). "There was no one in the village who could weld so I asked online how I could fix the fork," he told Cycling Weekly from a hostel in Dali, Yunnan, China.
>>> Cyclist dressed as Superman becomes Eastern European TV sensation
"Someone said to treat it like a broken arm, so I did. I stuffed chopped sticks, a spoon handle and a tent peg down the front fork, used tape around the crack, and wrapped a load of zip ties around it. It held for more than 100km to the nearest town where it was fixed by a bike shop.
"I was amazed a bodge like that with tent pegs could hold for so long, especially when my bike is carrying 50kg of luggage. I was riding almost no handed so not to put weight on the front forks. I kept those chopsticks as a reminder and I eat food with them now!"
Since leaving Georgia in the spring of 2016, Super Cycling Man has cycled east, going around the Caspian Sea, making a brief foray into Russia, and then riding through Kazakhstan, Uzbekistan and Tajikistan. He has been in China for five months, save for a brief visit to Vietnam so he could renew his three month Chinese visa.
Hodson is aiming to become the first person ever to ride across all seven continents, and recently passed the 25,000km mark in 100,000km trip, of which he estimates will take five years.
In Europe he was a D-list celebrity and met the Belgian equivalent of Chesney Hawkes, and his outfit has provided humour to Chinese residents, too. "In Chengdu, this guy insisted that he took me out for a duck dinner and then he paid for me stay a night in a hotel," he said.
"The police even let me have a go on their Segway, so here I was, dressed in a superhero cape bombing around a city centre on a police Segway! Funny things happen all the time."
For a month during his Chinese odyssey he rode with another Brit, one who was cycling on a unicycle. "I thought we'd stay together for a week or two, but we had such a wild adventure that we were rode together for a month. I felt sorry for him, though, as I could freewheel down the hills and he had to pedal down them!"
Hodson calls it "a four or five year holiday. I'm very lucky to be doing this." But there is a serious side: he is hoping to raise £100,000 to support The World Cancer Research Fund, Parkinson's UK, World Bicycle Relief and Sustrans.
>>> Police give cyclist dressed as Superman alcoholic drink to keep him fuelled
His journey has taken him through some of the world's finest landscapes, and despite some challenges, he has no plans to quit and return home. "The language can be an issue, and in Georgia I was diagnosed with some sort of a stomach hernia so I have to take daily tablets for that, but I've never thought of stopping.
"People are so friendly: they feed me and send me on my travels with enough food for two days. Danger is the last word I'd use to describe what I'm doing. Every day, something insanely generous happens."
A former school teacher in London, Hodson visits classrooms on his trips to teach the virtues of adventure and cycling. He is currently in the process of arranging visits to schools in his next destinations: Laos, Cambodia, Thailand, Malaysia and Singapore.
He then intends on returning to China to ride through the east of the country, before visiting South Korea and Japan. He plans on being in Australia by November.
You can follow his progress via his Facebook page and donate via his website, which also has a live tracker.
Thank you for reading 10 articles this month* Join now for unlimited access
Enjoy your first month for just £1 / $1 / €1
*Read 5 free articles per month without a subscription
Join now for unlimited access
Try first month for just £1 / $1 / €1
Chris first started writing for Cycling Weekly in 2013 on work experience and has since become a regular name in the magazine and on the website. Reporting from races, long interviews with riders from the peloton and riding features drive his love of writing about all things two wheels.
Probably a bit too obsessed with mountains, he was previously found playing and guiding in the Canadian Rockies, and now mostly lives in the Val d'Aran in the Spanish Pyrenees where he's a ski instructor in the winter and cycling guide in the summer. He almost certainly holds the record for the most number of interviews conducted from snowy mountains.