Specialized SL Pro Women's Bib Shorts review
Performance shorts that offer comfort and easy nature breaks - there's feature laden bibs are nearly always top of our pile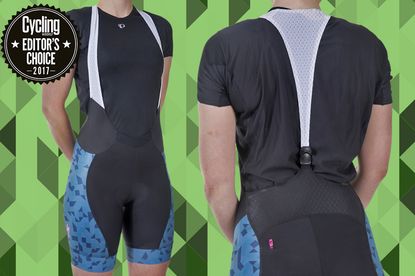 The Specialized SL Pro women's bib shorts have become a go-to favourite in the cycling wardrobes of our female writers.
Existing for several seasons and impressing at every opportunity, the SL Pro Bibshorts were improved still further for 2017, earning them a place in the Editor's Choice line-up.
The Specialized Women's SL Pro women's bib shorts are a top-end option and they come with a selection of named and patented features.
The two key fabrics used are VaporRize and Cold Fabric. The former is a lightweight, moisture-wicking material, while the latter is used specifically on dark-coloured fabrics to help keep core temperature low while allowing for the coverage of a deeper hue – something we all want in bib shorts unless we're channelling our inner world champion.
Deflect UV50+ treatment keeps skin safe from harmful rays.
The cooling treatment does seem to be work – we wore these on sweaty hot climbs and always felt that the clothing was working with us rather than against.
'HookUp' design works a treat
One of the most notable features of the Specialized Women's SL Pro bib shorts is the HookUp design. Nothing to do with Tinder, this is a magnetic clasp at the rear of the bibs which unclips in seconds to allow for quick bathroom breaks on or after a ride.
The HookUp is user friendly and makes taking a comfort break a breeze – even if your pockets are loaded.
The bib straps have been updated for 2017 with a lighter and more ventilated material that also looks a little more premium. There's a nice yoga band-style crossover at the stomach too.
The key thing that has always set the Specialized Women's SL Pro bib shorts apart from any other offering is the leg grippers. Indeed, they can hardly be called grippers since what's so special about them is that they don't 'grip' and create the hated sausage-leg look that no rider wants.
Wide leg grippers upgraded
At the cuffs, Specialized has gone for a very wide, fold-over leg gripper. In the 2016 editions these featured tiny silicone dots, which this year have been upgraded, using a slightly more robust treatment along the entirety of the cuff.
The wide fabric band still sits comfortably. If anything, the new style is an improvement as former iterations did tend to ride up a bit and these don't do that at all.
The pad is the Body Geometry SL Pro Women's Chamois – which features multi-density padding that's been placed to look after soft tissue and nerves.
This is a fairly race orientated pad, in that it's notably thinner than most, but we used these shorts for rides of up to six hours with no more discomfort than that which is par for the course.
The Cobra Blue (which we tested), Turquoise Fade and Team Red options really do require a matching jersey unless you're happy to accept the '6 day cyclist' mismatch with pride - but pair them as a set and you've got a pretty cool, bold look.
The RRP on these is £140, and they come in the Cobra Blue pictured, and Torch Yellow.
Thank you for reading 20 articles this month* Join now for unlimited access
Enjoy your first month for just £1 / $1 / €1
*Read 5 free articles per month without a subscription
Join now for unlimited access
Try first month for just £1 / $1 / €1