6 things I learned from my first gravel race — a Spotify playlist
Music-inspired tips for your first gravel event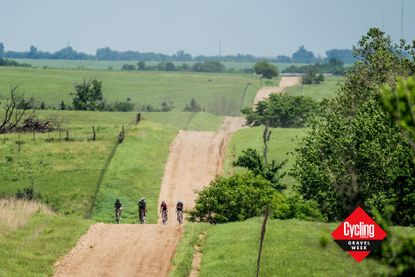 (Image credit: Getty Images)
I am not a "racer" or even self-identified "cyclist" but I found myself this January 1 (or, thereabouts, because I'm a procrastinator ) in a scene familiar to many racers and non-racers, cyclists and non-cyclists, alike: looking into a new year and looking for a new challenge on two-wheels.
The resolution I landed on was a cycling classic: to ride a century ride. And, to spice things up, I set out to tackle this century on the roads less traveled to see for myself what all this "gravel" fuss is about. For my event, I decided on Unbound Gravel in Emporia, Kansas — the poster-child for the U.S. gravel scene. And so, on June 3, I undertook the 100-mile race as my first-ever bike event, my first gravel event and the longest ride I have done to date.
On paper, the Unbound's 100-mile course appears to be a quite modest affair: 4,400 feet of climbing stretched over 103 miles of rolling Midwest hills in summer sunshine. Stacked next to Unbound's 200-mile premier event, or the super-sized 350-mile Unbound XL, the 100-mile course looks like a downright fun run. Spoiler alert: it is not.
Layer in the fact that the course is 94% gravel, along with summer thunderstorms that threaten to leave riders drenched and nearly immobile in fields of clay-rich "peanut butter mud", the Unbound Gravel 100 is no walk in the park. Though I would learn that, at times, it was an outright walk.
Adventure ensued, as I braved two days of Unbound's pre-race expo, and a nearly 10-hour race day where I was waylaid by multiple train crossings, a classic Midwest summer downpour and almost three-miles of Emporia's infamous aforementioned "peanut butter mud" — all in a quest to give gravel cycling a go.
While many did not make it to their finish line that weekend on account of the elements and equipment failures, I did manage to eke out my 103 miles. For my fellow race- and gravel-newbies looking to survive their first event, no matter the terrain or conditions, here are my lessons from the saddle, inspired by a few songs from the mental playlist that powered me through many lonely miles.
Shake It Out - Florence and the Machine
Shake it out, shake it out…with a shakeout ride.
Before my first race at Unbound Gravel, I was a stranger to the "shakeout ride." Another ride? Don't I want to save all of my energy for the big day? You mean I'm supposed to ride even more miles than the 100 miles I'm already riding??
A "shakeout ride" is gravel-speak for a short, pre-race, often social, ride to shake out the travel, keep your legs fresh (not fatigued) and to serve as a final check on your equipment in the days before the race.
I did a couple of 1 - 1.5 hour shakeouts in the days leading up to my event, which helped keep my race day jitters at bay. My final shakeout route incorporated the beginning and end of my 100-mile course, and I highly recommend this if you're able to pre-ride your course; watch out for routes that go through private land or require a permit for access. I tend to be a nervous starter, especially in the minutes before gun time when there is really nothing to do but wrack up my nerves while I wait (can I use the porta potty one more time?)...and wait (I packed my pump, right?)... and wait (what will I do if my derailleur breaks in the middle of nowhere?). Knowing what lay ahead in the next few miles, I staved off most of my "what kind of stupid idea was this?" start-line thoughts. And by pre-riding the end, I avoided any unexpected surprises in the moments I knew I would be most physically and mentally tired. Instead of trudging through the last miles wondering when the finish line would finally come into sight, I cruised (relatively speaking) through my last 10 miles, hills included, with ease.
The shakeout also offers you one last check on your bike set up. If your brakes have developed a mysterious noise (like mine did), you don't want to learn about this right as you're about to embark on 100 miles and listen to squeaky or scratchy disc rotors the whole way (which I avoided thanks to my shakeout, phew).
Go Your Own Way - Fleetwood Mac
"Me? 42 Pathfinders."…"Seriously, he's running 38s? Crazy"…"I'd do 40 RSs over 45s. Better for clearing the mud out there."…"28psi? I'd at least do 30."…"Too high. 22."
You may find —as I did within 30 minutes of stepping foot in Emporia, Kansas— that introducing yourself by name is completely superfluous and borderline uncool on race weekend. Identify yourself by your tire choice and tire pressure, and you'll give the air of a seasoned rider. After all, if you're not talking about your tires are you even riding gravel?
In all seriousness, the pre-ride expo will be full of promoters and enthusiastic riders expounding on the best tires, the optimal tire pressure and the best way to intake the requisite grams of carbs per hour. It'll keep you awake at night, questioning your equipment and nutrition choices. Go ahead and sample the plethora of electrolyte offerings and make mental notes of fuel options for future rides, but now is perhaps not the time to wholesale exchange your nutrition plan for handfuls of sport gels you've never tried before or to completely rearrange your bike setup. If you're looking to make a last-minute switch to tubeless tires or you have question about your appropriate tire pressure, go ahead and ask a pro at one of the booths and they will help you out. Make informed decisions, of course, but avoid falling victim to the trap of overthinking, which will just add stress to your pre-race preparations and waste precious rest time.
While I may be running 42mm Specialized Pathfinder Pro tires, set to 28 psi, and including a couple of Pay Day bars for fuel, what works for me might not work for you. Skip anxiously asking ChatGPT if you should change your tires into the wee hours of the night. Clear your mind and stay rested. You can go your own way.
You Got It - Roy Orbison
Anything you want, you got it, anything you need, you got it in your frame bag.
According to Athlinks data for Unbound Gravel 2023, at least 21% of participants are listed as not having completed their full course, including 28% of the pro field and a whopping 44% of non-elite 200-mile participants. My field fared slightly better with 15% not crossing the finish line. Judging by the hearty number of people I saw sidelined, fixing flats and cursing the mysteries of derailleurs, I'd gander that mechanical issues ruined many a day.
While you might not be able to outride bad luck, you can still be stocked against a tough break. Given the terrain and remoteness of gravel, it's best to equip yourself with the necessities to have your best chance at completing your full course.
Unbound Gravel published a set of gravel guides, complete with a handy equipment checklist that I think would do for just about any gravel event. Here are some of the trials you should expect to deal with, and the "shoulds" and "wants" that I would elevate to "musts" on your own equipment checklist:
To fix a flat (or several),
- A flat kit with two spare tubes (yes, two), levers and patches
- A tire boot (for patching a tire sidewall)
- Tire plug kit if you're running a tubeless tire setup
To fix a drivetrain or get past a broken derailleur,
- A spare rear derailleur hanger
- A multi-tool with a chainbreaker
To be prepared against the terrain and elements,
- A paint stick, for scraping mud or debris off your bike
- An extra waterproof layer for the rain and cold. If you get stuck in an hours-long storm, you will feel cold, even if it's only 65 F out.
- A small bottle of chain lube
Check Yo Self - Ice Cube
Check yo' self before you wreck yo' self and your bike. Ice Cube's sage adage reminds us to make smart decisions out there, or else.
The mud at Unbound was not the cute little dirty-your-socks and spray-your-face mud, but miles-long stretches of Emporia, Kansas' infamous peanut butter mud that sticks to your tires and, quite literally, stops you in your tracks.
Riders trudged along by foot on the grassy roadsides, clearing their tires and chainstays of mud, walked more, and stopped to repeat their cleaning routine, over and over and over again for upwards of an hour and a half until pedaling was a safe option again. Others succumbed to flats by walking the rocks to avoid the mud and the roadside lines, and still others —out of bravery or impatience— tried to ride the mud, only to clog their drivetrains with their efforts.
With much less than a quarter of the course tackled, I watched a pickup truck full of riders be carted off the course with muddied, defunct steeds and unfulfilled hopes. "Does anyone know anything about derailleurs?" someone shouted into the throng at one point.
While a sure number of races were not salvageable that day, some could have been with a little more patience and know-how. While out on course, I made an intentional effort to protect my drive train (i.e., no pedal smashing); I stopped to keep my chain lubed up and running smoothly and checked my thru-axle and derailleur bolts at every major checkpoint.
Make sure you have the self-sufficiency to handle any unavoidable disasters. Before you head out, ask yourself if you actually know how to:
- Make an emergency single speed
If you can use a bottle opener or wine screw, you can learn to do any of these groad-side repairs. Don't depend on anyone but yourself to get out of a pickle.
Hit Me With Your Best Shot - Pat Benatar
C'mon hills, hit me with your best shot, fire away.
I am not someone who thrives in a Type 2 Fun mindset —I leave that to your editor, Anne-Marije Rook— so it's important for me to keep my mood up during a ride.
Unless you are a Buddha incarnate, there is probably something out there that will get you out of the zone, maybe even get you down eventually —wind, rain, walking your bike 2.5 miles through the mud, fixing your fourth mechanical of the day…
For me, one of these nemeses is a long climb and, if I'm really honest, everybody who passes me on my way to the top. Indeed, at one point, the head of the men's pro race really did speed past me on an uphill grind with such pace, it left me wondering if I had even been moving at all. To keep my mind from wandering to dark places on hard climbs, my secret sauce is to sing "I love climbing" to the tune of Bow Wow Wow's I Want Candy. It sounds silly—and it is—but if I let the "you're slow" or "this is hard, I want this to be over" thoughts creep in, I'm toast. Singing in my head helps me meditate on pedaling, tune out the riders around me and block negative thoughts out.
Sing a song, count your pedal strokes, tape a mantra to your handlebars or pack a special treat for the top of that milestone climb on your route. Have a way of flipping on the motivation switch when you need to give yourself some free watts when you need a boost.
Car Wash - Rose Royce
Come on y'all and sing it with me, car bike wash! (OK, OK, I'm stretching a bit with this song, but I think it's a worthwhile point).
I finished my 103-mile course in 9:50, a touch faster than my 10-hour goal, and which, given the muddy obstacle course early on, I was supremely happy about. I felt proud of finishing at all, let alone within my goal time, and of keeping a buoyant attitude for most of the day. I left no regrets out on the groads of Emporia.
One regret came to mind later that night as I spent far too long washing the mud off my bike with just an extra toothbrush I found and a too-weak hose. I thought woefully of the stocked bike wash station I have at home, and lamented that I'd skipped the MucOff power wash at the end of the finish line earlier out of post-race exhaustion. In the end, it all worked out, as washing and drying my bike gave me a good chance to give my equipment a little TLC, and take inventory of any damage or needed repairs. I re-lubed my chain, made a mental note to tape my head tube where my muddy bar bag had worn down the paint, and tightened my derailleur hanger which was coming loose (thank you, universe, for not serving that up in the middle of the course).
Whether or not you're "racing" on race day, you're bound to put your bike through its paces, even more so than on a normal ride. Especially if you've been riding your bike in the mud, give your bike a wash and re-lube your chain to prevent rust and keep your drivetrain rolling smoothly. But for any race, it can be a great idea to give your bike a once-over to make sure everything is in good working order so you're not caught off guard on your next ride.
Thank you for reading 20 articles this month* Join now for unlimited access
Enjoy your first month for just £1 / $1 / €1
*Read 5 free articles per month without a subscription
Join now for unlimited access
Try first month for just £1 / $1 / €1