Real-world success: top-ranked Zwifter crushes first 'real' bike races
"Outside always felt like this unicorn, something mystical or magical that I couldn't do," says American Esports elite Kristen Kulchinsky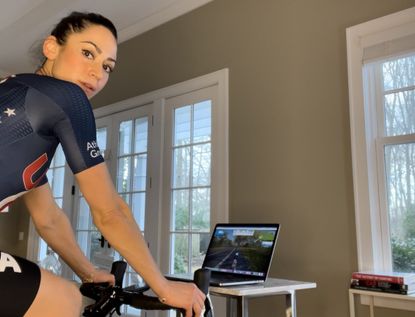 (Image credit: Kristen Kulchinsky)
American Kristen Kulchinsky (Virginia's Blue Ridge Twenty24) is one of the most decorated female esports cyclists in the sport's short history. She has countless elite-level victories at Zwift's top level, the Premier Division, and the Zwift Grand Prix. She also represented the U.S. in all three UCI Cycling Esports World Championships editions. But until this summer, she had never ridden a bike outdoors.
"Outside always felt like this unicorn, something mystical or magical that I couldn't do," says the 42-year-old from Long Island, New York. "I started to learn to ride outside, and each day, it was exhilarating to learn something new. Outside felt like the video game to me!"
When she did get outside, however, her indoor fitness transitioned impressively well…
From Spin Class to Esports
Kulchinsky's cycling journey started in spin class. For years she attended New York's high-energy, music-thumping studio classes until an avid cyclist friend, impressed by Kulchinsky's fitness, recommended that she get a triathlon bike. She did but that bike never saw the outside world and instead found its permanent residence on a smart trainer in her apartment.
When in-person gatherings halted during the COVID-19 pandemic, Kulchinsky left the city and relocated to Long Island, leaving the spin classes behind. Her friend and coach, Josh Lipka, introduced her to training and racing on Zwift, sparking a newfound passion in her.
"It wasn't until the pandemic hit that I transitioned from being a fitness enthusiast to training and racing with purpose, which ignited this new passion in me," Kulchinsky shares.
During the pandemic , virtual cycling platforms were among the few competitive options for elite cyclists. As a result, Kulchinsky lined up against some of the best in the sport yet held her own. In the summer of 2020, her online racing prowess and prolific results caught the attention of Team Twenty20—now Virginia's Blue Ridge TWENTY24—manager Nicola Cranmer, who tapped her to join their growing esports division.
Kulchinsky decides to prove something to herself
Despite her remarkable achievements and dominant victories, Kulchinsky found herself in a peculiar position. She'd found her home and passion in the virtual cycling community yet critics continually doubted her talent without real-world results or training data to back up her virtual performances.
The traditional cycling community often regards "Indoor Specialists" like her as detrimental to the sport and are slow to embrace the virtual athlete.
The skepticism is somewhat understandable. Stories of esport athletes making a successful transition from Zwift racing to real-world racing are rare though not unheard of; Jay Vine and Paige Onweller are good examples.
And so, Kulchinsky decided to prove something to herself. On September 9, 2023, after clipping in outdoors for the very first time only two short months earlier, she lined up for her first real-world race: the Greylock Hillclimb Time Trial
Standing at 3,491' tall, Mt. Greylock is the tallest peak in the state of Massachusetts. The time trial ascent takes place on a nine-mile course with 2,805 feet of vertical. Kulchinsky conquered the mountain with a time of 45:32 – nearly 10 minutes faster than her closest competitor and also an age group record for women under 45.
"The Northampton Cycling Club would like to congratulate Kristen Kulchinsky for her victory, especially in consideration of the non-traditional route she took to the podium," comments race director Donna Wilson
"Kristen is an example of how there isn't one way to cycle. With the evolution of technology, the NCC is eager to discover how others find their way to a bike, a race, an event, or any manner of two-wheeled fun and adventure!"
Her standout performance also earned her the hotly contested Strava QOM by close to three minutes over Canadian Myriam Paquet, a fierce climber in her own right.
"Going from being unable to make a U-turn or clip-in to feeling like I'm one with the bike now is awesome," Kulchinsky noted after her unlikely victory. "There's still so much to learn, yet I am so proud of the progress I've made."
Two weeks later, Kulchinsky toed the line of another hill climb. This time, it was a mass start. The Prospect Mountain Hill Climb is a 5.7-mile ascent with an average gradient of 5.7% in NY's Lake George region.
After cordially warning her competitors that it was the first time she would ride in a group, she rode away, winning by almost five minutes over the hill climb series leader, Sonya Bodick. Her 5.24 wkg average for 22:52 earned her another QOM, a course record, and the victory – and even one position before her coach Josh Lipka.
The recently crowned Men's Masters 35-39 Open US National Time Trial Champion put out 4.83 wkg and averaged 425 W to hold Kristen's wheel and, when asked about it, could muster no more than an, "It was awful!"
The race organizer and founder of Unify Cycling, Robert Pollaro, had much more to say.
"When the final results were in, I was impressed that Kulchinski was fifth overall in just under 23 minutes. It wasn't until the post-race podium ceremony that I learned this was only her second real road race. In fact, she'd come off of the Zwift circuit for Twenty24. Her times and finishes are pretty incredible, given her lack of experience. Talk about surprise!"
Kulchinsky made it three-for-three on October 1, 2023, at the Allen Clark Memorial Hill Climb, on the famed face of Ap Gap in Vermont, which tops out at a grade of 15 percent. Her hat -trick of hill climb victories came atop the scene of the final climb of the Queen Stage of the Green Mountain Stage Race.
Throughout the GMSR's deep and storied history, several amateur cyclists have ascended to professional stardom on the slopes of the Appalachian Gap. Kulchinsky has that QOM now, too, with a time of 27:36 for 6.1 miles with 1,631 feet of elevation. She won the series crown as the Northeast USA's finest female climber in only three races.
Kulchinsky's only regret is that she didn't have the opportunity to test her newly found riding skill against one of the world's most challenging hill climbs, Mt. Washington in New Hampshire.
"I enjoyed each step of the process, and when it was time for Mount Washington, I was ready and prepared. Unfortunately, that mountain had other plans, and the officials canceled the race at the line for hurricane-force winds," she says.
Where to now?
Kulchinsky vows to return for the 51st edition of the Mt. Washington Auto Road Bicycle Hill Climb next year. In the meantime, she has her sights set on loftier goals.
"I would love to become a UCI Esports World Champion one day. It would be a dream come true!"
Cycling esports athletes, fans, and enthusiasts aspire to a future with no doubts about the performances of racers like Kulchinsky, and the sport gains acknowledgment as a distinct discipline. They look ahead to a time when female athletes and young girls can explore a love for cycling in an approachable virtual setting and use that as a stepping stone for athletic development.
Thank you for reading 20 articles this month* Join now for unlimited access
Enjoy your first month for just £1 / $1 / €1
*Read 5 free articles per month without a subscription
Join now for unlimited access
Try first month for just £1 / $1 / €1