Five reasons you need a fresh bike fit
Your optimum riding position changes over time according to age, weight and flexibility. Is it high time you had a fresh bike-fit?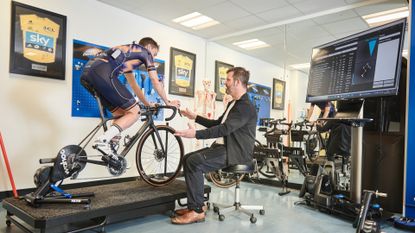 (Image credit: Future)
If your last professional - or even DIY bike-fit - was more than five years ago, you're not alone. Time flies, and we generally assume our position, once set, is sorted for life. Sadly not. If your measurements have been gathering figurative dust for quite a while, your current position might be less your current optimum, more an obsolete record of the rider you once were. Making progress means letting go of the past.
"Bike-fit needs to be an evolution rather than a revolution," says Phil Burt, former lead physiotherapist at British Cycling and Team Sky consultant. Burt now offers his own eponymous fitting service, Phil Burt Innovation, offering elite-level expertise and attention to detail to amateur riders as well as beginner rider bike fits.
"Many people will have a bike-fit, get put in one position, and leave it. But bodies are adaptable, and the bike is adjustable — the right fit is a marriage between the two."
In other words, your body doesn't remain the same year after year, so nor should your bike.
"People's adaptability wavers over time," says Burt. "When we're teenagers, we're all fairly flexible and adaptable, but during life, years of attrition and injuries and work mount up and we become less adaptable. Everyone has a bike-fit window; there isn't one ideal position, but there's definitely an optimum window for each measurement, saddle height, saddle setback and reach."
This optimum window should be set according to goals, strength, flexibility and any injuries or niggles. Not everyone needs a bike-fit, of course. If you are consistently free from pain and injury, and happy with your aerodynamics, carry on. Signs that you do need to revisit your set-up include pain, discomfort, or just a nagging feeling that you're not reaping the benefits of your efforts.
We asked Burt to outline common scenarios where riders stand to benefit from a fresh fit, and then asked Paul Drake — highly experienced fitter at Maison du Velo in Surrey — to put the theory to the test on three guinea pig riders.
If you realize after reading this that it's best that you book yourself in for a bike fit, you might want to consider a cheaper alternative, such as an AI app like MyVeloFit.
1. You've grown older
Bad news: we're all getting older, all the time. Good news: whilst there are changes that will affect your riding after 40, they need not interrupt our riding nor slow us down (at least not dramatically).
"Cycling is one of the best things you can do into old age," says Burt. "You don't see many 70-year-olds running marathons, but you do see loads of 70-year-old cyclists. There are no eccentric forces involved in cycling, so lots of people gravitate towards it from other sports." Older riders don't have to accept being less aero, either.
"Growing older doesn't always mean your bike-fit has to get less aggressive or less performance-driven," Burt continues. "If you've got time to work on your adaptability to stay in the position, you might even be able to get more aggressive. Like anything in cycling, the more you do it, the better you'll be at it." In fact, as vocational life slows down, attention to detail in cycling can be ramped up.
"Someone who is semiretired, for example, has more time on their hands for stretching and core work than guys who work 50 to 60 hours a week at a desk or commuting. Make the most of it."
2. You're chasing greater performance
"There are three pillars of bike-fit: aerodynamics, comfort and sustainability, and power," says Burt says. "Put simply, bike-fit is essentially rotating someone around the bottom bracket. One position might be much more aggressive and aerodynamically faster, but harder to hold, and another might be easier to hold and suited to long endurance rides."
If outright speed is paramount to you, you can adjust your position to be accordingly aggressive. If you're riding an all-day event, comfort and sustainability are higher priorities. One thing's for certain: you need to be able to hold your position for the duration of the event.
Bike-fitters can assess the sustainability of a position using pressure mapping. If you're moving around, you're not holding the coordinates. The low-tech alternative is to have a friend ride behind you and provide feedback.
Fit should be geared towards goal, as Burt explains: "The track sprinter's road bike position may be completely geared towards recovery" — entirely unlike their race position. The key, after making adjustments, is to give the body time to adapt. "Don't have a bike-fit before a major event," warns Burt. "You need to let your body adapt, and that takes weeks, not days."
3. You're recovering from a crash
"Let's face it, road cycling can be dangerous," says Burt. "But cycling is often a good rehab activity. We just need to use our knowledge to set up injured riders correctly. You need to bring the bike to meet you while you're recovering after a crash; the bike-fit must be an evolution back to your optimal position, reflecting where you are in your recovery and rehabilitation."
Cycling injuries — broken collarbones, ankle fractures — can permanently alter your riding position. After a crash, you need to work to regain previous condition — muscle mass or range of movement. In the meantime, your position may need to change to accommodate your current physical condition. Remember, the body is remarkably adaptable.
Citing former rugby players who have switched to cycling, Burt says, "The average age for a hip replacement in an international prop is mid-40s. When someone's range of motion at the top of the hip is limited, we often see their knees go out as they pedal. What we need to do is accommodate their lack of range of movement. Parameters such as pedal float, crank length, saddle height and stance width can all be manipulated."
Check out our crank length calculator guide over here to find your ideal crank length.
4. You've had a child
For women, a key time for having a fresh bike-fit is after childbirth, and it's likely you'll also want to make changes as you cycle through pregnancy. Expectant mothers often change their position during pregnancy, raising the handlebars to accommodate a growing bump. But what about postpartum?
"Giving birth is a pretty traumatic thing for the female body," says Burt, tackling a sensitive matter. "It changes you in a place that's really important when you cycle, it's where you sit. What worked in the past might not work for you any more."
As with an injury, it's important to be cautious and progressive.
"Bike-fit will change as you return to fitness. Initially you may need to relax the position and make sure that you're comfortable. It's not performanceorientated at first, just about comfort." You might need a saddle swap, and it may be worth going to a fitter who uses saddle pressure mapping. The next task is strengthening.
"The first thing is to get trunk stability back," Burt adds, "as core muscles can be weakened by the ordeal — even more so in the case of a caesarean section."
5. Your flexibility, core strength or weight has changed
A rider's flexibility and body composition make a big difference to their riding position. If yours have changed, for whatever reason, you might find your old measurements don't work any more.
"If you end up stopping your ride because your belly is forcing your hip out and you get hip pain, then yes, it's better to relax that position," Burt says. A common symptom is the distinctive 'Kermit' pedalling style, "riders whose legs kick out to the side — it can be because their belly is larger than it used to be, or because they don't have full hip range of motion."
Expert advice will help you identify which parameters to manipulate — float, crank length, stance width, height or layback. Saddle height is affected by flexibility, too: more flexible riders can extend more fully, whereas those with tight hamstrings require a lower saddle and shorter reach. Similarly, stronger riders are able to stabilise themselves in a long and low position without pain.
'Don't go too aggressive'
Phil Burt's top tips for recognising when your position is too extreme:
Handling will become twitchy
Numb hands are a sign there's too much weight over the bike's front end
Penile numbness, if you're rolling too far forwards
Back of the leg pain if the saddle is too high
Neck pain. Holding a low front end can be like painting the ceiling if you're having to look up to see the road ahead.
Stubborn pain. If it's lasting once you get off the bike, we either need to look at the bike, or you. We may need to have the rider work on strength and flexibility, and then gradually change the position over time.
TT bike tip: when it comes to getting a fast position on a TT bike, Burt advises, "The single most important change is saddle setback, height, and tilt — and the saddle itself. Tilting your saddle just a couple millimetres down allows you to tilt your pelvis and moving it upwards and forwards allows you to get the most power. After that, we address hand position."
Testing the theory: three case studies
Maison du Velo's bike fitter, Paul Drake took some guinea pigs through their bike fit paces...
Adrian Blacker: 'I want performance without pain'
Company director Adrian Blacker, 54, is a time triallist who rides every distance, from 10 miles to 12 hours, racing up to three times a week through the summer. He rides daily and is disciplined about core strengthening and stretching.
Bike-fitter Paul Drake says:
Adrian is flexible and keeps himself in very good condition but, even so, his saddle was too high, by 15mm. I don't think he was activating his quads and glutes enough, and he was overreaching with his hamstrings. A saddle set too high can cause lateral pulling, hitting the IT band and vastas lateralis, stressing the knee joint and causing knee pain when cycling.
Towards the bottom of the stroke, the knee is flapping around, putting stress on the medial and lateral ligaments. Lowering the saddle allows Adrian to better activate his glutes — that'll probably take three to four weeks.
I also moved his cleats back, as they were too far forward, causing him to isolate his Achilles tendon and calf muscle. Moving them underneath the mid-line of the body means he'll get better drive with bigger muscle groups.
Adrian complained of a new right knee pain after the fit. I think it's because we've made big changes in the middle of the season. A better time for a fit would be October or November. I have given him some stretches to do until his muscle memory catches up with the changes.
Adrian Blacker says:
My first observation post-fit was that the left leg was under better control at full extension, and I could push hard through the pedal around the full rotation. I felt properly planted and the rearward movement of both cleats was obvious out on the road; I felt I was 'ankling' less.
I had a hard turbo session the day after the fit. Power was where I expected it to be and I felt comfortable in the saddle. However, the next morning I had a new right knee pain, so I raised the saddle to between the old and the 'fitted' saddle height.
Since then, I've ridden a good few road miles and raced over 10, 25 and 50 miles. In the latest 10-mile time trial, the slightly raised saddle relieved some of the right knee pain while still allowing my left leg to stay in control through the full rotation.
In the 25-mile race, I achieved a personal best by more than a minute. I'm certain that the changes haven't harmed my cycling performance, and I suspect they are responsible for at least some of the gain.
Lisa Davie: 'I've had a break from the bike'
Royalty protection officer Lisa Davie, 48, got her custom Parlee as a 40th birthday present eight years ago.
In the past few years, she's been suffering from stubborn back pain, causing her to take some time away from two wheels and into running shoes. Now intent on returning to cycling, first she needs to defeat the pain.
Bike-fitter Paul Drake says:
Lisa had pain in the lower back, plus foot numbness. We sorted the feet by moving the cleats back, as having them too far forward can cause pressure on nerves, leading to tingling and numbness.
Her pain was all the way up the back and into the shoulders. There was quite a curve in Lisa's lower back, and she wasn't comfortable on the hoods, so we swapped her 90mm stem with an 80mm. After this, her wrists and elbow were nice and relaxed, as were the deltoids; she looked far more relaxed on the hoods.
We opened up the hip angle by moving the saddle forwards, which took stress off the hip flexors. Lisa said she was struggling to feel powerful on the bike, so by raising her saddle we gave her better glute activation.
Core conditioning can play a big part in reach and how low and aggressive you can be on a bike. Though Lisa does a lot of running, her break from the bike may have led to postural weakness. Having changed her position, we need to allow time for the muscles to strengthen.
Since then, I've ridden a good few road miles and raced over 10, 25 and 50 miles. In the latest 10-mile time trial, the slightly raised saddle relieved some of the right knee pain while still allowing my left leg to stay in control through the full rotation.
Lisa Davie says:
I got my Parlee eight years ago and it was built to the specifications of a bike-fit. I had no issues until about four years ago when my lower back starting hurting so much that I took up running. However, after a few years of a persistent running injury, I decided to return to the bike. When I did, the back pain was crippling, so I jumped at the chance of another bike-fit.
Everything needed changing! I've ridden the 23 miles to work and back a few times since, and not a twinge. The biggest and most immediate difference I noticed was the decreased distance between the saddle and the handlebars; I'm no longer overreaching. It feels like a stronger, more comfortable cycling position. I'm looking forward to being able to ride for longer and regaining cycling fitness.
David Claxton: 'My back injury is stopping me riding'
Former infantry soldier David Claxton, 43, now has an office job in military intelligence. His body has been through its fair share of trauma over the years: he's had a separated shoulder and broken hip (rugby), five breaks in his leg resulting in a shortened shin bone (motorbike crash), and he's now suffering from painful medic plate change in the lower back.
Doctors say he'll need surgery if it worsens, but exercise could keep this at bay. Claxton's goal is to ride the triple Mount Ventoux this summer.
Bike-fitter Paul Drake says:
David was experiencing chronic lower back pain in the lumbar area and into the sacrum, so we needed to take stress off the lower back.
David was experiencing chronic lower back pain in the lumbar area and into the sacrum, so we needed to take stress off the lower back.
His position was far too rotated, and he was overreaching. There was a lot of stress going through his arms; you could see his triceps were doing a lot of work. So we moved his handlebars up, meaning that everything from his hands to wrists and deltoids was more relaxed; and his upper and lower back is relieved of the pressure.
The new position will help with descending, too — he'll be more confident and comfortable on the drops, getting his body weight low and over the front of the bike.
I also moved the saddle forwards to open up the hip angle. We then took the pressure off his quads and better activated the glutes by raising the saddle.
David Claxton says:
Having already had a bike-fit, it hadn't really occurred to me to have another. Since injuring my back, I have struggled to get comfortable on the bike at any distance over 40km.
The new position felt different and took a little getting used to. At first I felt as though I was in a more aggressive position over the bars, but it's gradually felt like I'm more in control, with less pressure on my wrists. I don't lock out my elbows any more, so have less stress through the arms and shoulders.
The adjustment made to my saddle position has made a huge improvement. After riding Ventoux this summer I had none of the lower back or subsequent shoulder or neck pain that I was previously getting which left me free to enjoy the ride. This has been a really good experience for me.
Thank you for reading 20 articles this month* Join now for unlimited access
Enjoy your first month for just £1 / $1 / €1
*Read 5 free articles per month without a subscription
Join now for unlimited access
Try first month for just £1 / $1 / €1