The Sufferfest turbo training app: everything you need to know
Looking to break up the boredom? Here's everything you need to know about training with The Sufferfest app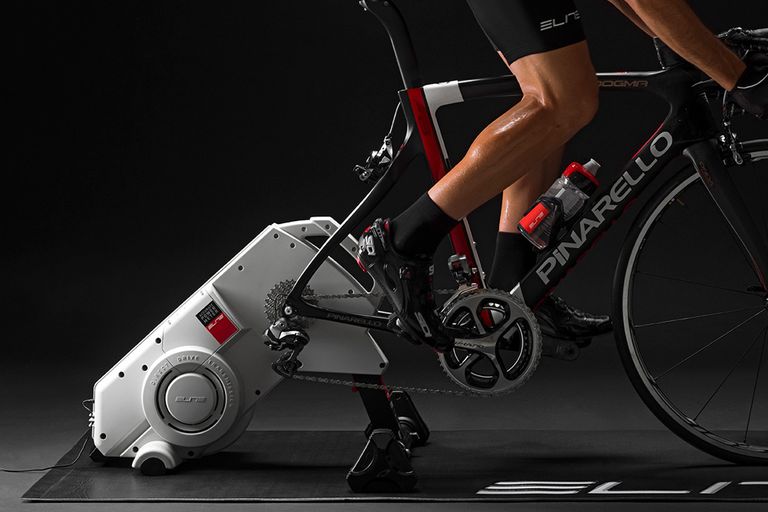 What is The Sufferfest app?
The Sufferfest is a household name amongst the cycling community - revered by many and feared by a few who have ridden deep into the darkest depths of 'Sufferlandria'.
>>> Indoor cycling apps compared: which is best for you?
Initially, The Sufferfest produced training videos consisting of race footage, over-layed with directions for structured interval sessions. Efforts were ridden on perceived exertion, with cadence directions.
In 2016, the company modernised. It ceased selling individual videos, and instead switched to a membership structure where users signed up and downloaded an app.
>>> Interview: Sufferfest idea man David McQuillen
The downside is that this requires a monthly payment. The upshot is that the new app is much smarter, training zones can now be tuned to a rider's power profile, and the app includes training plans and additional features such as yoga, power testing and sessions focused on form and pedalling style.
>>> Cheap indoor fitness app set up
'The Sufferfest' videos have always had their own humour. Training is set in 'Sufferlandria'. Riders are often representing the 'Sufferlandrian Team' and under threat of beating from the 'minions' if lack of effort means they lose the race. Riders are almost always at threat of losing until the last interval. Sometimes the minions mess with the timers and intervals are longer than they should be.
There's a special, tongue in cheek (we hope) vibe to the whole thing that one really has to suffer through to understand.
Is The Sufferfest app free?
No. The Sufferfest app costs $10 a month/£7.48, or $99 a year/£74.
What do I need to use The Sufferfest app?
The Sufferfest app runs on MacOS, iPhone, and Windows - so you need a Mac, Windows computer or iPhone.
You can download the app, fire up and pedal along to the videos using a standard turbo trainer, riding the efforts on perceived exertion. Hell, you can sit on your sofa and watch the videos without pedalling at all if you really like.
The next step up is to use a power meter to complete an FTP test. Enter your magic number, and all intervals will be set based on this - with a number in the top right hand corner telling you what to work towards.
One better is completing the '4 Dimensional Power' test - this consists of a five second, one minute, five minute and 20 minute effort - and determines Neuromuscular Power, Anaerobic Capacity, Maximal Aerobic Power and Functional Threshold Power.
This means your training zones will be set more accurately - since a rider might have a very good FTP but an appalling sprint, and vice versa. FTP only tells a small segment of the story.
'4DP' is exclusive to The Sufferfest, and was a year in the making. The training company worked with Apex Cycling coach Neal Henderson to develop the protocol based on his work with pro athletes and the values taken will be applied to intervals so that each effort can be correctly tailored.
Both FTP or the 4DP numbers can be set manually using a power meter and standard turbo. However, the app also uses Bluetooth and ANT+. If you have a smart turbo trainer, the two can be set up to communicate.
If you do this, the number at the top right hand corner will show both current output and the goal. The red line at the bottom, which shows what's to come, is accompanied by a green line which shows what you've actually done - and you can see clearly if the two don't match.
In ergo mode, a smart trainer used with the app will automatically increase the resistance when required too.
What added extras are there on The Sufferfest app?
The app has been received with varying degrees of enthusiasm.
Firstly - it does tie users into a regular payment. Which isn't always popular, and there's no doubt it's more expensive than downloading a video and using it continually.
However, the app does step The Sufferfest up a gear. There's the 'Rider Passport' that's created based on the results of the 4DP figures and there's a host of free to download PDF training plans developed by Neal Henderson (coach to rides such as Evelyn Stevens, Taylor Phinney and Rohan Dennis) and elite rider and masters coach Mac Cassin.
The training plans may require that you complete a session at a lower intensity - and if this is the case, you can enter the desired percentage at the start of the session. If you're not following a Sufferfest plan, you could use this feature when tapering, retuning from injury or illness - times it's ok to suffer less.
The video library has grown significantly. There's now 43 bike training videos, 30 yoga videos targeting specific areas for cyclists, 21 mental training tutorials and four run sessions.
The traditional bike training sessions - 'Hell Hath No Fury', 'Angels' (3 x 8min climbing/strength) and 'A Very Dark Place' (5 x 4min V02 efforts) - are joined by less physically demanding sets such as 'Elements of Style' which is focused on form and pedal stroke.
On completion of a session, this is logged in the rider's profile, and an email is sent with a downloadable file which can in turn be uploaded to systems like Training Peaks.
Using The Sufferfest app
I've long been a Sufferfest user, but fell away with the introduction of the app, not wanting to be tied down to a monthly payment.
However, with the arrival of winter 2017 (and the loss of a memory stick which contained about eight videos) - I gave in.
The app took about 5 minutes to download, and logging in I discovered a world of new videos.
Initially I used a standard trainer in conjunction with the power meter on my bike, this was perfectly adequate and worked well. After a few sessions I set myself up with Wahoo Kickr smart trainer. It took about an hour to get the turbo set up, and calibrated via the Wahoo app, but once complete pairing the trainer with The Sufferfest was a piece of cake.
Not a convert to Zwift - the vastly more popular alternative that lets you compete against riders all over the world - it was the first time I've used a training app with on screen power updates. I've followed sessions set by coaches with power values - but having live numbers on the screen made them much easier to stick with.
>>> The best cycling apps
My initial reaction was that some sessions felt a lot easier. My heart rate was lower, too - an odd side effect.
However, where training without clear directions on screen, I'd often over-power and find myself taking sneaky micro breaks. Using the on screen numbers I kept my efforts under control and could complete the sessions properly.
There are new videos in Sufferfest's signature style - such as the minute on/minute off 'Revolver'. These are great and a welcome variation to the tried and tested sessions.
The form focused videos - such as 'Elements of Style' which has riders complete pedalling drills with a focus on a rounder stroke - are great too.
However, a couple of the new sessions aimed at easier riding don't quite provide the experience I've come to expect from The Sufferfest.
'Cadence Builds' for example, has little narrative. I can see why Sufferfest has created it - the training plans include cadence sessions and it needs a video version. However, I'm quite capable of completing spin-ups on my own and didn't really feel the video added much to the experience.
'To Get to the Other Side', produced with the Col Collective, shares the history and landscape of assorted climbs. Some riders might love this, personally I found it a bit of a snorefest and I've no idea how I'd complete it a second time.
It's also worth noting that The Sufferfest won't let you join group rides or compete against anyone but yourself, like Zwift does. The motto has always been 'IWBMATTKYT' - I will beat my ass today to kick yours tomorrow. I prefer it that way - but I can see myself changing my mind on the first snow day when all my club mates are Zwifting in unison.
Overall - the new app is fantastic. I signed up for a free trial, but I entered by credit card details to do so and I won't be cancelling - and that is my own, hard earned cash - not media freebie money.
However, I do feel that in an effort to catch up, The Sufferfest has sacrificed a little prowess and rushed a few videos through.
Guys: you've caught up now, you're there - let's see the old quality in all its Sufferlandrian hilarity maintained in every video.
Michelle Arthurs-Brennan is Cycling Weekly's Tech Editor, and is responsible for managing the tech news and reviews both on the website and in Cycling Weekly magazine.
A traditional journalist by trade, Arthurs-Brennan began her career working for a local newspaper, before spending a few years at Evans Cycles, then combining writing and her love of bicycles first at Total Women's Cycling and then Cycling Weekly.
When not typing up reviews, news, and interviews Arthurs-Brennan is a road racer who also enjoys track riding and the occasional time trial, though dabbles in off-road riding too (either on a mountain bike, or a 'gravel bike'). She is passionate about supporting grassroots women's racing and founded the women's road race team 190rt.
She rides bikes of all kinds, but favourites include a custom carbon Werking road bike as well as the Specialized Tarmac SL6.
Height: 166cm
Weight: 56kg
Michelle Arthurs-Brennan on Instagram
Michelle Arthurs-Brennan on Twitter