What I learned while bike commuting year-round
Car-free TikToker Jenna Phillips shares the transformative effect of bike commuting and the products that make her commute better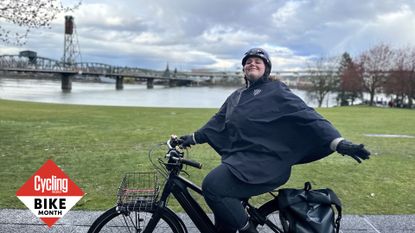 (Image credit: Jenna Phillips)
For me, like many others, 2021 was a year of change. I moved, I tripled my transit commute, I broke my foot and I made a TikTok account — a combination I wouldn't have guessed would change my day-to-day life so immensely.
While recovering from my broken foot, my physical therapist suggested getting back into biking with an e-bike. Using Portland's bike share program, Biketown, was the perfect chance for me to use the e-bike without committing to the large price point of a brand new bike. At the time, the bike share system had recently been made entirely electric, providing a great opportunity to experience e-bikes before buying one. One ride in and I was hooked.
With the e-bike I could confidently get anywhere in Portland, not worrying about how sweaty I would be, the hills I might encounter or if I was feeling strong enough to make it. I knew I had to get one for myself to augment my now-longer commute and avoid the expense and hassle of buying a car. I put it out there and the universe responded. On a weekly bike ride to the farmers market (—yes, I was on a Biketown bike—) a friend told me she was selling her Gazelle Cityzen and hadn't had any takers yet. The next weekend I was biking away from her house with a new bike.
That e-bike cut my long transit commute fully in half. From a 90-minute ordeal of walk-train/train-walk, my commute decreased to a 45-minute bike to train to bike commute. I was completely sold on the power of e-bikes (pun intended).
Fast forward to two years later, and I am still making that same bike/train multimodal commute and I am able to save an incredible amount of time with an e-bike. The e-bike removes the fear of burnout on those long weeks where I don't feel like riding and allows for much less sweat when I arrive. It has also expanded my confidence in biking overall. I find joy in switching between my Gazelle e-bike, my Pure Cycles commuter and my Surly pacer for the commute to work. It's really helped me keep it fun and interesting while also helping me move my body in different ways.
Commuting by bike has given me my time back but also brought me to a place of calm and joy. I run into a friend, coworker or bike acquaintance on almost every commute. Sometimes we stop and chat, sometimes we ride together but mostly, we just give the ole friendly 'biker wave'. I feel connected to my community now more than ever. I get to start my day with fresh air and movement that has improved my mental health immensely.
Somewhere along this journey I started documenting my bike life on TikTok. Under the name, JennaBikes, I share everything and anything about this car-free, bike rider life I have developed for myself. My favorite part of making videos are the questions I get: "What do you do in the rain?", "How do you lock up?", "What seat do you recommend?" I get it all. I love getting to share things that have helped me get to where I am to help others over barriers they might be facing. To give them just a little push.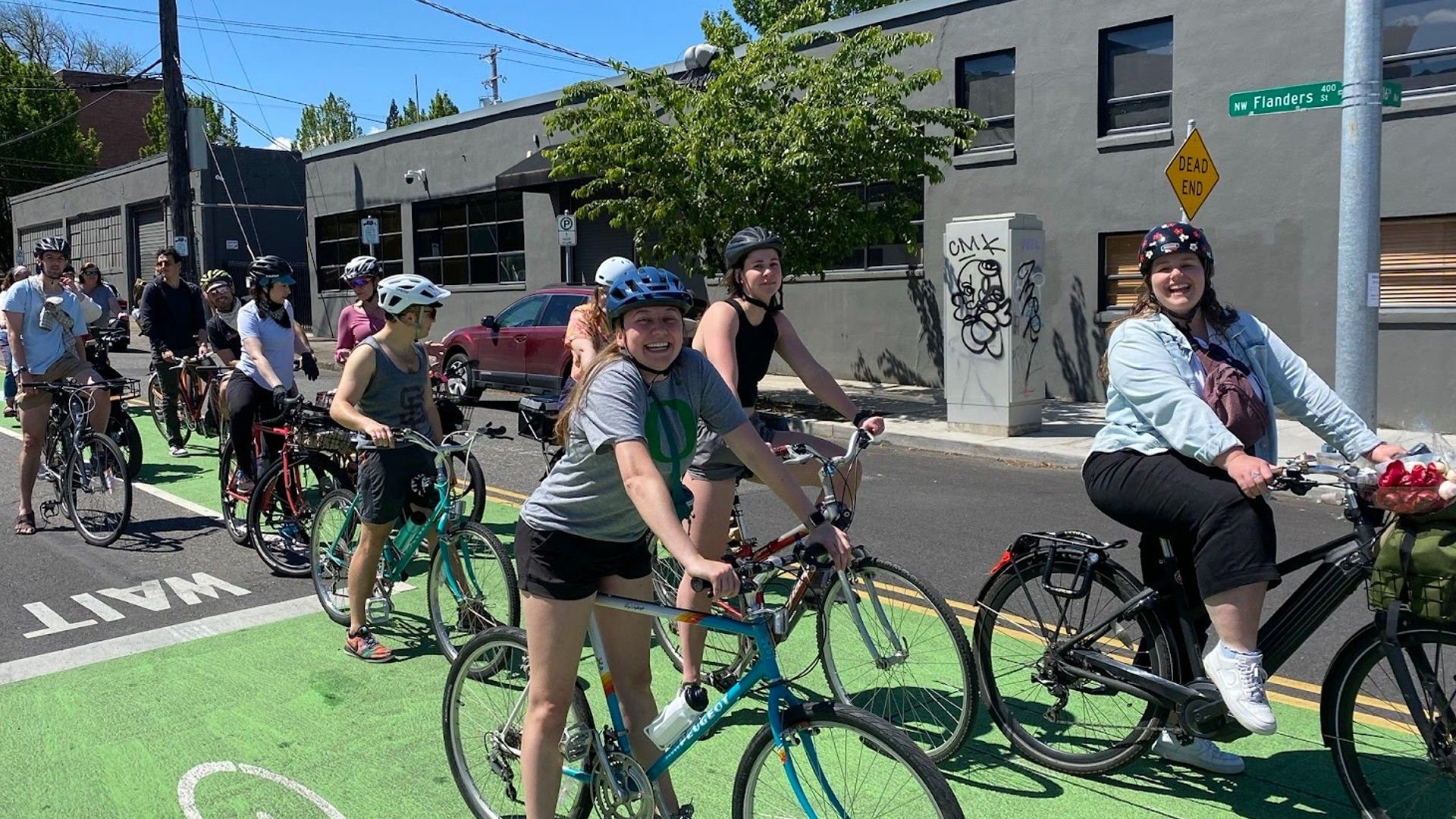 Products that make my commute better
The most common question I am asked is: "What do you recommend to make the commute better?"
Lights, locks and carrying capacity are a must. Rechargeable lights are a must, if you are shelling out some money, Dynamo lights are incredible and give such a great piece of mind.
For locks, I recommend Kryptonite u-locks as a classic or a chain for a heavier duty e-bike. And for carrying capacity, there are two routes in my mind: panniers or baskets. I love Banjo Brothers bags for a lower price point while still being high quality. And the upper end, very high quality, Ortlieb bags are such great options. Also a great option if you are switching between bikes and various bike racks as the hooking mechanism is customizable. And last but not least in the Pacific Northwest: the rain. A Cleverhood Rover rain cape is a must. Throw it in your bag and when it rains throw it over anything you are wearing.
Overall there is no bad way to bike to work. Get on a bike, get out there, and as always Happy Biking!
If Jenna's story has inspired you to ride more, get back on your bike or start biking to work then head over to our National Bike Month page for more great articles
Thank you for reading 10 articles this month* Join now for unlimited access
Enjoy your first month for just £1 / $1 / €1
*Read 5 free articles per month without a subscription
Join now for unlimited access
Try first month for just £1 / $1 / €1
Jenna is a forever car free bike rider living in Portland OR, who turned to social media to spread the joys of biking. Using Tiktok, she has been able to grow her following to 25k sharing her daily commute, beginner road bike vlogs, and general bike tips and tricks.