'When I say I'm new to road racing, my friends laugh!': Sean Flynn on turning pro after just one season on the road
The former national champion on the mud tells CW how he's transferred his talents to the tarmac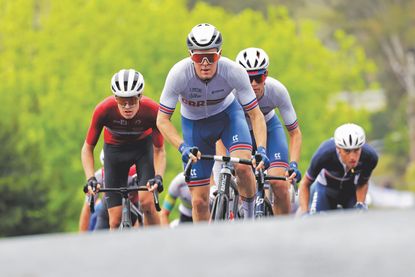 (Image credit: SWPix.com)
For each article in this long-running WATT WORKS FOR ME series from Cycling Weekly's print edition, we ask a pro rider about their favourite things in training: what has helped them most in getting to where they are today. The aim is to get to the heart of the beliefs and preferences they hold dear when it comes to building form, maximising fitness and ultimately achieving results. For this edition, we speak to Sean Flynn...
You won both cyclo-cross and XC mtb national junior titles in 2018, which implies you're an off-road specialist?
I also won a national title on the road as an under-16, so I've always done both. When I describe myself as new to road racing, my friends laugh and say, 'Nah, you've always done it!' As a junior I did two or three road races a year, so far fewer than people from a road-only background.
You've only been racing full-time on the road since 2021 yet already you're a WorldTour rider. How have you made such fast progress?
I had to learn the intricacies of racing on the road, the feel, the sixth sense to make the right decisions at the right time. But physically my capabilities were already quite good, which is what attracted [Team DSM] to me.
What did it entail, transferring off-road competencies to the road?
I knew I had quite good power and a good sprint, but sprinting on the road bike is really different to sprinting on the mountain bike, so I had to work on that. Succeeding on the road comes down to repeatability and producing the power at the end of the race. There is more focus on volume now and less intensity; it's more about managing energy and increasing efficiency.
Does your combination of sprinting and endurance talents set you up as a Classics contender?
Yeah, that's the sort of racing I have really enjoyed over the past couple of years, though it's still too early to box myself into a category. Within the team, I'm part of the Classics group.
In terms of technical skills, is your off-road background an advantage?
Yes, it gives you a good sense for bike-handling. That said, when I started on the road, I wasn't the most confident descender, as it's a really different sensation. But now, after some time, I can consider it a strength – not just descending but moving around in the bunch and being comfortable when things get a bit hairy in the wet or on loose surfaces.
I guess you'll be training in sunnier climes this winter?
Yes, most of the time I'll be based in Girona [in Spain], where I have lots of friends and training is really nice – and yeah, the weather is slightly better than Scotland at this time of year! It's already made quite a difference to my training.
And now, after eight years without a pro cyclist, Scotland suddenly has two – both of you on the same team.
Yeah, that was really special. When I signed for DSM, I knew there hadn't been a homegrown pro rider for a long time. There have been various jokes between me and Oscar [Onley] about who will be first to race and, if we're both in the same race, who will cross the line first. It's really nice, us being on the same team.
Rider profile: Sean Flynn
Age: 22
Height: 5ft 10in
FTP: 380W (estimated)
Hometown: Edinburgh
Lives: Girona, Spain
Rides for: Team DSM
Best results: 1st – Stage 1, Istrian Spring Trophy (2022); 4th – Okolo JiŽnich Čech (2022); 4th – Paris-Tours U23 (2022)
Twitter: @seanf1ynn
Instagram: seanf1ynn
Do you have a favourite type of training?
I really like an endurance ride where I can just go out and enjoy the riding: pick a nice loop and savour it without any particular objectives or targets. That's the purest enjoyment in cycling – a good loop with a few friends.
Your top piece of advice for aspiring amateur racers?
Channel your motivation in the right ways. On a day when you're meant to be knocking out some hard efforts, make sure you really do them well. On days when you need to be easy and chilled, stick to the plan – too many people push too hard on easy days.
Quick-fire faves
Distraction on the turbo? British rap music, especially Dave
Place to ride? Chambéry in south-eastern France – amazing scenery
Type of course to race on? Something with some gravel, cobbles and short climbs to create a key moment
Cafe stop treat? Cinnamon bun
Inspirational cyclist? Mark Cavendish and Bradley Wiggins sparked my interest in road racing
Dream race to win? Paris-Roubaix
Post-race celebration meal? Pizza
Hobby or interest outside of cycling? Rap music
Quality in a training partner? Sharing the same motivation or drive
The full version of this article was published in the 19 January 2023 print edition of Cycling Weekly magazine. Subscribe online and get the magazine delivered to your door every week.
Thank you for reading 20 articles this month* Join now for unlimited access
Enjoy your first month for just £1 / $1 / €1
*Read 5 free articles per month without a subscription
Join now for unlimited access
Try first month for just £1 / $1 / €1