Classic Races: 1987 Liège-Bastogne-Liège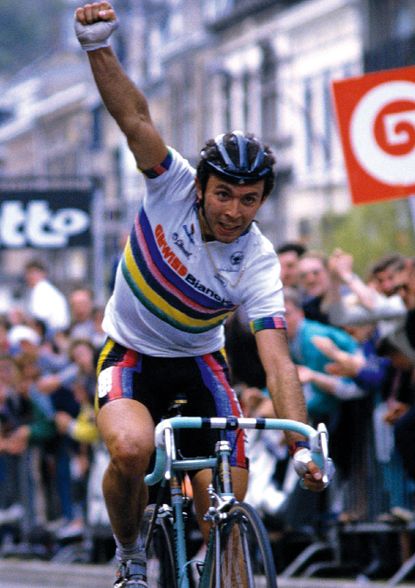 Moreno Argentin: "I don't know if it was my sweetest win, but it was unexpected for sure"
A bullet in rainbow colours. The winner of the 1987 Liège-Bastogne-Liège should have been either Stephen Roche or Claude Criquielion, who had attacked and gone clear together, but they made a fatal error…
Words Lionel Birnie
Photos Graham Watson & Offside/L'Equipe
There is no way it could happen these days, because each directeur sportif would have been yelling to the two leading riders that they were in danger of being caught. But in 1987, when they raced without the earpiece radios that are ubiquitous today, entering the closing kilometres of a big race was almost like stepping into a vacuum. Just as the boxer is alone during each round of his fight, so the cyclists had to proceed into the final battle with only their own wits to rely on. All the pep-talking and encouragement from outside the ring had been done. The crowd noise dulled to an indistinguishable rumble, all other signs of what was happening around them faded to a blur, as the two cyclists concentrated on each other. There wasn't even a big screen at the end of the finishing straight to give them a clue.
In the closing stages of the 1987 Liège-Bastogne-Liège, Stephen Roche and Claude Criquielion thought the race was theirs to call. They rounded the final corner into the Boulevard de la Sauvenière, right in the heart of Liège, believing they had plenty of time to toy with one another. La Doyenne, one of the monuments of the sport, was on the line and of these two — undoubtedly the strongest on the day — only one could be a winner. As it turned out, both were to feel the sting of defeat, and a humiliating sting at that. The question everyone wanted to ask, though few had the courage to put to them in the immediate aftermath, was: "How did you allow the race to slip through your fingers? How could you not have known they were behind you?"
But the truth is they didn't know. The first thing they knew was when they saw 'a bullet in rainbow colours' flash past them. That was Moreno Argentin, the Italian rider, who had sealed his third consecutive Liège-Bastogne-Liège win in the most unlikely of circumstances.
Stephen Roche, the 27 year old from Dublin, with the pedalling style as smooth as a perfectly poured pint of Guinness, was enjoying a great spring after a winter that spanned more than a year. Having finished third in the 1985 Tour de France, Roche was tipped as one of the men most likely to challenge Bernard Hinault and eventually to succeed him. But he took a heavy blow on the knee when he crashed on the Paris-Bercy track, while partnering Britain's Tony Doyle in a six-day event during the winter. People said that a Tour de France contender had no business riding the six-day meetings in winter, risking their bodies on the boards, but Roche enjoyed the racing, and the money, and felt it was a perfect way to keep in shape. The injury meant 1986, his first season with the Italian Carrera team — on a sizeable contract, they weren't slow to point out — was a disaster. The start of the new season, though, was like stepping into the sunshine. Victory in the Tour of Valencia was followed by a near-miss in Paris-Nice. Roche was wearing the leader's white jersey when a puncture during the road stage on the morning of the final day handed a sixth consecutive overall win in the race to Sean Kelly. Roche won the afternoon's time trial on the Col d'Eze. He was clearly in excellent shape and, finally, delivering the sort of results Carrera, an Italian company that made jeans and other denim clothing, had been paying for.
The week before Liège-Bastogne-Liège, Roche had demonstrated how well he was riding by getting into the winning break at Flèche Wallonne. The move formed with 15 kilometres to go. With Roche were Criquielion, two French riders, Jean-Claude Leclercq and Yvon Madiot, Britain's Paul Watson, a German, Rolf Gölz, and Norway's Dag-Otto Lauritzen. When the unfancied Leclercq attacked not far from the finish, everyone looked at Roche and Criquielion to chase. In turn, Roche looked at Criquielion, and the Belgian looked right back at him. Roche, who had done a lot of work earlier in the race, was first to react but he couldn't close the gap. Criquielion let him get on with it, then counter-attacked, although he was not able to bridge up to Leclercq. Roche was fourth.
The night before Liège-Bastogne-Liège, the Carrera team manager, Davide Boifava, knocked on his hotel room door. "Stephen, you're riding too generously in these Classics," he said. "Look at Flèche Wallonne. You closed down breaks, you spent time on the front and then when you couldn't do any more, they jumped you. You're doing great rides but you're not banking the victories. It's right to race hard, and be aggressive, but don't do too much. In these Classics you have to be prepared to lose in order to win."
Roche considered the advice. "It sounded clever enough, you know, and I could see what Davide was saying. I had been strong in Flèche Wallonne, but I hadn't been prepared to let others take the initiative. If you're going to finish fourth anyway, maybe it's better to let others take the risk, but my style was always to ride hard if I felt strong."
Two years earlier, three riders arrived in the finishing boulevard to contest the 1985 Liège-Bastogne-Liège, having shaken off the rest. They were Argentin, who won, Criquielion and Roche. The Italian had made the race his own, returning to defend the title in 1986, and again in 1987, this time wearing the rainbow jersey having won the World Championships in Colorado Springs the previous summer. Not for Argentin the traditional rainbow bands, instead Maurizio Castelli, the boss of the Castelli clothing company, designed a jersey with a twist. Instead of solid rings of colour, the bands were faded — something of a fashion in the late 1980s.
Although the season had started well for him, Argentin had been forced to pull out of Milan-San Remo. The groans of disappointment from the Italian press and tifosi were audible. Argentin and the Ardennes, though, went hand in hand.
He had first raced at Liège-Bastogne-Liège when he was only 21 years old, in 1982. The directeur sportif of his Sammontana team, took a young, inexperienced bunch of Italians to Belgium to learn.
"My build was suited to Liège-Bastogne-Liège and Flèche Wallonne, but the first time in Liège I finished 20 minutes back. I suffered with the rain and the cold, but I started to understand how you have to race. I dragged myself across the finish line. My team-mate Alessandro Pozzi and I, we died together that day."
As defending champion, wearing the rainbow jersey, Argentin's confidence should have been bubbling that fresh April morning in 1987, but he confided his doubts to Dario Mariuzzo, a team-mate with the Gewiss team.
"I did not have a high level of fitness heading into the race," Argentin explained. "But hopes are the last thing to die, and if you are used to winning you always hope that today is the right day. It's normal to have doubts and fears, especially if you have not won a big race for a while. The world champion's jersey only compounds it. The fear doubles because you are controlled and watched by everyone."
The race rolled out of Liège, bound for the hills of the Ardennes, the same steep, back-breaking climbs that cause the bunch to transform over several hours from a fat, bloated mass, into a snake of suffering.
Nothing unusual happened early on. Two riders, Switzerland's Serge Demierre and Finnish rider Kari Myyrylainen, broke clear and gained 10 minutes. But the hills caused them to tire, and as the race reached its final third, they came back.
The climbs always come thick and fast. The Maquisard and Mont-Theux were followed by La Redoute, where the race began to crystallise. A group of around 15 riders formed, and Argentin had two team-mates, Emmanuele Bombini and Alberto Volpi. Knowing that a race like Liège-Bastogne-Liège is one long game of bluff, Argentin tried to keep secret the fact he was beginning to struggle.
"You say 'hello' to riders at the start or you talk to them in the race, but many times you don't tell the truth. Riders will tell you they are going 'male, male' [bad] even if they have been training well and are going strong. You always take what they say with a grain of salt. Never believe what a racer says."
Come the climb of Côte du Sart-Tilman, the one near the University of Liège, the final one of the race, Argentin could bluff no longer. He began to cramp. Sensing the opportunity, Criquielion attacked. Roche knew this was the move to mark and sprinted past Argentin to close up to the Belgian.
Born in-between
Claude Criquielion is a Walloon, born in Lessines, in the Hainault region of Belgium, south of Flanders and to the west of Brussels. The country's cycling culture is divided into Flems and Walloons. Some of the most fanatical Flandrians say they would rather see a foreigner than a French-speaking Belgian win De Ronde Van Vlaanderen. Only Eddy Merckx had truly transcended the divide and was loved by both factions, and even he had to walk a constant tightrope, avoiding political gaffes, ensuring he spoke as often in French as in Flemish, preferring neither one over the other.
Criquielion was in a funny position.
He was loved by the Walloons and was brought up a French speaker, but he was born over on the west, on the doorstep of Flanders. And, a few weeks earlier, he had won the Tour of Flanders with a searing ride over the cobbles and bergs. The 30-year-old former world champion was flying. He'd been second a few days earlier at Flèche Wallonne, but Liège-Bastogne-Liège, his race, the one that his followers all craved, had continued to escape him.
When Roche and Criquielion got clear on the Côte du Sart-Tilman they didn't look back. They quickly opened a gap and before they knew it, their lead was a minute. Boifava drew alongside Roche in Carrera's Citroën CX team car and told him the gap was enough. He also reiterated his words from the night before. Don't do too much.
"Liège-Bastogne-Liège was a more interesting race then," says Roche. "Now they finish on the climb in Ans, and most years everyone waits until then, so you have a negative race. In 1987, we had to take our chances and when Criquielion attacked that was it. I had to go with it," says Roche.
But the Irishman was conscious that he and Criquielion had effectively marked each other out of Flèche Wallonne. "There had been aggro there because we had marked each other and let the race go.
He said a few words, I said a few words."
But Roche and Criquielion didn't talk about it during the approach to Liège; they didn't need to. "He wanted to win, I wanted to win, and we worked quite well together. We had information that the lead was just over a minute, and we were already on the outskirts of Liège," he says.
The only time gaps came from the motorcycle official and his chalkboard. Boifava had no additional information, the managers were not watching the race on television in the team car as they do today, but they were confident it was done.
"We'd ridden everyone else off our wheels and the book was closed," says Roche with absolute certainty. "'Only Claudy and I can win now,' we thought. The thing was, neither of us were particularly great sprinters, so I was thinking that whoever leads off will probably lose. I didn't want to be the one to lead off, so I eased up and let Claudy go in front."
As they headed to the centre of Liège, with about six kilometres to go, they began to go slower and slower.
"After 260 kilometres, even a few minutes at a lower intensity can be a big opportunity to recover something for the sprint," said Criquielion. "We didn't think we had to keep going at the same speed because we thought we had time to spare."
The nearer to the finish they got, the slower they got. As they moved into the town centre they were rolling along at 25 kilometres an hour. Criquielion turned to Roche and said: "You've got to ride here." Roche had Boifava's words in his head.
Be prepared to lose in order to win. Don't hand Criquielion the initiative. They were in for a shock.
With the climbing done, Argentin's cramps eased and he found himself in a group with Scotland's Robert Millar of the Panasonic team and Yvon Madiot of Système-U.
"I had to skip a couple of pulls initially until my cramps passed," says Argentin. "I thought we were riding for third."
Both Millar and Madiot were strong.
"In a race like Liège-Bastogne-Liège, you have to be able to ride fast up hills after 220 kilometres, so you see different people riding fast up hills at that point in the race compared to at 200 kilometres. My strength was to be able to do that," says Madiot.
"When Roche and Criquielion attacked, I was convinced we were riding for third or fourth place. Even Argentin had given up on the win — their attack was very hard. Those two were just stronger than anybody else that day, although I was surprised Argentin wasn't able to follow.
"We were still riding hard and my DS [directeur sportif, Cyrille Guimard] told me that the front pair were foxing and that we could catch them."
Madiot and Millar rode, while Argentin sat on, giving them only the occasional turn. Guimard had the scant information from race radio to rely on, but his insistence that the two leaders could be caught seems to be more a managerial technique to convince his rider not to give up than a belief it could happen.
Millar, the climber, would have known he'd have no chance in the sprint, so his decision to work hard on the chase group was a bit mystifying. He explained at the time: "The thing was, Peter Post [his Panasonic team manager] wanted as many points as possible for the World Cup [a season-long competition that was run for teams at that time] so we had to keep riding. Argentin wasn't doing any work. So we were riding along to keep away from the group behind us, not to catch Criquielion or Roche. If Post hadn't said
it was important for his points for the World Cup I wouldn't have ridden, because Argentin wasn't working."
The leading two riders had no idea their advantage had been scythed away in great chunks. "There was nothing. People said, 'didn't you hear anything or see anything', but I didn't," says Roche.
Roche's Carrera team car, and Criquielion's Hitachi car had been pulled over, but the riders wouldn't have known that. Between them and the chasers were several motorbikes and cars, so even if they had glanced over their shoulders they wouldn't have been able to see the riders coming up. As they turned into the Boulevard de la Sauvenière, they were almost at a crawl, totally concentrated on each other. It didn't even occur to Roche to look behind him. "I felt good, but I certainly wasn't confident of beating Criquielion. He was the local favourite; this was his race."
With about 500 metres to go, the gap had been closed. "It all happened very fast," says Madiot. "We were catching them in the last three kilometres, but mentally I hadn't adjusted to riding for the win. It happened too fast for me to change my tactics." Sitting on the back, Argentin was waiting for his moment.
There wasn't much time for Argentin to think, he just had to react. There was hardly any time left, he was unsure how long he could sustain his sprint, but he knew he didn't want Roche and Criquielion to catch on that he was upon them. Swinging out from the slipstream of Madiot and Millar he sprinted across what was left of the gap, up to Roche's rear wheel. There, he paused for a moment, getting a bit of extra protection from their shelter, but was careful not to slow to their speed. He didn't want to lose his moment.
"I did my attack and Millar and Madiot were not able to hook onto my wheel," says the Italian. I dropped them right away, then when I got up to Roche and Criquielion, I started my sprint straight away."
Argentin passed them and they did a double take as they saw him. Roche tried to react but it was too late. Criquielion knew he was beaten.
Three in a row
It was Argentin's hat-trick, his third successive win at Liège-Bastogne-Liège.
"I don't know if it was my 'sweetest' win, but it was unexpected for sure.
I would say it was a lucky win. What can I say? They fell asleep at the wheel. But it all balanced out a few years later when [Sean] Kelly took a win from me in Milan-San Remo with a surprise of his own. There is always payback.
"Later on, I heard that on Italian television they had been criticising me when I got dropped. They were all moaning, saying, 'What is going on? How is this possible? Argentin, the world champion, should have done so much more.' They had to eat their words on television later on."
Roche and Criquielion were shattered. The Belgian had to weather some hefty criticism. Eddy Merckx called his tactical error 'unforgiveable'. Roche was simply numb. "I always think of the road where the race finished. The Boulevard de la Sauvenière. That was some souvenir for me, I can tell you. After the race, Boifava was very tender with me, but I wasn't tempted to say anything to him. I took it on my shoulders because I knew I had made a mistake. It wasn't Boifava's fault; it was my interpretation of what he said. I was right to listen but I should have shown my own tactics on the day, chosen what suited the race. We shouldn't have slowed down so much. Even now, talking about it, it makes a shiver go down my spine. Yes, I won the Tour de France and the Giro d'Italia and the World Championship later in the season, but never Liège-Bastogne-Liège."
Roche was emotionally drained but couldn't stop his mind replaying the race on the long drive home to France. "Normally you're breaking the speed limit trying to get back home from a race as quickly as possible, but that day I was barely doing 80kph. I was just running through it in my head." He even stopped at a motorway service station and made a call home to his wife saying that, no matter what happened, there was to be no mention of the race when he got home, not even a 'how did it go?'
Criquielion never won Liège-Bastogne-Liège either. A gap in an otherwise impressive palmarès. "I felt sorry for Criquielion, especially," says Madiot. "He was a good guy. I wasn't really impressed by his [Argentin's] riding, he was extremely lucky to win."
Argentin does not disagree. "I would say I was lucky. We were only able to get the situation in hand because the two riders up front started to watch each other and slowed down."
But, as they say in golf, there's no room to draw a picture on the scorecard.
Thank you for reading 20 articles this month* Join now for unlimited access
Enjoy your first month for just £1 / $1 / €1
*Read 5 free articles per month without a subscription
Join now for unlimited access
Try first month for just £1 / $1 / €1