'A gateway of just how far their dreams and a bike can take them' - Los Angeles' first-ever pump track is now open
A dream envisioned and realized by downhill pro Eliot Jackson, the pump track will be both a community fixture and a venue for professional competitions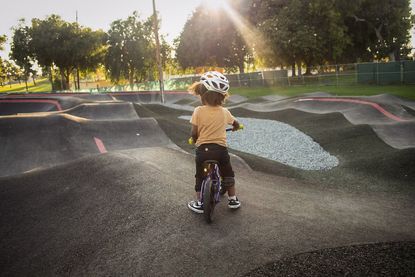 (Image credit: Grow Cycling Foundation)
Los Angeles' first-ever pump track opened to the public on Friday, September 22, after two years of construction. A dream envisioned and realized by downhill pro Eliot Jackson and his Grow Cycling Foundation, the track is estimated to serve 250,000 users — mostly children — per year.
"Most of us learned to ride a bike when we were young children. We rode for fun, freedom and even transportation. Perhaps we never saw a viable path which could take us beyond that…At Grow Cycling, a bike is not just a bike. It is a human-powered transport to your dreams. We're here to expand the welcoming tent of cycling, so that no matter where you come from, your dreams are valid. And you belong here," the foundation states for whom building this pump track is just the beginning.
A "sustainable hub of opportunities"
The Grow Cycling foundation was founded by Eliot Jackson in 2020, in light of the George Floyd protests and the racial reckoning that followed. Recognizing that the cycling world is not immune from a culture of exclusivity and racism, Jackson and his co-founders felt a need to help focus the call to action within their own community. Grow Cycling Foundation aims to foster cycling-centric communities by providing them the tools and resources they need to thrive. The Inglewood Pump Track is the foundation's first big project.
A pump track is a bike track (although skaters have been known to use them, too) that uses dirt or asphalt to create an undulating course that when ridden properly, does not require pedaling or pushing the bike forward, but can instead be ridden using an up-and-down "pumping" motion of the bike. Designed with progressive skill development in mind and being confined to a small, designated space it's also an accessible way for kids and new cyclists to gain on-the-bike skills and confidence.
The Inglewood Pump Track is much more than a ribbon of undulating asphalt, however. It's meant to serve as "a sustainable hub of opportunities for the entire Inglewood community," Grow Cycling foundation states.
"We believe that investing in local communities will create a self-sustaining cycle of economic growth, enthusiasm, and inclusivity in the world of cycling."
Approval from the City of Inglewood for the construction of the pump track was granted in 2021, and the results of the two-year-long project were unveiled last week. The Inglewood pump track is nestled in Edward Vincent Park and is actually two asphalt tracks - the Woodlands Track is beginner- and child-friendly while the World Championships track, located right next to the Woodlands Track, is a professional-level pump track and able to be used for future world-class BMX and pump track competitions.
There is also an Inglewood Pump Track app that lists out the pump track's schedule, events at the track, and even has a game-ified badge system for frequent visitors of the track.
"Los Angeles is the second-largest city in America, so it took us a whole lot of miles and meetings to find the best location to successfully accommodate LA's very first pumptrack," said Jackson, founder of the Grow Cycling Foundation, via social media.
"We chose to build this in the community of Inglewood because research indicates that economically and culturally diverse social networks can enhance financial well-being by as much as 40% over a lifetime for children of color."
"When boys and girls around the world see a World Championship Velo Solutions pump track built in a public park in Inglewood with kids and some sports heroes riding there who look like them, we hope they can envision a gateway of opportunities and just how far their dreams and their bike can take them."
Thank you for reading 20 articles this month* Join now for unlimited access
Enjoy your first month for just £1 / $1 / €1
*Read 5 free articles per month without a subscription
Join now for unlimited access
Try first month for just £1 / $1 / €1