Aldag on doping confessions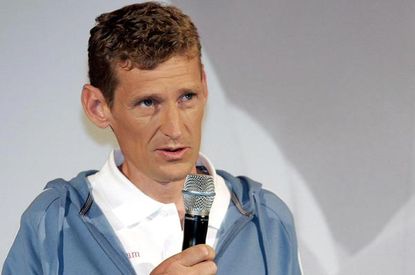 Sky's round of doping talks with its riders and team staff are nothing new to some. Rolf Aldag confessed to doping in the wake of the Spanish Operación Puerto drugs investigation and successfully continued as a sports director. Next season, he works with team Omega Pharma-QuickStep as Sport and Development Manager.
"I'm happy [to have confessed], but not that happy because the fact is that wrongdoing stays with me for the rest of my life. The fact is, I took illegal substances and I doped," Aldag told Cycling Weekly. "Does it make it easier now that I confessed in 2007? Probably. You sleep a lot better than you would if I'm still fearing and thinking, 'Yeah, maybe it will get out there.'"
The German confessed in 2007 to using blood booster EPO in his pro career that spanned from 1991 to 2005. His was part of a round of confessions accompanied by 1996 Tour de France winner Bjarne Riis, Erik Zabel, Brian Holm, Bert Dietz, Udo Bölts and Christian Henn.
Aldag was able to keep his job as sports director at T-Mobile, which was reformed by Bob Stapleton to become Highroad with sponsors Columbia Sportswear and HTC.
Stapleton explained to Cycling Weekly his solution to working with DSs Holm and Aldag: "We said, 'Do we believe these people are part of the solution? Or are they part of the problem? Can [we use] their experience and knowledge about the sport and about cheating ... to help our young athletes learns and compete against guys who are cheating successfully?' We made decisions on an individual basis."
Sky's team principal, David Brailsford is taking a zero-tolerance approach. Over the last two weeks, he has talked with the team's riders and staff to discuss if anyone had links to doping. Michael Barry had already retired in September after giving testimony in the Lance Armstrong doping case. After those talks, Sean Yates and Bobby Julich left the team for various reasons. Julich admitted to drug use until 1998, when he placed third at the Tour, and Yates said he wanted to spend more time with his family.
"I don't know where it comes from, if it is a big sponsor request or if it is Brailsford's strong belief," Aldag said of Sky's situation. "I understand if he doesn't have a choice and has a gun to his head. ... Then it's probably better to compromise on some good individuals than to lose the whole team. [Or] if he is deeply convinced about all of that, then I have to say that he was really naive when he started the team because he should've done it straight away, not use the knowledge of Bobby Julich for two years and then tell him, 'By the way, you're fired'.
"If he would have enforced that [same] philosophy in 2010 as he has now then Bradley Wiggins wouldn't have won the Tour de France this year because there's so much knowledge in the team out of that past and history that is used in a very positive way."
Aldag, when speaking on Friday, said that Julich should not worry about finding work.
"I'd like to see him continue in cycling because he has a lot of knowledge, even if he works in the same department that I do, so he's a direct competitor," Aldag explained. "There are good people working on new technologies; there are new ways to approach and improve."
He added the confessions should not be forced, that it is up to the individual to decide. He explained that it is more important that cycling learns and grows from this recent scandal and continues to question the current stars.
"[Confessing] is a big step and it does hurt people's feelings and nobody should get big applause for it because ... there is something to confess," said Aldag. "What is important to me is that everybody understands about the past, and this is really important for making changes."
Thank you for reading 20 articles this month* Join now for unlimited access
Enjoy your first month for just £1 / $1 / €1
*Read 5 free articles per month without a subscription
Join now for unlimited access
Try first month for just £1 / $1 / €1