Alexandre Blain: The Big Interview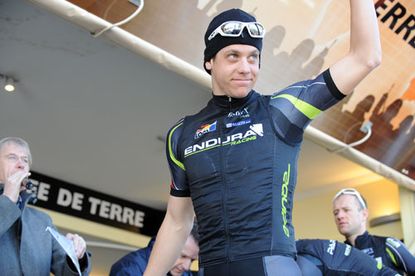 Get The Leadout Newsletter
The latest race content, interviews, features, reviews and expert buying guides, direct to your inbox!
Thank you for signing up to The Pick. You will receive a verification email shortly.
There was a problem. Please refresh the page and try again.
Alexandre Blain was a surprise signing to the Endura Racing team last season, joining from well-known French pro squad Cofidis.
The statuesque Frenchman soon proved his worth, winning the blue meta volante sprints jersey at the Tour of Murcia.
Now that he's feeling entirely settled with the Scottish squad, Blain, 30, sings the praises of the British racing scene in a chat with Cycling Weekly.
This interview originally appeared in the March 17 2011 issue of Cycling Weekly magazine, since then Blain has won the Tour of Normandy
CW: As a Frenchman coming to a smaller British team from [then] ProTour squad Cofidis at the beginning of last year, how did you find your first year of UK racing?
Alexandre Blain: Last year ended up being a great year for me. I learned a lot about British cycling - which was quite different to the kind of racing I'd been used to before, when I was with Cofidis... It meant that, at the start of the year, it was really difficult for me.
I was like a newborn baby. When you've been used to riding races like Paris-Roubaix and the Tour of Flanders, it's difficult to make the move to smaller UK races. But then, when you ride here, you find out that everyone's a lot stronger than you'd imagined, and that the races are tough, and far from easy to win. So I soon got over thinking that I only wanted to race in Europe. Instead, Endura helped me reboot my career, and that's changed how I think. Now I just want to enjoy my racing.
What is it that you've enjoyed about British racing?
AB: I've just got more and more into it, and now I think I take part in British races with the mentality of a British rider - always wanting to be at the front, motivated, wanting to show what I can do. So when Endura asked me to sign for another year, I immediately said yes, as I feel good and happy here.
There's great support on the team - it's not like at a ProTour outfit, where, if you're not a big leader, you have to work for everybody, and don't necessarily get much team support. It's great to instead be part of a growing project - it helps you keep your motivation high all season.
Until recently, it was always British riders heading over to Europe to race. You're one of the few European riders who've come the other way...
AB: I think that the English-speaking nations are cycling's new world. Europe is now the old world, while the US, Australia and Britain are the countries with the new races and the new teams and projects. And the UCI is keen to help that - to help this mondialisation of cycling.
Was there an opportunity for you to stay in France with another French team?
AB: Yes, but when I saw the Endura project, having seen what teams like Sky and Cervélo were trying to achieve, I knew I wanted to try something new. So I thought, why not try the UK?
Blain takes the win in round five of last year's Tour Series, Southport
What are your thoughts on the state of French cycling right now? You've been waiting for another French winner of the Tour de France since Bernard Hinault last won it in 1985...
AB: Maybe in France there are too many people who are still too old-fashioned - never willing to try anything new because of tradition. A lot of the directeurs sportifs are older, too, and set in their ways. They want to stick with what they know in terms of training and race tactics, and will never try anything new.
You can also see the result of that, in that there's only one French pro team in the WorldTour this year [Ag2r].
UK racing, on the other hand, seems to be about getting in there and trying to fight to show what you can do. I think Anglo-Saxon cycling is now the new wave. You could say that when I left Cofidis to join Endura it was a step down for me, but I'm now beginning to think it was actually a step up.
I wasn't happy at Cofidis, but with Endura I want to ride and race, and they support me and help me to do that. At Cofidis, I didn't feel like I was part of the set-up; at Endura I've got a voice - all the riders have.
Have you moved to the UK, now you're an anglophile?
AB: No - I still live in Nice, in France, but I think I'm going to be based in the UK during the Tour Series. I know how important these races are to the team.
Thank you for reading 20 articles this month* Join now for unlimited access
Enjoy your first month for just £1 / $1 / €1
*Read 5 free articles per month without a subscription
Join now for unlimited access
Try first month for just £1 / $1 / €1