American cyclist aims to break Strava record with a 950-mile cross spanning three states
The Guinness World Record attempt will traverse three state lines and is expected to take seven days to finish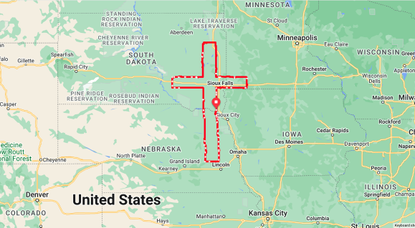 (Image credit: RWGPS)
The group of four friends recently recognized by Strava and the Guinness World Records for creating the largest ever GPS drawing made by bicycle had better enjoy their fame while it lasts because an ultracyclist from Indiana is coming for the record this spring.
The current record takes the shape of a huge velociraptor in the middle of France. This intricate 1025-kilometer (763-mile) design took the cyclists 43 hours, 47 minutes and 26 seconds over six days to complete.
But with his cross design already approved by Guinness World Records, Dave Schweikert hopes to break the record by nearly 300 miles.
Schweikert, an engineering manager at Zipp and already a two-time world record holder, has been planning his endeavor for over a year. Come May, he aims to break the Guinness World Record with a 950-mile bike route in the shape of a colossal Latin cross.
"My backstory is that I like taking on big cycling challenges. And I always do these challenges for charity," Schweikert told Cycling Weekly. "Doing crazy things that are a little bit fun and bring some attention and raise money is kind of my niche."
As with his previous 'challenges,' Schweikert will raise funds for World Bicycle Relief (WBR), an international non-profit organization specializing in large-scale bicycle distribution programs in developing countries around the world.
The world's largest cross
"The cross has meaning for me personally but for the message I want to share with people, you don't have to be religious for it to resonate," said Schweikert. "It's about me using my 'gifts', if you will, of riding a bike long distances to help others. The idea is around doing something that comes naturally to you to help others. I hope that is what resonates."
Despite the simple appearance, Schweikert said the cross was neither his first design nor the easiest.
"I spent dozens and dozens of hours trying to find enough straight roads. And that's why I chose where I'm doing it because it's really hard, for an image this big, to find that many straight roads without a mountain or a lake or something that gets in the way," he said.
The, what's likely to be, world's largest Latin cross will traverse three state lines — Nebraska, South Dakota and Minnesota— and use unpaved, gravel roads for at least 35% of its distance. The rough terrain will slow the pace but even so, Schweikert hopes to complete the course in seven days.
According to the Guinness World Records rules, a rider can stop and pause the ride in order to find food or water or to rest somewhere that isn't on course. The extra mileage won't count toward the record attempt and the rider is required to keep detailed records of any course deviations. Schweikert plans to bring a superlight bikepacking setup to sleep along the course, which includes remote stretches where lodgings aren't nearby.
The food, rest, and even the mileage doesn't seem to concern Schweikert too much. The biggest challenge, he said, will be "dealing with the unexpected".
"I think the biggest challenge will be discovering a bridge or a detour somewhere."
'You're never too old'
This year's Guinness World Record attempt is far from Schweikert's biggest, or craziest, cycling endeavors.
The 55-year-old Ohio native has racked up some impressive feats in recent years, including riding 17,132 miles in the year 2020, a 3600-mile solo ride across the United States in 28 days, and completing a total of 376.4 miles in 24 hours around a roundabout.
For 24 hours straight, Schweikert rode circles around the same roundabout in Carmel, Indiana, to earn his first world record.
Schweikert was also part of a group of 24 athletes who set the Guinness World Record for the longest spin class. In 2019, Schweikert and his fellow record holders pedaled to nowhere for 28 long consecutive hours.
What's perhaps most remarkable is that Schweikert didn't become a cyclist until he was 40.
"You're never too old and I don't really consider myself a special athlete. I just think that people are capable of much more than they realize and our minds are what hold us back," Schweikert said.
"So there's that element for me of just trying to inspire people to go, take out a big challenge, whatever that is, whether it's on a bike or anything else, and just go big."
You can be part of the record-breaking attempt
Inspired? Then Schweikert would love for you to follow him along, support his charities or, better yet, join him for some miles in May.
Not only would he enjoy the company; Guinness World Record also requires evidence and witnesses to submit a record attempt.
Weather permitting, he plans on setting out on Saturday, May 27. He'll be wearing a GPS tracker and people can follow him online. A link will be posted on his website and social media ahead of time.
"Come ride a few miles with me. And maybe, throw in a dollar for every mile," said Schweikert. "It's fun to participate in a world record attempt, and we raise some money along the way."
Thank you for reading 20 articles this month* Join now for unlimited access
Enjoy your first month for just £1 / $1 / €1
*Read 5 free articles per month without a subscription
Join now for unlimited access
Try first month for just £1 / $1 / €1