Andy Schleck begins adventure with Bruyneel and RadioShack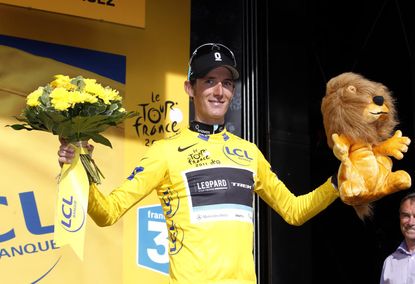 Andy Schleck will meet with Johan Bruyneel this week and next in Calpe, Spain, to prepare for a new adventure. The Luxemburger will take direction from Bruyneel for the first time next year in the new RadioShack-Nissan squad, with the hope of finally winning the Tour de France.
Bruyneel helped win the Tour de France nine times: seven with Lance Armstrong and two with Alberto Contador, once ahead of Schleck.
"Life is a series of roads, crossings and meetings. Above all, the life of a cyclist," Schleck told Italian newspaper La Gazzetta dello Sport. "The Leopard and RadioShack fusion is a good thing: the team will be even stronger."
Luxembourg's Leopard-Trek team debuted this year. Schleck and his brother, Fränk, finished second and third respectively at the Tour behind Cadel Evans.
Over a month later, in September, the team announced it reached a deal with Bruyneel's RadioShack team. Leopard took on its sponsor - in 2012 it will race as RadioShack-Nissan - 12 of its riders and Bruyneel. Instead of trying to beat Schleck, Bruyneel will try to help him win against Bradley Wiggins (Sky), Evans (BMC Racing) and his former star, Contador (Saxo Bank).
"The team was good last year, but still I believe there were weak points. The owner of the team [Flavio Becca] would like to have a full team and a strong team," Schleck said in an earlier interview with Sporza. "With Johan Bruyneel on the top, one of the best tactical sport directors, we'll achieve big goals next year. He knows a lot about time trials, in training... We will keep working with [sports director] Kim Andersen. These two together will be the best team."
Next year's Tour covers 3479 kilometres, 96.1 in time trials: the prologue, stage nine and 19. Wiggins, Evans and even Contador will have an upper hand, which is why this new adventure starting in Calpe is exciting for Schleck. He will draw on Bruyneel's experience working with Armstrong and Contador to improve his time against the clock.
"We've plan a lot on the time trial bike for next year, a lot of testing on the track and in the wind tunnel. Especially with next year's Tour, I have to be good. I have no doubt I'll be good."
Schleck told La Gazzetta dello Sport that he is still planning his schedule for next season. He said that there is a possibility that he could race the Giro d'Italia ahead of the Tour. "Everything is still possible."
Related links
Cancellara rides Olympic time trial course
Thank you for reading 20 articles this month* Join now for unlimited access
Enjoy your first month for just £1 / $1 / €1
*Read 5 free articles per month without a subscription
Join now for unlimited access
Try first month for just £1 / $1 / €1