Andy Schleck gives Contador his support in clenbuterol case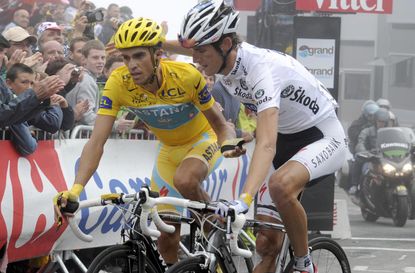 A cynic would argue Andy Schleck, the 2010 Tour de France runner-up, could be the one with the most to gain if Alberto Contador is finally suspended for his clenbuterol positive, but the Luxemburg-born star doesn't see it that way at all.
"I don't think he's done anything wrong," Andy Schleck told Spanish sports daily MARCA after a criterium in Mexico.
"I hope he's innocent, and that he can show it. I'm no doctor nor am I an expert in this area and the authorities are the ones who make the final decision."
"But I don't want to win the Tour by default, I want to win it by reaching Paris with the yellow jersey on my shoulders. I don't know what will happen now, but this year I finished second."
Schleck told MARCA he has not spoken with Contador since the news of the clenbuterol positive broke, but that they have exchanged texts.
"I've wished him luck and I told him I hope he can prove he is innocent."
Schleck also confirmed that for 2011 he will not take part in the Giro D'Italia, the Grand Tour where he took his first big result when he finished second in 2007 and that both he and his brother will be team leaders for the Tour, "because both of us could win it."
He also recognised that he aims to be strong for the April Classics as well - his 2009 victory in Liege-Bastogne-Liege was one of the most memorable in recent years - and that he and Frank have signed for four years with the Pro Team Luxemberg squad. However, he gave no hint of who the mysterious top sponsor could be.
One Contador-related event that will remain with Schleck come what may in 2011 is the famous incident when the Spaniard attacked after Andy's chain slipped on the Port de Bales in the Pyrenees. There are even those who say that the 39 seconds he lost cost Schleck the Tour.
"I've forgiven Alberto for what happened," Andy told MARCA, "but I haven't forgotten it, either."
Related links
Saxo Bank to continue team sponsorship with or without Contador
Riis has a plan B is Contador is banned
How does clenbuterol testing work
Contador considers quitting cycling due to doping scandal
Tension rises over Contador's clenbuterol case
Contador case splits experts' opinions
Alberto Contador: The clenbuterol, the beef excuse and traces of plastic
Spanish authorities investigate source of Contador's mystery meat
McQuaid quiet on Contador case but says Spain can do more
Did Contador have a transfusion during the Tour?
Contador points finger at imported meat for clenbuterol positive
Contador tests positive for clenbuterol says governing body
Thank you for reading 20 articles this month* Join now for unlimited access
Enjoy your first month for just £1 / $1 / €1
*Read 5 free articles per month without a subscription
Join now for unlimited access
Try first month for just £1 / $1 / €1