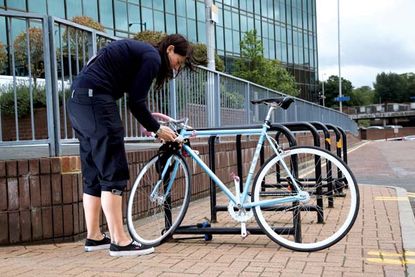 Words: Matt Lamy; Photos: Chris Catchpole
Back in the July issue of Cycling Active our CAFE lead story was about a day spent catching bike thieves with the Transport for London/Metropolitan Police Service Cycle Task Force.
It was an exciting experience, but with four hours passing between decoy bike set-up and actual arrests it wasn't all action.
However, it did provide a great opportunity for us to have a chat with the CTF's boss Inspector Graham Horwood about bike security, particularly for city commuters.
So with Inspector Horwood's help, here is the Cycling Active guide to keeping your bike for your legs only.
Record, register and mark
The first thing you have to do when it comes to your bike's security might not have any obvious practical role in preventing it being stolen, but it greatly increases your chances of getting the machine back.
"What cyclists must do is make a note of their bike's serial number, and also record any distinguishing marks unique to your machine. This really helps us when it comes to returning a bike to its owner," Inspector Horwood says.
To find your bike's serial number, turn your machine upside down and look around the bottom bracket or underneath the chainstay. Then, once you've noted this you should think about putting your bike on an online cycle registration website.
"You only have to provide minimal personal details, which we can use to check to see if a bike is stolen and
reunite it with its rightful owner," Inspector Horwood says.
"In London we hold a marking and registering programme every Thursday [see page 94] as well as at special events. We register your bike details for you and if your bike is found having been lost or stolen, we know who to return it to."
Pick your pitch
So you've got your bike's details preserved somewhere, it's registered and it's been security marked. Now that you've taken the plunge to start riding it to work, the next questions is, where should you park up? The answer is simple: choose a secure purpose-built bike rack, made from thick steel, and secured in the ground with concrete.
The second aspect of picking your bike-parking place is to find somewhere public. If you leave your bike in what you think is a quiet backstreet you're only doing the thief a favour — he'll have more time to break your locks before anybody notices his furtive behaviour.
Even in a public place no bike is safe: the day I visited the CTF they placed two decoy bikes in a thriving part of Islington on a sunny Sunday afternoon. Sure enough, within a few hours a gang of young bike-thieving hoodlums had had a crack at taking one, using a very unimpressive pair of bolt cutters to slice through the name-brand flexible lock.
So, ideally, a guarded lock-up — the office car park, say — with CCTV coverage is the ultimate parking place. But don't be complacent — even these aren't perfect.
"We picked up one bike thief who had a massive crack cocaine habit. Because of that, he needed to steal high-value bikes to order. He wouldn't touch a bike unless it had a retail value of at least £500," Inspector Horwood tells us.
"The way he worked was interesting. He would get a call that a nice bike had been seen going into a building's car park. Then he would dress smartly pretending to work there, nip past the guard — he'd walk in right behind a genuine member of staff — and quickly find the bike he needed. He believed he had about 15 seconds between sneaking past security and suspicions being aroused, but in that time he had often released the bike and was away."
So think carefully about where you leave your bike on its own. And even then…
Lock it right
The issue of what bike lock to use is a pretty depressing consideration because, in the end, precious few are completely indestructible. However, using suitably hardy locks could dissuade a thief from trying to steal your bike if there is an easier target nearby. And even if he does attempt to swipe your pride and joy, you want your locks to delay him for as long as possible in the hope a passer-by will spot what is going on.
"The very cheapest cable locks will be beaten in a second with just a simple pair of wire cutters," Inspector Horwood says. "And even if you go for a massively heavy-duty chain, like a motorbike lock, if he has enough time the thief will simply get an angle grinder to overpower it. In effect, all you can do with your lock is buy yourself enough time for somebody to spot the thief's suspicious actions and hopefully call the police."
If you can, use two locks, and spend as much as you can when buying them. Don't worry about weight or how small they are to carry, base your lock-purchasing criteria on two things: how tough they are; and how easily they would put off a potential thief. Also, buy two different types of lock, so the thief can't just use the same technique twice.
Use one lock with each wheel. So feed your first lock through the front wheel, through the main triangle of the bike frame, and then around the bike parking rack. Using your second lock completely independently, feed it through the rear wheel, through the rear triangle of the frame, and have that going through the parking rack too.
Make sure your locks are as tightly wrapped around your bike as possible, this restricts a thief's ability to wiggle the locks into a position that will help him break them.
Report it
If your bike is stolen report it to the police straight away, if for no other reason than so justice can be done.
"We arrested one person with what we thought was a stolen bike. However it hadn't been reported stolen and it wasn't registered on an online database," Inspector Horwood says. "In that case we couldn't charge him with a crime because there was no victim.
"So we decided to leaflet every house in the area we thought the bike had been stolen from, asking residents if they had had a bike taken recently. Eventually we had a reply from a lady who said her previous neighbours had moved away but they had a daughter who had had her bike stolen. We got in touch with her and could then charge the thief."
For those of you with rather more practical considerations, if you report your bike stolen there is also a fair real-world chance of the police finding it for you again. And if you suspect your bike is being offered for sale on a website then definitely contact the police, who will set about investigating it.
"If someone has found their stolen bike on a site like eBay or Gumtree they should contact the police as soon as they can," Inspector Horwood says. "Then we need them to give us as many unique identifying details about the bike as they can, to make sure the one being sold really is theirs. Saying things like it's got two bottle cage mounts and it's blue isn't really good enough! If we're satisfied that it's the same bike and the internet advert is suspect, we are delighted to follow it up. But please do not contact the seller at all — leave it to us."
And that takes us back to the first point. No matter how good your lock is, you cannot guarantee that one day your bike won't be stolen. However, if it is recorded, registered and marked, with the police's help there is a fighting chance it hasn't gone forever.
Simple advice
The Cycle Task Force has one simple piece of advice for all cyclists locking their bikes in a public place...
Make it as unattractive to thieves as you can. Whether that means slapping a sticker on it saying it's been security marked and registered, taping over the decals or fitting the biggest, chunkiest lock available, do everything you can to discourage potential thieves.
Folding notes
In London one of the most commonly stolen styles of bike is the folding cycle. The reasons for this are manifold: by their nature they are easily transportable; the lack of a main frame triangle make them difficult to lock up; and some brands are highly sought-after, retaining a high price on the second-hand market.
The secret with folders is to do what they're designed to do, and carry them with you as much as you can.
But it's not all bad news, especially for Brompton riders. Because the West London company makes relatively few bikes, and each is sold to order, it has very good sales records. That means many Bromptons seized by police are often reunited with their owners.
Mark-and-register events
The Cycle Task Force holds regular security marking and registration events using the BikeRegister system. This involves branding the bike with an indelible stencil etching and placing a warning sticker on the frame as a deterrent. The bike and its owner are also then registered online.
Just turn up at a regular CTF session, listed below (all started in February 2011), and let the police do it all for you — and for free.
■ The first Thursday of every month from 7.45-10am at Duke of York Steps, The Mall SW1. On alternate months the time will change to 4-7pm.
■ The second Thursday of every month from 4-7pm at Blackfriars Bridge (south side), SE1.
On alternate months 7.45-10am.
■ The third Thursday of every month from 7.45-10am at Penton Street, junction with Pentonville Road, N1. On alternate months 4-7pm.
■ The fourth Thursday of every month from 4-7pm at Cable Street, junction with Dock Street E1. On alternate months 7.45-10am
Top tip
If you want to see exactly the right way to lock your bike, check out this YouTube video: http://bit.ly/ly8Upr. And for more bike security videos visit www.youtube.com/metpoliceservice
Thank you for reading 20 articles this month* Join now for unlimited access
Enjoy your first month for just £1 / $1 / €1
*Read 5 free articles per month without a subscription
Join now for unlimited access
Try first month for just £1 / $1 / €1