Black Girls Do Bike celebrates 10 years of changing what the cycling world looks like by uniting women of color
With 100 chapters worldwide, Black Girls Do Bike is on a roll and not slowing down anytime soon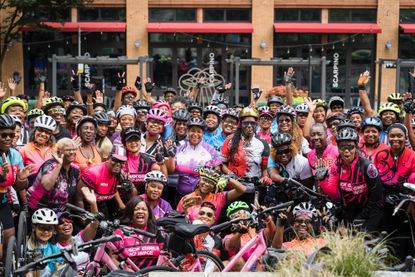 (Image credit: Monica Garrison, Black Girls Do Bike)
It's no secret that cycling is an overwhelmingly white and caucasian sport. In fact, a recent survey from USA Cycling, the national governing body of the cycling sport, found that 86% of its members identify as white or caucasian, while only 3% identified as Black or African American.
In addition to being a white sport, cycling is also a predominantly male sport. That same survey found that men made up 80% of survey respondents and women just 19%.
One of the demographics most underrepresented in cycling is women of color. There are a variety of reasons for this — everything from systemic racism and micro-aggressions in the cycling world to underrepresentation, creating a cycle of more homogeneity that repeats with fervor.
For the past decade, the non-profit organization Black Girls Do Bike (BGDB) has been working to change what the cycling world looks like by providing welcoming, safe and fun opportunities for women of color to ride bikes.
With its tenth anniversary coming up in August 2023, the organization can proudly look back on a growing legacy of helping hundreds of women of color find community and joy in cycling, but their work is far from done.
Demystifying cycling
BGDB was founded by Monica Garrison who found cycling as a way to add to her life in a positive way.
"I grew up in Pittsburgh, Pennsylvania. Riding became a great way to see my city from a new perspective, manage my mental and physical health, and spend quality time with my kids," Garrison said. "I saw very few women of color riding bikes. I thought that more women, especially women of color, could benefit from regular bike rides."
Garrison partnered with a friend in Florida to create the first official BGDB chapter in 2013 with an interest in growing and supporting a community of women of color who share a passion for cycling.
"When I ride my bike it feels as if I am doing my part to carve a path for other people of color in cycling. Being a black cyclist hopefully means that small actions on my part help break down the belief that people of color don't ride bikes," Garrison penned in Op-Ed back in 2020.
"I think it is important to acknowledge that people of color can excel at any sport. They don't lack ability. So when you look at the professional and even amateur levels of any sport and you see few faces of color then you have to ask yourself what is lacking. Is it resources or opportunity or something else? I'm confident we can root the causes and make cycling more welcoming to all."
To that end, BGDB are on a mission to "demystify cycling and be a liaison to help usher new riders past barriers to entry and into the larger cycling community."
As the organization's name suggest, there are Black women and girls who love riding bikes everywhere and today, in 2023, BGDB boasts into a thriving community with more than 100 chapters worldwide in locations such as Denver, Colorado, Houston, Texas, Anchorage, Alaska and Queens, New York as well as Antigua in the Caribbean and London, England.
The chapters are led by 180 women ride leaders nation-wide while a community of well over 30,000 people connects regularly via their Facebook and Strava groups.
Garrison noted that while some chapters may focus more on leisurely social rides, others also mix in a competitive and endurance component — some even race together as a team.
What ties them all together is a supportive and nation-wide community that promotes [cycling] education and connects people who share the same passion for cycling.
In addition to providing useful workshops on road safety, bike maintenance and other key topics in the cycling world, BGDB chapters also serve as a critical —and often underrepresented— voice in advocating for the rights and needs of women and girls of color in the bike community. This includes everything from education on inclusion to hosting cycling events specifically geared toward women and women of color.
"I am incredibly proud to reach our 10-year anniversary," Garrison said.
"When I first started [BGDB], my goal was to create a safe and inclusive space for Black women and girls to share our love of cycling…I am filled with gratitude for the hard work and dedication of our members, volunteers, and supporters who have helped us reach this milestone."
To celebrate this milestone, BGDB is welcoming all to a 10-year bash this August in San Diego, Cali, which also serves as a national meetup for members from BGDB chapters across the nation.
The multi-day cycling party will include a kickoff party on August 25, a community ride led by the local San Diego BGDB chapter, yoga on the beach and a BGDB takeover of the Bike the Bay event.
While proud of what's been accomplished, Garrison knows that it is an ongoing journey to help make cycling more inclusive for women and girls of color.
"My advice for women of color who are interested in getting into cycling is to first find a supportive community," Garrison said. "Joining a local [BGDB] chapter or participating in [a BGDB] event can provide the encouragement and inspiration needed to take the first step into cycling."
With more than 100 chapters nationwide, it's likely folks in the U.S. have one located near them. However, if you are interested in starting your own chapter in the U.S. or internationally, email info@blackgirlsdobike.org to learn more.
Thank you for reading 10 articles this month* Join now for unlimited access
Enjoy your first month for just £1 / $1 / €1
*Read 5 free articles per month without a subscription
Join now for unlimited access
Try first month for just £1 / $1 / €1
Kristin Jenny is an elite triathlete based near Boulder, Colorado. Although most of her time is spent in aerobars somewhere in the mountains, she finds time to enjoy eating decadent desserts, hiking with her husband and dog, and a good true crime podcast.