Britain's Motorpoint confirmed for Tour de Mumbai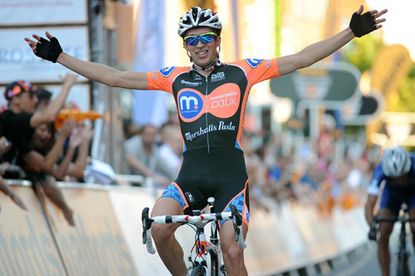 Britain's Motorpoint team will race the Tour de Mumbai next month in India. The team's presence completes an international roster that includes Lance Armstrong's RadioShack team.
RadioShack was the first top level, ProTeam to confirm, but at least one more is expected to be announced soon. Motorpoint will join other third division, Continental teams from South Africa, Australia, Uzbekistan, Hong Kong, Iran, Bahrain, Greece and Serbia. Second division Team Type 1 confirmed it will make the trip from the USA.
"It's a very impressive Continental Pro participation," said Race Director David McQuaid.
McQuaid announced Motorpoint's six-man team will be Pete Williams, Ian Bibby, Jonny McEvoy, James Sampson, Will Bjergfelt and Marcin Bialoblocki.
India's only UCI-sanctioned races are both are 1.1-ranked. It is an upgrade from last year, when the Tour de Mumbai was one race and ranked 1.2.
Saxo Bank's Argentinean sprinter Juan José Haedo won the Mumbai race last year, an 89.6-kilometre race on a 2.8-kilometre circuit. He went on to win a stage in the Tour of Catalonia and the Critérium du Dauphiné, and the one-day Rund um Köln race.
ID Sports this year will organised a 170-kilometre race for February 11 in Nashik, northeast of Mumbai, and a second 117-kilometre race two days later in Mumbai.
Bibby is Motorpoint's top ranked rider on the Mumbai roster. He placed 23rd in Cycling Weekly's list of top British riders last year. He earned the place thanks to a brilliant season that included a win in Spain at the Cinturon Ciclista a Mallorca and second place in one of the toughest stages of the Tour of Britain.
Sports Directors Chris Truett and Malcolm Elliott will travel to India with Bibby and the five other Motorpoint riders.
Related links
Expanding Tour de Mumbai attracts RadioShack
Ian Bibby: CW's top British riders of 2001, number 23
Thank you for reading 10 articles this month* Join now for unlimited access
Enjoy your first month for just £1 / $1 / €1
*Read 5 free articles per month without a subscription
Join now for unlimited access
Try first month for just £1 / $1 / €1