British bike brand offers 30% off due to excess stock
Temple Cycles owner says the lockdown boom has 'petered out' as company launches sale on bikes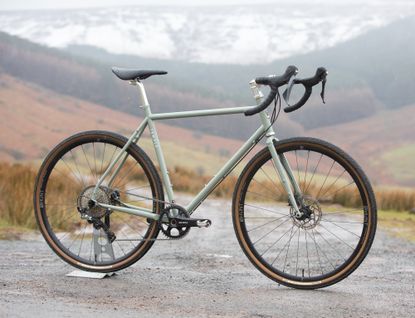 (Image credit: Temples Cycles)
British independent steel bike brand Temple Cycles is offering 30% off most of its bikes as the company seeks to offload excess stock.
The Bristol-based company's founder, Matt Mears, said in an Instagram post on Wednesday afternoon that the sale was due to having a "variety of beautiful bicycles boxed up in our workshop without homes to go to", and he would "much rather people were out enjoying them".
The sale, which runs until the end of October, applies to all of the models in the Temple range apart from its Road bike. This means customers can save £900 on the brand's top-of-the-range gravel bike, the Adventure Disc 1, £180 on its Classic Singlespeed, and over £1,000 on the Classic Electric.
Mears wrote: "We're having our first ever sale on brand new bikes (having previously reserved sales for our ex-display bikes) with 30% off both bikes and accessories, which we hope will allow more people to start riding a Temple and in turn, make more journeys on two wheels.

"You might be wondering why we've decided to do this now. If you're familiar with the current state of the bicycle industry, you'll know that the lockdown boom has since petered out. Many bicycle manufacturers have gone from struggling to keep up with the demand, to now sitting on excess stock as the effects of the cost of living crisis continue."
This year, 2Pure entered administration, as well Moore Large, a cycling distributor which dates back to 1947. Clothing companies Presca and Milltag have both both become extinct, while Velovixen was rescued from liquidation by fellow British kit brand, Stolen Goat. In the UK bike sales are reportedly at their lowest level for 20-years.
Elsewhere across the industry, Ribble Cycles reported a £5million loss for the 2022 financial year, also citing Covid and Brexit issues, but noted that 2023 has proven more stable.
In July, UK-based cycling distributor FLi Distribution collapsed, with the owner blaming people who voted to leave the EU. This came after British children's bike manufacturer Frog Bikes said mounting Brexit costs drove it into the red.
There is no hint that Temple is in difficulty.
"If you've been following our journey as an independent bicycle maker, you'll know that we reject the upgrade culture that is so prevalent in our industry," Mears continued in his Instagram post. "We go against the grain by designing and building bikes that are destined to last forever (backed up by our Lifetime Warranty).

"All that to say, we have a variety of beautiful bicycles boxed up in our workshop without homes to go to, and we'd much rather people were out enjoying them. So, if you are looking to ride a bike that is built to last by independent bicycle makers, this sale is for you."
Those seeking a steel bike bargain should head to Temple Cycles.
Thank you for reading 20 articles this month* Join now for unlimited access
Enjoy your first month for just £1 / $1 / €1
*Read 5 free articles per month without a subscription
Join now for unlimited access
Try first month for just £1 / $1 / €1