British Cycling's Manchester velodrome roof leaking after £27m refurbishment
The issue is being treated as "urgent", says Manchester City Council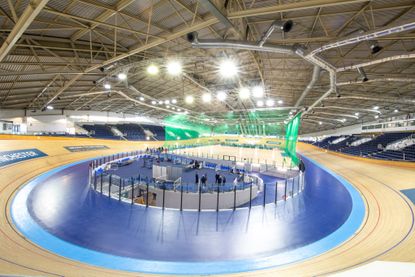 (Image credit: Manchester City Council)
The roof of the Manchester velodrome is leaking, with repairs set to take place as a matter of urgency.
The velodrome, home to British Cycling and the training base of Team GB, was reopened last month after a two-year period of refurbishment that cost £27 million.
Of that money, over £1 million was spent on fixing the roof and suspended ceilings, which had previously had issues with leaks.
Cycling Weekly visited the velodrome earlier this week and was made aware of water stains on the track's wooden banking. A member of staff explained that leaks have been common in heavy rainfall, and have persisted following the refurbishment.
Contacted by Cycling Weekly, Manchester City Council deputy leader Luthfur Rahman said: "We are aware of this issue and will be taking quick action to ensure that it is repaired."
The velodrome - and the entire National Cycling Centre complex it is located in - is owned by Manchester City Council and operated by management company Better. A large proportion of the building is leased to British Cycling as the governing body's HQ.
Councilor Rahman continued: "Over the course of the £27m refurbishment of the velodrome roof repairs were identified and carried out however additional issues have been identified and will be rectified as a matter of priority."
A spokesperson from the council press office added that repairs will take place within the next two weeks, with the matter being treated as "urgent".
The velodrome is used by local clubs, community groups and the Great Britain Cycling Team, who spend upwards of 35 hours a week inside the track centre.
A press contact at British Cycling told Cycling Weekly that the roof leak, and subsequent water damage to the track, has fortunately not affected the squad's training sessions, as it continues to prepare for the 2024 Paris Olympics.
The recent refurbishment, funded by Manchester City Council, Sport England and central government, saw the GB squad relocate temporarily to Derby velodrome.
During the works, its base in Manchester was fitted with new seats, timing systems and scoreboards. The building is also now the UK's first all-electric velodrome.
The facility is currently hosting the 2023 UCI Masters Track World Championships, which come to a close on Saturday. Light rain is forecast in the city for Thursday and Friday.
Thank you for reading 20 articles this month* Join now for unlimited access
Enjoy your first month for just £1 / $1 / €1
*Read 5 free articles per month without a subscription
Join now for unlimited access
Try first month for just £1 / $1 / €1