British team for cyclo-cross Worlds announced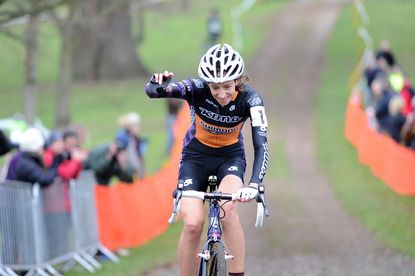 British cyclo-cross national champions Ian Field and Helen Wyman have been selected to represent Great Britain at the 2012 UCI Cyclo-Cross World Championships in Koksijde, Belgium, over January 28-29.
Seven-times British champ Wyman is part of a very strong looking women's squad that also includes World Cup regulars Nikki Harris and Gabby Day. London 2012 mountain bike hopeful Annie Last completes the British quartet.
Field will ride with former British national champions Jody Crawforth and Paul Oldham in what will be a tough elite men's race.
"I'm looking forward to seeing National Champions Helen Wyman and Ian Field lead this team forward to the world championships," said GB team manager Phil Dixon.
"I think this year is the strongest the women's team in particular has been, and I believe they are in a good position to challenge for the podium."
Wyman is currently ranked fifth in the world, which means she should start the race at the front of the grid. Field is 24th in the men's cyclo-cross rankings, and should start in the second row of the grid.
Under-23 men are represented by Steve James, Kenta Gallagher, Luke Gray and Jack Clarkson. Junior national champion Hugo Robinson joins Alex Welburn and Joe Moses in the junior men's line-up.
"For the younger riders, this is the second year of British Cycling's Cyclo-Cross Development Plan and we've got four under-23 and three junior men who will make the start line," said Dixon.
"I think these guys will put on a good show and I'm looking forward to seeing them push closer to a podium finish at these world championships."
Team GB 2012 cyclo-cross world championships squad
Elite Men
Ian Field
Jody Crawforth
Paul Oldham
Elite Women
Helen Wyman
Nikki Harris
Annie Last
Gabby Day
Under-23 Men
Steve James
Kenta Gallagher
Luke Gray
Jack Clarkson
Junior Men
Hugo Robinson
Alex Welburn
Joe Moses
Related links
Field and Wyman take national cyclo-cross titles
Thank you for reading 20 articles this month* Join now for unlimited access
Enjoy your first month for just £1 / $1 / €1
*Read 5 free articles per month without a subscription
Join now for unlimited access
Try first month for just £1 / $1 / €1