Can anyone beat Cancellara? Public opinion says no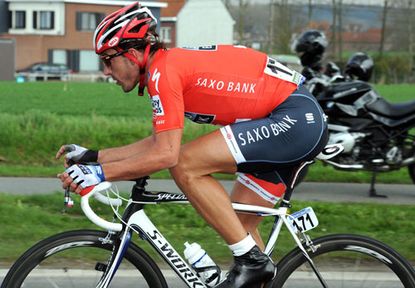 They've been asking themselves in the streets here in Belgium and over the breakfast table: just how is anyone going to beat Fabian Cancellara in this weekend's Tour of Flanders?
The proprietor of my hotel doesn't think it possible. "Did you see him in the E3 Grand Prix?" he asked. "When someone can just ride off the front like that, what can his rivals do?"
It's a question that's been posed to riders a number of times this week. The stock answer is, of course, that Cancellara can be beaten. However most suggested scenarios of how that might happen seem to involve punctures, crashes and other instances of bad luck or misjudgement.
Strong teams have also been referring to a numbers game. If Garmin have got several riders at the front and Cancellara's on his own, surely the advantage is theirs.
Is it, though? At the E3 Grand Prix, the Leopard-Trek man just rode through the groups and off the front. Conventional racing tactics no longer seem to apply when Cancellara's in top gear. After trying to follow Cancellara's winning move at the E3 Grand Prix, Bram Tankink's face said it all.
Of course, as Tom Boonen, has been at great pains to point out, the ante is upped at Flanders and there will be a different calibre of rider battling with Cancellara.
Unfortunately for the recent Ghent-Wevelgem winner, he only has to think back 12 months for a precedent in the bigger races. At both Flanders and Roubaix last year, the Belgian had the best seat in the house from which to watch how Cancellara just rides away.
"It won't be Boonen," a sozzled old man told me in the town square at Geraardsbergen.
He must have spotted me about to embark on athe Muur and decided to come out of the pub for a chat. Maybe he'd been on the hill last year as Cancellara had made his move.
"Boonen will get second," one of his drinking pals who'd also appeared out of nowhere piped in. The other old boy dismissed this suggestion. "Nope. Boonen won't do anything. Pozzato or Gilbert will come second."
In the press room at the Three Days of De Panne, you could very much sense a fear that this weekend's race is a foregone conclusion; a race for second.
"If it's really going to be that straightforward, what are we going to write about?" asked one journalist. The likelihood of a Cancellara win is almost instilling a backlash against him. Should anyone beat him, it might make the better story.
Naturally, Cancellara himself disagrees. "I don't think anyone wants a surprise winner," he said this afternoon in Kortrijk.
Speaking to a barrage of press at a boutique hotel that was so Leopard-Trek it took ten minutes to find the door, Cancellara had been responding to a question about what the worst scenario would be for him.
His point was not that Boonen or Gilbert could surprisingly get the better of him, but that he might be so heavily marked that a soft break is allowed up the road which no one cares to pull back.
But that was as negative as Cancellara (dressed in team issue leisure wear and silver Dolce&Gabbana disco shoes) got. Even if that situation occurs, "I know how it is to jump from the back to the front; from group to group" he pointed out. Quite.
Despite a gleam of perspiration on his face, Cancellara seemed very relaxed about his status as heavy favourite, noting "I think it's always nice when people talk about me and my performance."
He added that if his rivals spend the whole time watching him, then they will lose. He said having won the race before put him in a comfortable spot. He also started talking about desserts and putting sugar on top. To be honest, he started to lose me there.
As public opinion seems to have it, that's the only loss he'll be making this weekend.
Related links
Cancellara and Boonen are bookies' favourites for Flanders
Spring Classics 2011: Cycling Weekly's coverage index
Tour of Flanders 2011: The Big Preview
Thank you for reading 10 articles this month* Join now for unlimited access
Enjoy your first month for just £1 / $1 / €1
*Read 5 free articles per month without a subscription
Join now for unlimited access
Try first month for just £1 / $1 / €1