Cancellara awarded Olympic silver medal two years late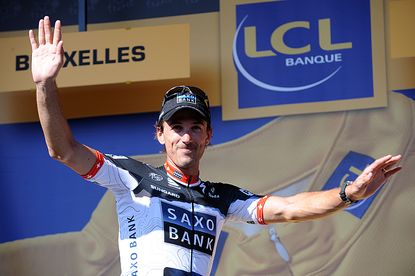 The Swiss Olympic Committee awarded Fabian Cancellara his silver medal yesterday in Ittigen, a half a world away from Beijing and over two years since the Olympic Games.
"It is a very different situation," Cancellara told Blink.ch of the makeshift podium in the office building. "We have to turn back the clock two years. At that time, bronze was like gold for me."
Cancellara took the bronze medal at the Olympic road race on August 9 and four days later, August 13, won the time trial gold medal.
Spaniard Samuel Sánchez won the road race and Italian Davide Rebellin finished second. Rebellin's blood samples, however, showed traces of EPO-CERA in retroactive testing.
On April 28, over eight months later and after Rebellin had won the Flèche Wallonne classic, the International Olympic Committee (IOC) informed the Italian Olympic Committee (CONI) that its cyclist tested positive. The CONI ruled he was guilty and forced him to return the medal along with €75,000 in winnings. The Court of Arbitration for Sport (CAS) rejected Rebellin's appeal in July and cleared the way for the silver medal to be awarded to Cancellara.
"There are scratches and marks on it," said Cancellara. "It looks like an old coin, but when I look at my old bronze medal...it looks worse."
Russian Alexandr Kolobnev finished fourth and will be awarded Cancellara's bronze medal. The Russian federation received the medal last month.
"If it was given to me ten days after the announcement of Rebellin's positive control or after his disqualification, then we could talk about some emotions," Kolobnev told Allsportinfos last month. "But a year and a half afterwards, this medal has lost its importance."
Rebellin lives in Monaco and is registered with its cycling federation. In September, it gave him a two-year ban: April 27, 2009 to April 27, 2011. Despite turning 39 years old this year, he plans to return to race. He said last month, there are two teams interested in signing him.
Related links
Cancellara to join Schlecks, confirms Luxembourg contract
Thank you for reading 20 articles this month* Join now for unlimited access
Enjoy your first month for just £1 / $1 / €1
*Read 5 free articles per month without a subscription
Join now for unlimited access
Try first month for just £1 / $1 / €1