Catching up with... Scott Davies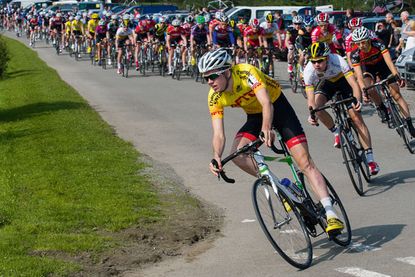 Scott Davies may be forgiven for believing his own hype after a strong 2013, but the new Madison-Genesis rider is remaining grounded as he approaches his first year as a professional.
Davies emulated the likes of Dan Martin and Alex Dowsett when he won the prestigious Junior Tour of Wales in August. The 18-year-old rider also finished seventh in the World Championships junior road race in Florence, but he is all too aware of the step up he faces by moving into the senior ranks.
"I'm under no illusions that it's going to be a massive jump," said Davies. "I'm sure my confidence levels will take a hit but hopefully I can repeat what I did at junior level and get that back bit by bit. "I've always preferred to let my legs do the talking, and I don't like to boast. It's just the way I've been brought up.
"He may be restrained regarding his prospects, but Davies's ambitions are anything but modest; he is targeting the Tour of Britain and the Commonwealth Games in 2014. The young Welsh rider has his sights set on a spot in the road race for the Glasgow Games and hopes his progression with the new team will help his chances.
Davies missed out on being selected for British Cycling's Academy Programme, but feels that disappointment was a blessing in disguise as he looks to focus on his road career with Madison.
"The way the programme is going is more track-focused, which doesn't suit my type of riding," he explained.
"I would have liked to have been on the Academy but, being as it is, I think I'm actually better off with Madison. "I've got to bear in mind the Commonwealth Games selection as well. That's one thing I really wanted, to find a team that were OK with it. So that was a big draw for me."



This article was first published in the November 28 issue of Cycling Weekly. Read Cycling Weekly magazine on the day of release where ever you are in the world International digital edition, UK digital edition. And if you like us, rate us!
Thank you for reading 20 articles this month* Join now for unlimited access
Enjoy your first month for just £1 / $1 / €1
*Read 5 free articles per month without a subscription
Join now for unlimited access
Try first month for just £1 / $1 / €1