Cavendish to meet with Brailsford and discuss contract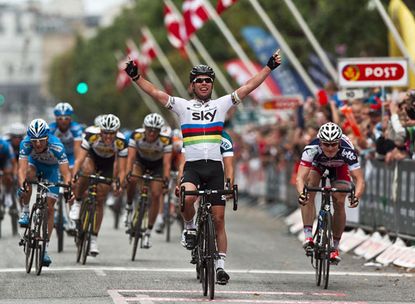 World champion sprinter Mark Cavendish is set to meet with Sky boss Dave Brailsford within the next 48 hours to discuss his future with the British outfit.
Speaking at a Tour of Britain pre-race press conference, Cavendish for the first time addressed speculation of a split, which, if happens, will come just a season into a three year deal with the team.
"I haven't spoken to Dave, we haven't had a meeting yet," Cavendish told journalists in Ipswich.
"He's coming here, and I'm here, so hopefully we can sit down in the next 48 hours and talk about it. I think it's been hinted that I might not remain at Sky. I need to have a talk with Dave first about that before anything really happens."
Cavendish began to consider a move at the Tour de France in July, which his teammate Bradley Wiggins won. The 27-year-old was proud to be part of the first British team to win the yellow jersey, with a British rider, however it came at a personal cost to him. Cavendish won three stages, without a team solely dedicated to his aims, but the number was short of his previous average of five.
Brailsford has openly stated that general classification success will remain the goal of the team going forward meaning Cavendish, who is focused on adding stage wins to his current 23-strong haul, may be better to find another home.
"I want the best for British cycling to be fair," he said.
"We had this idea that we could have this British super team, we can win GC, we can win stages, we can win the green jersey and go and dominate. Dave sold me that idea last year and it hasn't worked out like that.
"The biggest thing in cycling is the yellow jersey in the Tour de France. It would be wrong of me to not want the team that I love, and a company that I love, to go and want to do the biggest thing there. But obviously it restricts me from what I can do as a professional cyclist myself.
"I've got an ambition of winning as many stages as I can in the Tour de France and I'd kind of like to be somewhere I can do that."
Cavendish doesn't believe he, or another interested party, would have to pay Sky a release fee should he indeed leave the squad despite recent reports of the contrary. Transfer costs could limit the number of parties that could afford the 2011 green jersey champion.
"I've seen talk about a release fee but I don't think Dave would do that," he said.
"It's been done in the past, (Sky) had to buy Brad out of his contract (with Garmin-Transitions in 2009) but it was different circumstances, he was in a contract and Sky wanted him to leave the team.
"I've known Dave since I was 14 years old. I hope that is just a bit of speculation and everything can work out amicably."
Omega Pharma-Quick-Step heads the outfits reportedly interested in the Manxman and, with no general classification rider, is a possible fit.
The Tour of Britain begins tomorrow with a flat 203km stage from Ipswich to Norfolk Showground.
Related links
Renshaw won't discount riding with Cavendish again
CW Exclusive: Cav's gilded cage
Cavendish recognises opportunities in missed Tour chances ahead of Olympics
Tour of Britain 2012: Start list
Thank you for reading 20 articles this month* Join now for unlimited access
Enjoy your first month for just £1 / $1 / €1
*Read 5 free articles per month without a subscription
Join now for unlimited access
Try first month for just £1 / $1 / €1