Chris Boardman kicks off Cycling Weekly Sportive Series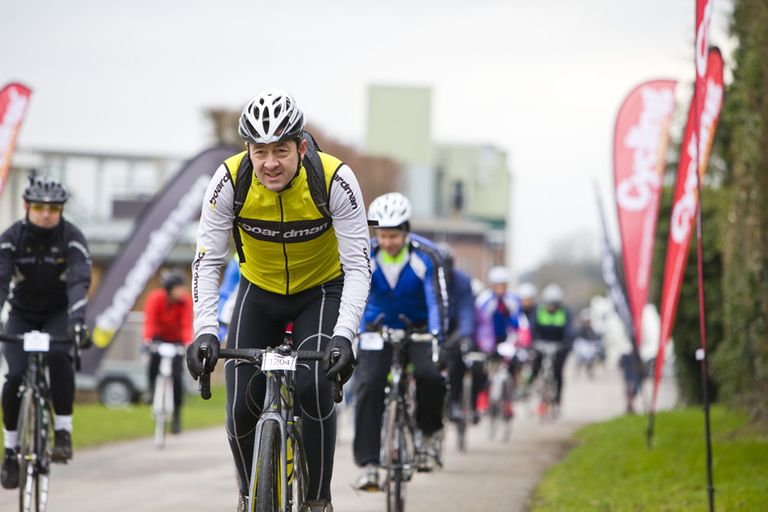 Former world champion, Olympic champion and Tour de France legend Chris Boardman MBE cut the red ribbon at the start of Sunday's Wiltshire Wildcat Sportive to kick off the seven-event Cycling Weekly 2013 Sportive Series.
Boardman then took to one of his Boardman Bikes cyclo-cross machines to join 400 other riders in a spin through the picturesque lanes and rolling downs of Wiltshire and Dorset.
Three routes were on offer - 34, 62 and 80 miles. Cool, dry conditions met the riders on Sunday morning at Salisbury Racecourse and the stiff easterly breeze did little to deter people's enjoyment of the event.
A full list of rider finishing times are available via event organiser UK Cycling Events.
Rider photos are now available from SportivePhoto.
The 2013 Cycling Weekly Sportive Series continues on Saturday March 23 with the South Downs Spring Sportive starting and finishing in Plumpton, near Lewes, East Sussex. Once again, three routes are offered to suit all ranges of ability and experience - 33, 57 and 74 miles.
Full details of the South Downs Spring Sportive and online entry can be found on the event page.
Further events will take place in Surrey, Dartmoor, Ripon and Malvern.
The Cycling Weekly Sportive Series is supported by Boardman Bikes, Gatorade and Cycleguard Insurance.
Cycling Weekly would like to thank everyone who took part in - and helped organise - the Wiltshire Wildcat. It was great to meet so many of you.
Chris Boardman meets riders as they come across the finish line in Salisbury. Photo: Chris Catchpole
Start/finish. Photo: Chris Catchpole
Chris Boardman takes part. Photo: Chris Catchpole
Quiet country lanes. Photo: www.SportivePhoto.com
Hand cycles, mountain bikes, hybrids, road bikes, tandems... all welcome. Photo: www.SportivePhoto.com
Stopping for a breather. Photo: www.SportivePhoto.com
One of the key climbs. Photo: www.SportivePhoto.com
Related links
Cycling Weekly Wiltshire Wildcat Sportive photo gallery
South Downs Spring Sportive - event details and online entry