Chris Horner's team blames anti-doping agency for missed test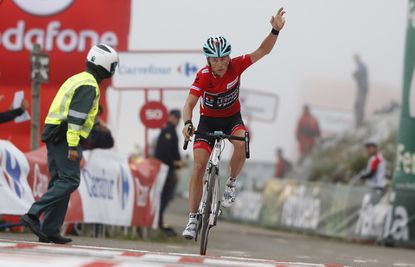 Chris Horner missed an anti-doping control today, the day after he won the Vuelta a España. His RadioShack-Leopard team issued a press release saying it was a mix-up, that the testers sent this morning failed to realise the American switched hotels at the last minute.
"The anti-doping inspectors from the Spanish Anti-doping Agency that were asked to do the test by the United States Anti-Doping Agency (USADA) showed up at the wrong hotel in Madrid, where the team was staying but Horner was obviously not to be found," read a team statement.
"The team believes the communication between the Spanish Anti-doping Agency and the media is a violation of the privacy of Chris Horner, especially since it comes down to a clear mistake by the tester."
Horner, according to his team, updated his whereabouts to explain his location from six to seven o'clock for his required one-hour testing window. RadioShack added that he provided his room number and the hotel's name and telephone number to the US agency. It included an e-mail Horner sent to the agency yesterday and an automatic response confirming he sent it.
"I am finishing the Vuelta a España today, September 15th, in Madrid," Horner wrote, "and will be flying back to my home in Bend, Oregon, tomorrow [today] September 16th. My address for tomorrow morning will be: Hotel Ciudad De Mostoles ..."
According to the e-mail RadioShack shared, Horner wrote that he would be available for testing from six to seven o'clock at his Bend address beginning on September 17.
RadioShack said that the anti-doping testers were "in the wrong" and that the communication between the Spanish agency and the media is a violation of Horner's privacy. According to Spain's AS newspaper, the agency's testers went to the team's La Princesa hotel in Alcorcón and found another rider in the room where Horner was originally scheduled to sleep.
It wrote that the agency checked another hotel, again no Horner, and that the team was unable to locate him. However, according to Horner's e-mail, he was only three kilometres away in the same suburb southwest of Madrid.
The Union Cycliste Internationale (UCI) conducted the in-competition tests at the Vuelta a España. As soon as it was able, the morning after the Vuelta, the US agency tried, unsuccessfully, to test its cyclist via the Spanish authorities. Horner, who broke a record by becoming the oldest Grand Tour winner at 41-year-old, would be considered positive if he were to miss three out-of-competition anti-doping tests.
Related links
Chris Horner wins 2013 Vuelta a Espana
Thank you for reading 20 articles this month* Join now for unlimited access
Enjoy your first month for just £1 / $1 / €1
*Read 5 free articles per month without a subscription
Join now for unlimited access
Try first month for just £1 / $1 / €1